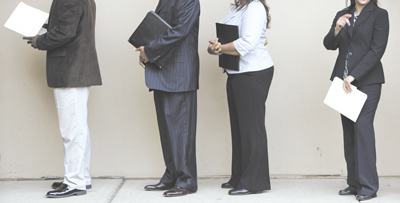 Unemployment has hovered at 10 percent for months, yet employers around the country are refusing to hire the jobless.
Such refusals lead to racial, gender and disability discrimination, according to testimony given to the Equal Employment Opportunity Commission, Feb. 16.
Christine Owens of the National Employment Law Project told the EEOC that numerous listings for jobs included such phrases as "not consider/review anyone NOT currently employed regardless of reason," "must be currently employed" or other restrictive phrases.
Owens said jobless restrictions may violate the civil rights of "older workers, workers of color, women" or others — like veterans or the disabled — protected under federal employment laws. Federal anti-discrimination law includes prohibitions on intentional discrimination on the basis of race, national origin, sex, color, religion, age, and disability.
The jobless as a group are not protected. However, by excluding the unemployed, employers may be violating equal protection laws because long-term joblessness affects women, African Americans and others disproportionately, according to expert testimony.
Recent data shows that jobless women are more likely to be unemployed for 27 weeks or longer than their male counterparts, says Fatima Goss Graves of the National Women's Law Center. Older workers, especially women, are particularly vulnerable to jobless restrictions.
Black unemployment is at least twice as high as white unemployment, says Algernon Austin of EPI, Economic Policy Institute. And the disparity has nothing to do with educational levels, he said in his EEOC testimony. "[A]ll black workers, regardless of educational attainment, are more likely to be unemployed than white workers."
Hispanics and Native American Indians, especially in Alaska and the Northern Plain states, also face disproportionately higher unemployment rates than their white counterparts, testified Austin. Asian Americans, while on the surface show lower unemployment rates than whites, face "hidden" disparities. "From 2007 to 2010, the Asian-American unemployment rate for college-educated workers has been higher than the comparable white rate," Austin said.
Testimony indicated the restrictions for the jobless had nothing to do with job-related performance.
EEOC Chair Jacqueline Berrien said the testimony was an opportunity for the EEOC to learn about these "emerging" practices. Such "emerging" practices include HR personnel dropping potential hires after learning they have been unemployed for more than six months.
Owens of NELP testified one "53-year-old woman from Illinois, who wrote us that after working successfully for 19 years as an IT help supervisor" was laid off in 2008 "due to the downturn."
"Many months into her job search, a headhunter contacted her, excited about her qualifications for a position he was retained to fill. The excitement faded, however, when he learned she had been unemployed for more than a year. As she put it, 'When he realized this, he was very apologetic, but had to admit to me that he would not be able to present me for an interview due to the 'over 6 month unemployed' policy that his client adhered to.'"
Disabled workers face their own hurdles to employment. Because of "no previous job experience," employers aren't even willing to interview disabled workers, says Joyce Bender, a consultant with her own firm who finds job placements for disabled workers.
"We know from the Department of Labor's Bureau of Labor Statistics that nearly 80% of Americans with disabilities are not considered to be in the labor force (January 2011). Of the remaining 20% considered to be in the labor force, 13.6% of those individuals are unemployed. The majority of applicants with disabilities do not have work experience, and even if they do, it is often not current work experience. This includes many veterans who have sustained an injury in battle, requiring time to recuperate and resulting in a disability. As a result, their work experience is not current," she said.
Veterans unemployment rate is higher than the general public. The Bureau of Labor Statistics reported that for war veterans of Iraq and Afghanistan, more than 15 percent were unemployed in January, the highest rate since the government began collecting such data in 2005.
Numerous economists say only with rigorous government intervention, especially on job creation, can the crisis of unemployment be alleviated.
Otherwise, employers will pit workers against each other and use the "army of the unemployed" to drive down wages, worker rights and drive up private profit, say political economists.
Photo: AP