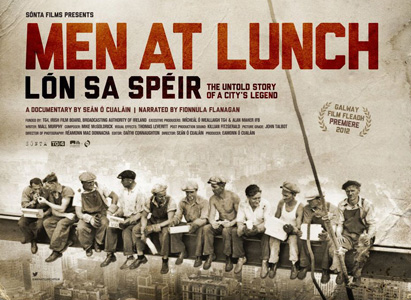 TORONTO, Canada – After 10 days of global time travelling at the Toronto International Film Festival — visiting Palestinian refugee camps in 1948 and 1967, living with Ukrainian Jews hiding in a cave for 511 days in 1942-43, and feeling dizzy sitting on an iron beam with steelworkers 57 stories above ground level in 1932 — it's finally time to come down and write about these amazing experiences. Film, like no other art, can display the riches of humanity, the beauty of integrated disciplines, tell grand stories and involve you in a world of ideas and experiences by throwing light on a wall.
It's impossible to see all the great films that were shown at the festival this year. Choosing from over 350 films is a daunting task. But of the 50 or so on the top of the list, many stand out.
The latest installment of political philosopher Slavoj Zizek's series by filmmaker Sophie Fiennes takes a psychoanalytical look at ideology, following his highly successful take on cinema. In the amusingly titled Perverts' Guide to Ideology, he scours the world's cinema looking for hidden messages in pop culture, films like the futuristic They Live, which he considers one of the most overlooked films of the left. He analyzes a wide array of films, such as Frankenheimer's Seconds and the forgotten Soviet classic Fall of Berlin, to offer a rich and thought provoking film that needs to be seen several times to capture the essence of the nonstop verbal gymnastics flowing from the creative mind of Zizek. You'll have a totally different understanding of Beethoven's 9th Symphony also.
Viewers were able to see the first of certainly many to come films about WikiLeaks founder Julian Assange. Underground is a thrilling and informative Australian production that focuses on Assange's early years developing hacking skills while helping to protect his mother and brother from The Family, a religious cult that kidnaps blond kids, which his estranged father had joined. But his ability to publicize hacks into U.S. military files to discover shocking information about its involvement in Iraq is what planted the seed for further activism.
Probably one of the most seductively titled films, How to Make Money Selling Drugs, ends up being a mock infomercial that exposes the American failed "war on drugs" and the dangers of smoking. Step-by-step instructions are offered for those interested in making money quick, at several levels, from $50 a day to $5 million a month. But eventually … there's a price to pay. 50 Cent, Woody Harrelson and other dignitaries join real drug lords and con artists who bare their souls (and tricks) to expose the real reasons we have drug problems in America.
One of the most famous photographs in American history portrays 11 workers casually eating lunch while sitting precariously on an iron beam 800 feet (57 stories) above ground in 1932. (Article continues after trailer.)
Men at Lunch tells the history of the photo and the men who were captured in this most famous pose. What attracts many to this photo is how these ordinary workers, Irish immigrants, were elevated to the height of giants by photographic grandeur. They were the men who built New York but were usually forgotten and expendable. Four in 100 of these superhero iron workers died or were maimed yearly. It was the Great Depression. These immigrants who helped build America came through Ellis Island just slightly before the famous picture was taken. This movie of a photo of workers is a joyous testament to cinema, photography and the dignity of labor.
Probably one of the most claustrophobic films ever released, and certainly a convincing moving document adding to the many testimonies of the suffering of Jews during World War II, No Place on Earth tells the story of 38 Ukrainian Jews forced to live in a cave for 511 days during the early 1940s. What makes the movie unique is the way New York cave explorer Chris Nicola discovers strange human artifacts in one of the world's largest caves in the Ukraine. In his determined investigation to find the source of these findings, he comes across the almost forgotten history of one of the most extreme survival stories to come out of World War II. The film juxtaposes documentary footage of his present day explorations with scenes of actors recreating the amazing stories from 1942, while at the same time interviewing some of the actual survivors of the forced cave existence, many of whom are now living in Canada. The touching films fails only on one count. The main reason they finally were able to leave the dark underground caves was because of the victorious Soviet Red Army that freed the land of Nazis. Shamefully, no credit was given to those heroes.
The absence of Cuban cinema in Toronto this year was noticed, and Ken Loach's newest Cannes Festival winner was not shown. Regularly featured films from the Italian left were also absent. But there were plenty others to consider, including a City to City Program that focused on Indian cinema from Mumbai (formerly Bombay), and a special new series about documentary filmmaking that included discussions with the likes of Ken Burns and Shola Lynch, who made the new Angela Davis film (see my next article). Stars were in abundance and filmgoers lined the streets waiting for tickets. There were films for everyone's tastes, and especially progressives.
For more information about the 2012 Toronto International Film Festival see the festival website.