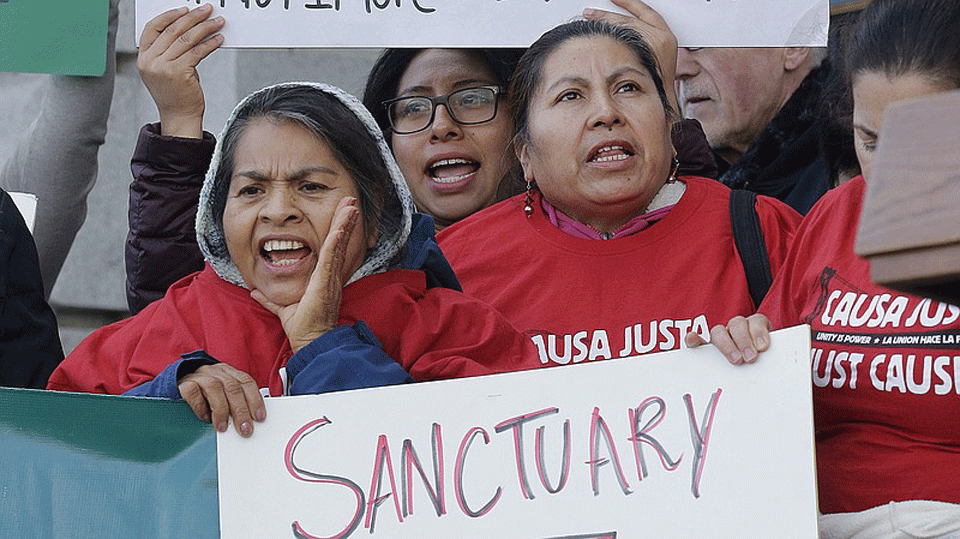 WASHINGTON—By a 7-2 vote, but without a written decision being issued, the U.S. Supreme Court has ruled California can stay a sanctuary state for undocumented people – a position the state's union movement strongly pushed to passage several years ago.
Technically, the justices rejected the anti-Hispanic anti-migrant GOP Trump regime's demand the justices hear the case against the state's sanctuary law, SB 54. The justices put that request on their "denied" list. Lower federal courts had turned Trump down, too.
Practically, the court leaves in place the California law SB 54, barring state and local police from cooperating with Trump's federal Immigration and Customs Enforcement agents in their routine raids and roundups of undocumented people. Cooperation in catching actual felons remains.
"SB 54 protects community safety by limiting local law enforcement from cooperating in immigration enforcement," California Labor Federation Communications Director Steve Smith wrote when the measure first came up votes in 2017.
Earlier that year, both California AFL-CIO Executive Secretary-Treasurer Art Pulaski and United Service Workers West, a state sector of the Service Employees, crafted it and brought it to lawmakers.
"No one should have to live in fear at work. Yet, every single day immigrant workers and their employers are faced with the threat of indiscriminate workplace raids that would harm families, disrupt business and weaken California's economy," Pulaski said then. The measure "sends a clear message that California is committed to protecting immigrant workers on the job."
The legislature overwhelmingly passed SB 54 that year, then-Gov. Jerry Brown (D), signed it and it took effect Jan. 1, 2018.
The High Court also had no comment on the rhetoric Trump's Justice Department used to justify its demand, such as calling people "criminal aliens." Right-wing GOP-named Justices Samuel Alito and Clarence Thomas would have taken the case.
The court's ruling does not cover other "sanctuary" laws elsewhere, but it's important due to California's sheer size, its large and growing Spanish-speaking population and its consistent stands against Trump's xenophobic schemes.
Both SB 54's author, former State Senate President Kevin DeLeon (D) and state Attorney General Xavier Becerra (D) hailed the justices' decision.
"When Trump was elected, I wrote #SB54 w/@EricHolder to put the president on notice: CA will NEVER facilitate his war on immigrants. Today SCOTUS affirmed our refusal to support that immoral campaign against immigrant families, the economic & cultural backbone of California," DeLeon tweeted.
"In California, we've seen the success that comes from building trust between law enforcement and our hard-working immigrant communities. The last thing we need to do is to erode that trust. Today, America is experiencing the pain and protest that occurs when trust is broken," said Becerra.
"That's why this fight mattered so much. We're protecting Californians' right to decide how we do public safety in our state. The Trump administration does not have the authority to commandeer state resources.