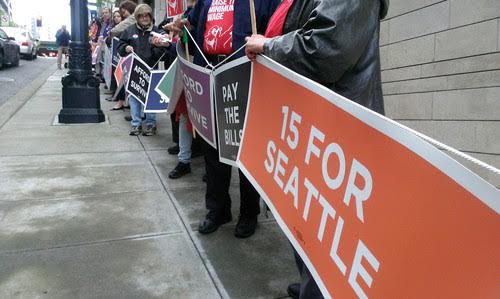 WASHINGTON (PAI) – The U.S. Supreme Court has upheld Seattle's $15 an hour citywide minimum wage ordinance, handing a judicial win – even if only in one big city – to the "Fight for 15 and a union" movement.
The win came when the justices refused to hear a challenge to the law from the International Franchise Association, the lobby for franchise chains. Four justices must vote to even hear a case, and the lobby didn't garner that many. Lower courts had ruled against IFA.
Advocates for low-paid workers and their rights hailed the court's ruling. Paul Sonn, legal counsel and co-director of the National Employment Law Project, told the Associated Press it shows the courts are not willing to stand in the way of the growing movement for a $15 hourly minimum and unionization. Seattle was one of the first big cities to enact such a law.
And Sage Wilson of Working Washington, one of the many local groups – including the Washington state labor federation – that pushed for Seattle's ordinance note that not only does it help low-paid workers, but it boosts the local economy.
And, contrary to the franchise lobby's claims, recent studies in the Seattle area have shown employment increases, not decreases, among low-paid workers after the ordinance passed, he added.
Under Seattle's law, businesses employing fewer than 500 people have seven years to reach the $15 threshold. Large employers who offer health insurance get four years for the phase-in; those who don't offer it get three.
Photo: We Are Working Washington