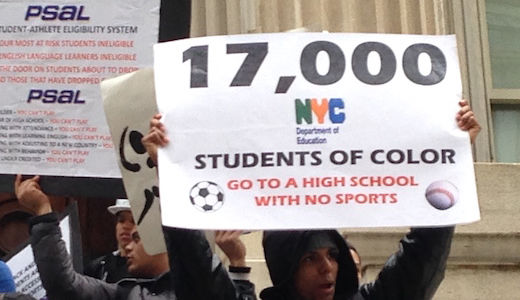 NEW YORK – International Community High School students are demonstrating against the removal of two school staff who had been supporting the students protests of the de-funding of their school's basketball, baseball and soccer teams.
The high school, located in the South Bronx, is a specialized school whose students are all recent (within 4 years) immigrants.
Students held signs with startling numbers like "36,000 students of color go to high schools with almost no sports," pointing out the gross inequality in NYC schools' programs and facilities. Their main banner read: #civilrightsmatter.
One student, Maria Pascual, said that the United States is supposed to be about the "moral value of equality, especially in education." Jennifer Morales said that even though most of the students at the rally are seniors, they are "fighting for all of the students" who suffer from these and other budget cuts.
Students are part of NYCLetEmPlay. Their demands include "provide every high schools with six teams of their choice, fund and facilitate a community-based high school sports league for students who go to schools without the sport they want to play; equitably share all Department of Education-owned fields and courts; and equitably share all park permits issued to the NYC DoE."
The students are calling for daily demonstrations at the NYC Department of Education building in lower Manhattan.
Photo: Antonia Berrie/PW