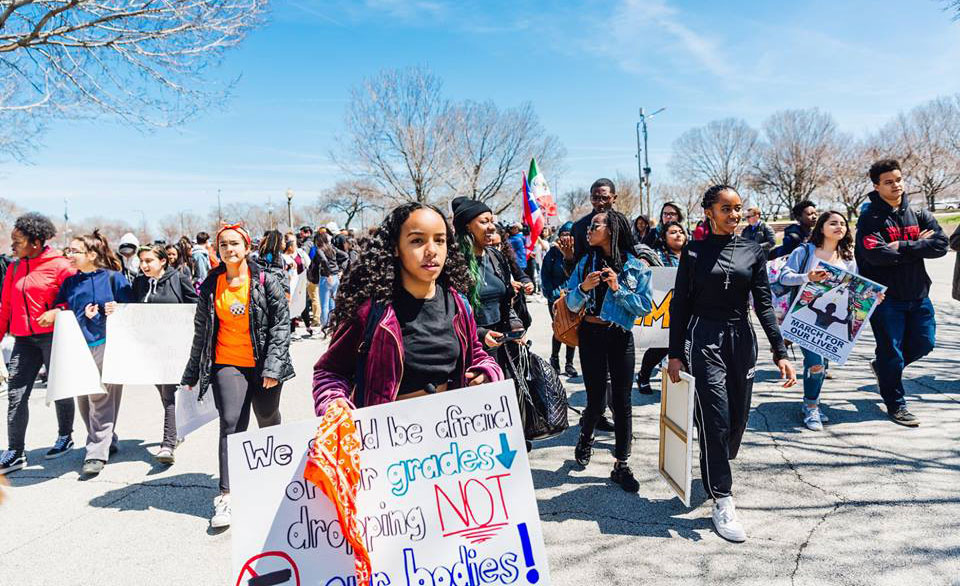 Students from at least 500 high schools nationwide walked out of class on Election Day—to go vote.
Their mass marches were the first culmination of the March For Our Lives movement, started by students from Florida's Marjory Stoneman Douglas High School after a gunman wielding an AR-15 staged a Valentine's Day massacre there, killing 14 of their classmates and three teachers, all union members.
The March For Our Lives crusade ensued, as the Douglas high school students went on bus tours from coast to coast, urging their peers to register and vote this fall—and denouncing politicians who kowtow to, or cower in fear of, the political clout of the right-wing gun lobby, the National Rifle Association, which has successfully blocked all gun control legislation for decades.
"Vote them out!" was the demand from students nationwide, and it continued at colleges in the run-up to the elections, two of the marches' lead spoke students, Emma Gonzalez and David Hogg, added in an election eve Washington Post op-ed. Hogg postponed entering college to continue the crusade. Both vow to continue leading it even after they enter college. So do other Marjory Stoneman Douglas alumni.
Now marchers carry two banners. One said "March for our lives!" The more recent one read "Vote for our lives!" The high schoolers marching in orderly masses from their 500-plus campuses to the polls nationwide did both.
"I know that NRA-corrupted politicians are powerful, and they'll do whatever they can to block policies that could end our country's plague of gun violence," Gonzalez reported in an e-mail urging high school students to register and vote.
"But there's one thing I've learned over and over this year—there are a hell of a lot more of US than THEM." One Twitter post by March For Our Lives estimated 62 million students nationwide were eligible to cast ballots Nov. 6.
"More of us want to save lives. More of us are fighting for our loved ones whose lives have been taken by guns. More of us are fighting for the little kids who shouldn't have to grow up in a world of active shooter drills and mass shootings," Gonzalez continued.
"If we show up in huge numbers tomorrow, I know we'll send a message. Not only to the immoral politicians who don't deserve to be in office. But to people all around the country and the world who need to believe we can use our democracy to turn tragedy into change," she declared.
"Over 18 months before the shooting at our school, 49 people were killed at the Pulse nightclub in Orlando. Four months before Parkland, 58 people were killed at a concert in Las Vegas," Hogg and Gonzalez added in their op-ed.
"And on Oct. 27, 11 people were killed at Tree of Life synagogue in Pittsburgh. In all that time, not a single federal law has been passed that addresses gun violence. Not a single law. Our nation's leaders have failed to protect citizens where they live, where they learn and where they pray."
"Don't vote for any politician who accepts NRA money or NRA assistance," added John MacDonnell of Miami-Dade Junior College in a posted reply. "Remember Trayvon," he added, referring to Trayvon Martin, the African-American youth shot dead by a so-called "Neighborhood Watch volunteer" in Florida several years ago. "Remember the 11 lives lost at the synagogue."
The students' gun control crusade became a major issue on the campaign trail, intensified after the mass murder of 11 Jewish worshipers by a right-wing anti-Semite at the Etz Chaim synagogue in Pittsburgh just days before the election.
Opinion surveys showed gun control was a top issue in voters' minds and the number one issue for the youngest voters, Hogg and Gonzalez reported.
In the close congressional race in the suburban Virginia district which includes the gun lobby's headquarters, the Democratic nominee, State Sen. Jennifer Wexton made pro-gun control stands a major cause in her race to unseat GOP Rep. Linda Comstock. It also became a key issue in gubernatorial races in Ohio and elsewhere, and in the U.S. Senate race in Texas. All were close contests.
Besides the politicians, the NRA started to become a pariah. Pro-gun control groups reported raising and spending more money on independent issue ads in the campaign than the gun lobby did, for the first time in the history of recorded campaign contributions.
And in Noblesville, Ind., the local GOP disinvited new NRA President Oliver North, the former Reagan administration engineer of the aid-to-Iran-for-arms-to-the-contras deal, from a rally just a few miles from the site of a school shooting this past May 25, the Associated Press reported.
GOP Chair Kyle Hupfer said North's appearance at the rally for the party's U.S. Senate nominee, Mike Braun, in increasingly red state Indiana "would have been the wrong place and wrong time." Braun, who supports the NRA, still managed to beat Democratic Sen. Joe Donnelly.