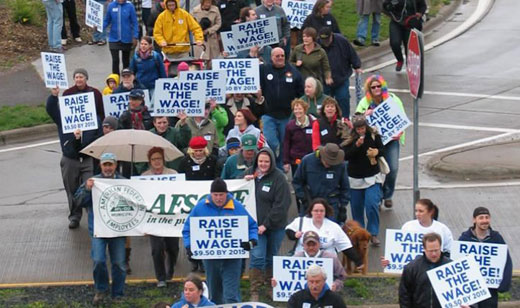 MINNEAPOLIS and DULUTH, Minn. (PAI) – The drive to enact a higher state minimum wage in Minnesota gained steam in mid-October with a roundtable on the issue hosted by two Democratic congressmen, and a mass march in Duluth.
At the roundtable, workers told Reps. Keith Ellison and Richard Nolan, both D-Minn., what it's like to live on $7.25 an hour and said the state minimum wage should rise to $9.50 – which was also the aim of the marchers in Duluth.
For the second time in this legislature, Minnesota lawmakers are considering bills to raise the minimum to the $9.50 figure. An earlier bill foundered. The Democratic-run state house passed it, but the Democratic state senate leader disapproved of it.
Other states have not waited for the gridlock in Washington, D.C., to break and allow a hike in the federal minimum, $7.25, which has not been raised since the George W. Bush administration. California just raised its minimum to $10 an hour, for example.
The "Raise the Wage!" community roundtable in Minneapolis on Oct. 14 let low-wage workers speak about their struggles as well as open up a discussion with the broader community about the campaign to raise Minnesota's minimum wage. Turnout was so great that some attendees had to stand outside the meeting room and peer through the doorway to observe the speakers.
One of the first speakers was Darcy Landau, a Delta Airlines wheelchair agent at the Minneapolis-St. Paul Airport. "What I like about my job is I get to help out all kinds of people — from the very young to the very old," Landau said. However, he admitted that at $7.25 an hour and with virtually no benefits, his paycheck cannot cover basic necessities such as repairing his car or chipping away at his massive student loan debt.
Lynn Nordgren, president of the Minneapolis Federation of Teachers, highlighted the problem of poverty in Minneapolis schools and its impact on student success. She noted that when a child does not have a bed, a home, reliable meals, glasses or asthma medication they need, it has a huge impact "on your social, emotional, psychological, and intellectual well-being. It would impact any of us."
Both Nolan and Ellison have supported raising the federal minimum wage to $10.50 an hour. "Our federal government funds more low-wage jobs than McDonald's and Walmart put together. So we've got a national crisis," Ellison added. By a party-line vote, the House GOP majority voted down that hike to $10.50, earlier this year.
Both congressmen also stated that raising the minimum wage is a good first step in a long line of changes needed to help the U.S. economy.
The Minnesota House passed HB92, raising the minimum to $9.50, earlier this year. At the start of the 2014 legislative session, the state Senate will have the oppor-tunity to pass the bill, which would raise the minimum wage that high by August 2015.
The same day as the Minneapolis roundtable, the effort to increase Minnesota's minimum wage came to Duluth, as more than 75 people marched through windy, lake-effect weather to Canal Park, where they were met by an equal number for a rally.
Organized by labor, the events drew a cross section of society, from Duluth Mayor Don Ness to minimum wage workers.
"It's great that our march went past Grandma's restaurant because their president, Brian Daugherty, is always at the legislature saying business can't afford to raise the minimum wage," said North East Area Labor Council President Alan Netland. "Well, we're here to say the minimum wage, about $15,800 a year for a full-time worker, isn't enough to raise a family, and a raise would help business because the working poor have to spend the little money they earn."
Ness spoke briefly, saying a lot of working folks in Duluth live in poverty, working in the service sector. "If you work 40 hours a week you shouldn't have to live in poverty," Ness told the crowd to cheers.
Cantaré Davunt is one of the working poor in northern Minnesota and she has a college degree. She works at Wal-Mart and another job but has a difficult time paying her bills, let alone her student loans. Her father is retired from the military and he also works a minimum wage job. He's had a 25-cent raise in seven years.
"A minimum wage job is the best you can hope for in our small community," Davunt told the gathering. "The people of America have a right to be able to live the dream of equality and prosperity. We need to fix the America we live in. It's time to take action on the minimum wage!"
State Rep. Jason Metsa, DFL-Virginia, a leader in the Minnesota House that passed a bold bill to increase the minimum wage, said it would also improve the state's economy. That bill would have raised the wage to $10.50 an hour, indexed it to inflation, preserved a ban on the tip penalty, set the work week to 40 hours, and guaranteed maternity and paternity leave. But the conservative Senate would have none of it under DFL (Democratic-Farmer-Labor) Majority Leader Tom Bakk.
"We can improve the state's economy by $470 million by increasing the minimum wage," Metsa said. "And contrary to what you hear, 77 percent of those working minimum wage jobs are over 20 years old. An honest day's wage is not going to be coming from corporate America." He vowed to carry the pay raise bill again in the session that begins in February.
State Rep. Mike Sundin, DFL-Esko, said corporate cannibalism and its race to the bottom must end so we can restore dignity to the low wage workers who take care of our young, elderly, and do other low-wage jobs.
"If we raise the minimum wage more towards a living wage, we can reduce the number of working poor that need public subsidies to survive," Sundin said. "And we'll actually help businesses" by sending more customers through their doors.
Sundin countered the business complaint that raising the minimum wage in Minnesota will drive jobs away because businesses will leave. He said Minnesota has a $6.15 state hourly minimum, but Wisconsin's is $7.25, the Dakotas are both $7.25, and Michigan's is $7.40. Most of those states also pay overtime after 40 hours of work.
Ellison and Nolan had planned to march in Duluth, but had to leave for D.C. after the Minneapolis roundtable.
Joe Getty writes for Workday Minnesota, Larry Sillanpa for the Duluth Labor World.
Photo: A rally to raise the minimum wage takes place in Canal Park. Larry Sillanpa, courtesy of Workday Minnesota