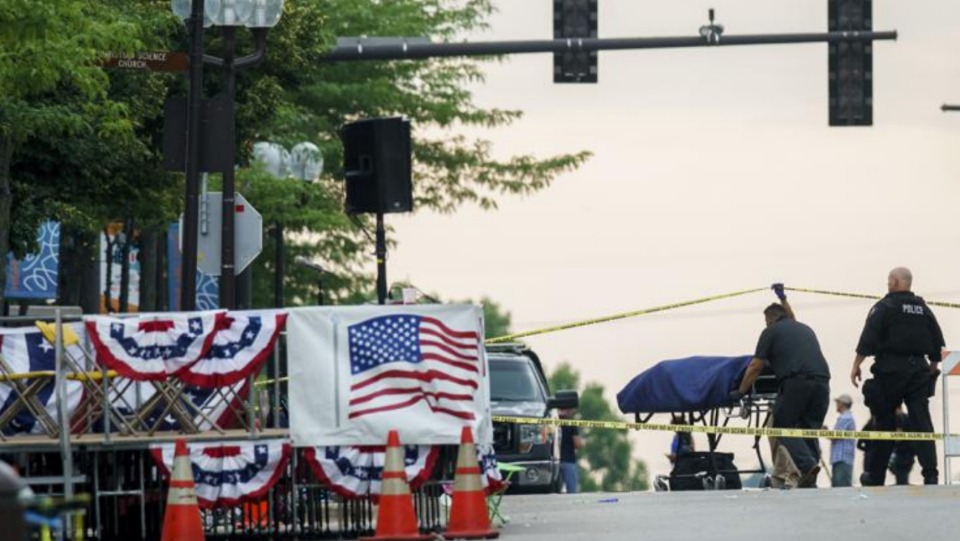 HIGHLAND PARK, Ill.—As this community buries its dead from the nation's latest horrific mass shooting, a rising chorus of residents and lawmakers is calling for a ban on the purchase of assault weapons.
The killer, a known MAGA terrorist, sprayed bullets from a high-powered military-style assault weapon into a festive July 4 Independence Day Parade. Within seconds seven people lay dead, and dozens were wounded.
The attack was the 309th mass shooting of 2022, including 62 in the city of Chicago alone. In addition, 124 people die each day in other acts of gun violence. Law enforcement apprehended the shooter, who confessed to authorities several hours after the massacre.
The Highland Park massacre, the January 6th MAGA failed insurrection, the massacre of African Americans in Buffalo, Latinos in El Paso, and Jewish worshipers in Pittsburgh, demonstrate the new level of white supremacist domestic terrorism and political violence unsettling the country.
After the massacre, the killer escaped by blending into the fleeing crowd. Armed with another weapon, he borrowed a family car and drove to Madison, Wis., a progressive Democratic bastion, where he contemplated attacking another Independence Day parade and killing and terrorizing more people.
Photos and videos of the killer attending Trump events, including "Stop the Steal" rallies, have surfaced. "The truth is slowly leaking out as some media outlets do the investigative work that should be done. You will see that (the killer) wasn't just a crazy person with violent tendencies. He was part of an organized movement to instill fear in anyone brave enough to oppose the fascist threat to our country," wrote Rachel Wachstein in a Facebook post.
These local fascists are known to activists in the area. Following the 2020 election, MAGA fascists, including from the Lake Bluff Militia, physically assaulted Democrats and counter-protesters of a "Stop the Steal" rally in nearby Northbrook. The killer joined a "Trump Train" through the future massacre site to terrorize Highland Park residents.
Highland Park, a heavily Democratic suburb north of Chicago, has one of the area's oldest Jewish communities. Early Jewish immigrants, excluded elsewhere, were welcomed here. Today, approximately 50% of Highland Park's population is Jewish. Four of the seven victims were Jewish, and another was Latino. Although law enforcement is not declaring this a hate crime, it's impossible to dismiss anti-Semitism embraced by MAGA fascists as a possible motive.
Central Avenue Chabad Synagogue sits near the massacre site. Rabbi Yoseph Schanowitz recalled the MAGA killer trying to attend a Passover Seder in April. His suspicious appearance caught the attention of temple security, and Rabbi Schanowitz asked him to leave.
The terrorist got a license allowing him to legally possess a firearm despite threatening to kill his family and commit suicide after scores of knives were confiscated from his home. Illinois turns down only 4% of applicants under the state's "red flag" law.
The Illinois legislature passed, and Gov. J.B. Pritzker just signed, legislation to expand background checks for gun purchasers and provide mental health funding for communities, among other things. Pritzker and Democratic lawmakers are discussing new ways to strengthen the "red flag" law. A move to ban assault-style weapons and large-capacity magazines is also gaining steam in the wake of the massacre.
Lake County State's Attorney Eric Rinehart demanded more gun control, including an assault weapons ban, while announcing charges against the killer. "All of the people who died steps from here lost their freedom, all of it," he said. "Their freedom matters too."
Despite passing the most significant gun safety legislation in 30 years, Congress couldn't agree to a national ban on assault weapons, something President Joe Biden has advocated for several years. The election of more Democratic anti-gun violence advocates, especially more Democratic senators who support ending the filibuster, could break the Republican obstruction to more far-reaching gun safety reforms.
"Congress needs to have the courage to act, and renew the assault weapons ban," declared Vice President Kamala Harris. "An assault weapon is designed to kill a lot of human beings, quickly. There is no reason that we have weapons of war on the streets of America."
Harris spoke to the National Education Association in Chicago shortly before going to Highland Park to offer condolences and support to the mass shooting victims and the community.
Medical personnel on the massacre scene described the gruesome wounds of those killed and maimed by the assault weapon. "Literally some of the bodies were…. There was an evisceration injury, from the power of this gun and the bullets. There was another person who had an unspeakable head injury," said Dr. David Baum.
"Our Founders carried muskets, not assault weapons," Pritzker said Monday afternoon following the massacre. "And I don't think a single one of them would have said that you have a constitutional right to an assault weapon with a high capacity magazine, or that that is more important than the right of the people who attended this parade today to live."
"There is no better day and no better time" to talk about gun control, Pritzker said.
Republican state Sen. Darren Bailey, an avid gun rights advocate, is the extreme-right Republican candidate for governor. After the massacre, Bailey urged people to "move on" and return to enjoying the July 4th holiday.
Baily opposes the state-issued Firearm Owners Identification card (FOID) required by anyone wanting to purchase a gun. Republicans nationally, eager to deter any scrutiny of their own inaction on the issue or the lobbying of their partners in the gun industry, dismissed the killing as just the act of an individual mentally ill person.
"We know that in other countries people suffer from mental illness, they suffer from anger, maybe they play violent video games, but they can't get their hands on these weapons of war and they can't bring this kind of carnage to their hometowns," said Highland Park Mayor Nancy Rotering (D). "This has to stop."