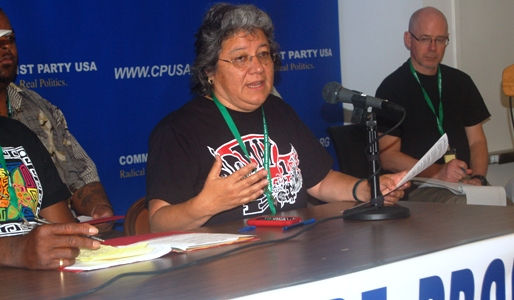 The following is an e-mail sent by People's World writer Rick Nagin to hundreds of his friends, family members and acquaintances in Ohio.
Brothers and Sisters –
I had the great pleasure of attending the 29th National Convention of the Communist Party USA this past weekend in New York. It was a very inspiring event and I want to share some highlights.
The convention reaffirmed the party's basic position of working with labor and its allies to build a broad democratic coalition to defeat the ultra-right. The party sees this as necessary to defend the rights of working people at present as well as key in the long run to weaken corporate power and move towards working class power (socialism).
The immediate challenge is to defend and, if possible, extend the gains made in 2006 and 2008 by setting back the right-wing attempt to regain power in the November midterm elections.
In addition, the convention called for helping to build mass fight back against the economic crisis, especially on the issue of jobs as well as defending the gains won in the health care reform. There was an excellent PowerPoint presentation on the economic crisis and what needs to be done to overcome it.
Defeating the right-wing's use of racism and anti-immigrant hysteria was seen as critical to success in both the electoral and economic arenas.
Workshops and plenary panels on were held on the elections, labor, African American equality, Latino equality, peace, youth, the environment, public education, women's rights, gay rights, and work in the religious community and growing the party and Young Communist League. Detailed resolutions on six broad areas were adopted.
Like all conventions there was a lot of hoop-la and fanfare. Each session opened with a cultural presentation and there was a lot of singing. There was also an evening celebration and cultural event on the Party's 90th anniversary with great live music and dancing.
The Democratic State Assemblyman representing the district where the convention was held gave a great speech welcoming the convention as did several local union presidents. We also heard from Communists holding local office in a number of states.
Leadership was elected including Sam Webb as national chairman, Jarvis Tyner as vice chairman and Roberta Wood as secretary-treasurer.
The convention was united and enthusiastic and delegates left with renewed confidence and determination to work to consolidate the defeat of the ultra-right and move forward to repair the damage they have caused to democracy and the rights of working people.
The main reports, resolutions the PowerPoint presentation will soon be available at the cpusa.org website where there is also a video of the opening session. Reports on the convention are on the peoplesworld.org website. Ohio delegates are anxious to meet with groups to discuss the convention and how to move ahead. Let me know if you would like to set up a meeting.
Photo: Delegate from Southern California, Rossana Cambron, shares her experiences on building the Communist Party and YCL at the grassroots. (Pepe Lozano/PW)