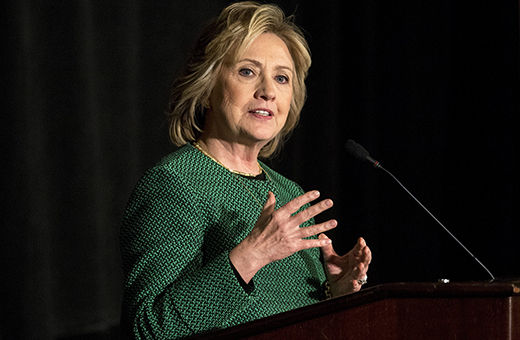 LOS ANGELES – Hillary Rodham Clinton announced Sunday that she is running for president a second time, immediately positioning herself as the front-runner for the Democratic Party's 2016 nomination.
"Everyday Americans need a champion. And I want to be that champion," Mrs. Clinton said at the close of a two-minute video announcement on the Internet. "So I'm hitting the road to earn your vote – because it's your time. And I hope you'll join me on this journey."
The announcement began what could be an uncontested race for the Democratic nomination, a stark contrast to the 2008 primaries, when Clinton, the early front-runner, ended up losing to Barack Obama. It could also be the first time a woman captures a major party's nomination.
Sen. Bernie Sanders (I-Vt.), who has support from Democrats and others who consider Clinton either too moderate or too close to Wall Street, has said he is considering a run for the presidency but that he will only do it if he can mount a serious campaign aimed at winning. He is expected soon to make his decision. Sen. Elizabeth Warren (D-Mass.) who also is backed by many in the Democratic Party's progressive base has always maintained that she will not run.
Other Democratic candidates that have been mentioned include former Maryland governor, Martin O'Malley and former U.S. Senator from Virginia, Jim Webb. Both are far behind Clinton in all of the polls that have been taken.
Clinton hits the campaign trail with almost universal name recognition and a strong support base, especially among women. Millions across the country are excited about the possibility of what could be the historic election of the first woman to the presidency.
Initial reaction in the labor movement shows that much of the traditional Democratic Party base of support is determined, however, to see issues it cares about come to the fore in the presidential campaign.
"Secretary Clinton has a long and distinguished career in public service and has been an inspiration for millions of women in America and around the globe," AFL-CIO President Richard Trumka said in a statement following the announcement. "We hope her candidacy will contribute to the critical debate in our country on how to raise wages."
Trumka said he was pleased that Clinton would begin her campaign with a "listening tour."
"We believe she and they (other presidential candidates) will hear an urgent need to reject corporate-driven agendas that produce everything from tax breaks for the wealthy to destructive trade agreements. Working people want to hear Secretary Clinton's ideas about how to create a Raising Wages America."
Progressive organizations wasted no time yesterday getting on the Internet with their reactions. Social Security Works, for example, urged everyone to get online and ask Clinton where she would stand on expanding Social Security and on the question of making it a central feature of her campaign.
Leaders of the Dream Action Coalition noted that when President Obama took executive action last November in favor of immigrant rights Clinton tweeted, "Thanks to POTUS for taking action on immigration in face of inaction."
The main issue, according to Cesar Vargas, co director of the coalition, is "whether Secretary Clinton would take strong executive action to prevent deportations and the splitting up of families."
In Clinton's video announcement she appears after images featuring personal stories of individuals, each describing how they are getting ready to begin a new phase in their lives. The video shows a mother who says she is going back to work, a young Asian woman searching for work, two Latino brothers starting their own business and a gay couple planning to marry.
Then Clinton gets on and says: "I'm getting ready to do something too. I'm running for president."
Photo: AP