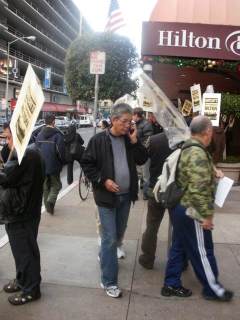 SAN FRANCISCO – "San Francisco's a union town!" and "San Francisco, escucha: ¡estamos en la lucha!" – these are some of the chants that resounded throughout downtown San Francisco on Dec. 16 as about 150 members of UNITE HERE Local 2 and their supporters marched around the entrance to the San Francisco Hilton, close by the city's famed Union Square.
The union is calling for a boycott of the Hilton, owned by the Blackstone Group, which recently announced it has $28 billion in spare cash to invest – while demanding that Hilton workers give up their health care, living wages, and retirement benefits.
Stephen Schwarzman, Blackstone's chairman, stated this past April that "we can feel this turnaround in the economy" – but apparently he doesn't want the workers who produce his profits to feel it. In response, Local 2, which represents workers at many hotels around the Bay Area, has called a boycott.
Today's action was one of many that have drawn spirited crowds and let not only the Hilton management but also the whole community of San Francisco – which has a strong labor tradition going back to the 19th century – know that this is indeed a union town.
Image: Henry Millstein/PW