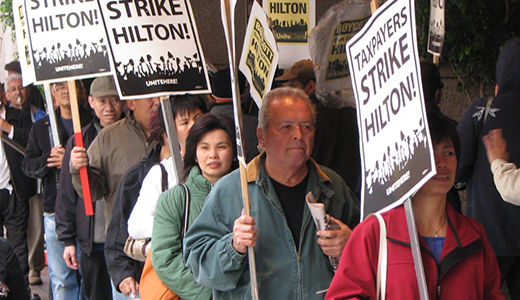 SAN FRANCISCO – Workers at the San Francisco Hilton Union Square emerged victorious after an 18-month struggle and boycott campaign, the hotel workers' union, Unite Here Local 2, and Hilton management announced at a press conference here March 7. Despite sharp increases in health care costs, the new contract maintains employer-paid health benefits for workers and their families. Workers also won a $2.00 per hour wage increase, improved retirement benefits, reduced workload for housekeepers, an additional week of vacation for workers with 20 or more years seniority, additional funding for legal and child and elder care benefits, and a number of other gains.
Mike Casey, Local 2 executive director, pointed out the importance of community support to the workers' victory, especially in promoting the boycott called by the union. Hilton management reported a 10 percent decline in occupancy last year, though it would not say how much was due to the boycott and how much to the economic downturn. Casey pointed out that the contracts won by Hilton workers here and in Chicago and Hawaii are only the beginning of Unite Here's struggle as they battle several other hotel chains for fair contracts. He singled out the fight with the Hyatt hotel chain as especially difficult, reporting that Hyatt's parent Starwood Corporation recently backed out of a negotiating session right after the family controlling the corporation banked $800 million in dividends.
The union is now calling on organizations and individuals to patronize the Hilton as the campaign moves on to the hotels that have not yet settled with their workers.
Photo: PW/Marilyn Bechtel