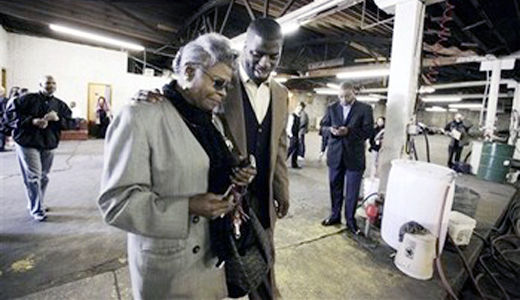 CHICAGO – Che "Rhymefest" Smith, a 33-year-old Hip-hop artist and third generation resident of the southside's Woodlawn neighborhood, announced Oct. 22, that he will run for alderman of the 20th Ward.
Smith, best known for co-writing the Grammy-winning song "Jesus Walks" with his friend Kanye West, said he hopes to lead a renaissance in his community, a ward that's filled with empty lots, boarded-up businesses and is plagued by unemployment and youth violence.
Smith aims to tackle poverty and disenfranchisement. Speaking to the press he said his vision for the community he grew up is one that involves residents, a community in which youth would find productive ways to fill their time, elders would be sought out for wisdom and small business owners would be able to expand.
Smith aims to use Hip-hop as a way to support his message and engage young people to get active. He plans to reach out to fellow Chicagoans and Hip-hop artists Kanye West and Common to support his campaign.
He said he's always been an activist and has traveled the world promoting development in various communities addressing issues of injustice. "But every time I came back home it was blaring in my face. The biggest injustice that I was facing was right where I lived."
Speaking to NBC news Smith said, "My children want to play at the park in a safe community and it's time to take personal responsibility, music aside, to help re-engage the community."
Smith said the 20th Ward lacks development, infrastructure and training programs for residents. He notes the University of Chicago is an important asset in the area that should be taken advantage of. "What we need to do is figure out how to bring people from the ivory towers to the small towns and people from the small towns to the ivory towers," he said.
He spoke of the need for a community council that includes seniors, block clubs and neighborhood association leaders that will collectively impact on decisions on behalf of the ward. Those decisions need to be made by the consensus of the community, not by one person, he said. "We need to give this ward back to the community and I believe that everything powerful – everything that connects – is local," he said. "We need to re-engage the local youth and community residents and that's what I want to do. Every thing else comes second."
The 20 Ward includes the Englewood, Back of the Yards and Woodlawn neighborhoods and is predominantly African American. Smith will be running against Ald. Willie Cochran, 58, a former police officer who also owns a laundromat in the area.
Cochran won a landslide victory over scandal-plagued veteran Ald. Arenda Troutman in 2007 with the backing from some of Mayor Richard M. Daley's most prominent Black allies.
Cochran credits his first term with building a new grocery store and an Autozone store in the ward. And he says he's helped to improve schools, rebuild infrastructure, created youth programs, a jobs program for ex-offenders and new housing. Cochran's also working to bring a new Wal-Mart store to the ward, despite many in Chicago that disapprove of the big-box company's notorious low wages and anti-union policies.
Cochran says he's not threatened by Smith's bid to replace him and had this to say about Smith in an interview published in the Chicago News Cooperative:
"You have an intelligent voting public, and if they want to replace an educated public administrator with a rapper who refers to women as hos and bitches in his videos, who uses his performances to promote the use of weapons and gang activity, then the voting public has changed a lot,"
But far from being a "gangsta" rapper, Smith is actually known as a conscious Hip-hop artist. Smith is known for addressing social issues in his lyrics that feature real stories and daily struggles about working people. He notes his aldermanic race is a serious campaign to improve the quality of life for residents of the ward. He said businesses in the area "don't need to just survive, they need to thrive."
Che "Rhymefest" Smith was named after Che Guevara, the Argentine medical doctor turned revolutionary that helped ignite Cuba's socialist revolution alongside Fidel Castro in 1959. Speaking to the press Smith said, "The definition of revolution is love."
"This is the ward that we are going to take back for the people who live here," said Smith. "We are the 20th Ward, and we will reclaim our greatness."
Photo: Grammy Award-winning rap artist Che "Rhymefest" Smith confers with his grandmother, Paula Smith, before announcing his candidacy for alderman, in Chicago, Oct. 21. A/P