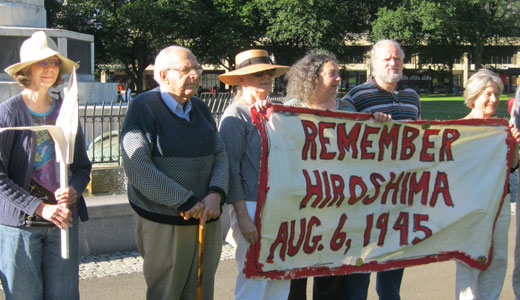 Gathered on the New Haven Green at 8:15 am on August 6, peace activists joined many thousands of similar gatherings around the country and worldwide to remember the horror of the first atomic bomb dropped on Hiroshima in 1945 which annihilated that city, and to call for abolition of nuclear weapons today.
"Recalling once again the trials of our predecessors through these 68 years, we offer heartfelt consolation to the souls of the atomic bomb victims by pledging to do everything in our power to eliminate the absolute evil of nuclear weapons and achieve a peaceful world," concluded the Peace Declaration sent from Matsui Kazumi, mayor of Hiroshima.
The annual vigils on August 6 and August 9 when the bomb was dropped on Nagasaki, Japan, are sponsored by the City of New Haven Peace Commission and the Greater New Haven Peace Council.
Peace Council president Henry Lowendorf recognized New Haven Mayor John DeStefano as a signer of a resolution which was passed unanimously by the U.S. Conference of Mayors on June 24, "Calling for U.S. Leadership in Global Elimination of Nuclear Weapons and Redirection of Military Spending to Domestic Needs."
The resolution supports redirecting the funds saved to support human needs, and also calls for participation by the United States in a special meeting of the United Nations General Assembly on nuclear disarmament scheduled for September.
New Haven voters said yes overwhelmingly to a ballot question last November asking to redirect military spending to fund human needs.
This led State Senator Toni Harp, now a candidate for New Haven's open Mayor seat, to introduce legislation for a "Future's Commission," including business, industry, labor, peace and environment, to study how the economy of Connecticut can be shifted away from military production toward sustainable development. The bill was signed into law by Governor Dannel Malloy in June.
Military production, including the Electric Boat shipyard in New London which produces nuclear submarines, and United Technologies, has long dominated the state's economy and job opportunities. Members of Congress have fought for defense appropriations in order to save jobs. The Futures Commission will examine how these facilities can be redirected toward civilian needs.
In his Peace Declaration Hiroshima Mayor Matsui Kazumi paid recognition to the fact that "today, a growing group of countries is focusing on the humanitarian consequences of nuclear weapons and calling for abolition. President Obama has demonstrated his commitment to nuclear disarmament by inviting Russia to start negotiating further reductions."
Speaking of the contractions the nuclear weapon's abolition movement in the United States faces, Lowendorf cited an increase in spending for nuclear weapons over the last two years. "The U.S. is now building new nuclear weapons factories," he said, adding, "The nuclear weapons arsenal costs $25 billion a year to maintain, an amount which could substantially alleviate the plight of 43 million in poverty and create useful jobs."
In addition to the vigils, the Peace Council is sponsoring an initiative to "share your shadow." A nuclear bomb explosion vaporizes everything in its path, and sometimes creates permanent memories of those killed with nuclear shadows, still visible in Hiroshima and Nagasaki.
In solidarity with victims of nuclear detonations, individuals are invited to take a photograph of their own shadow and post it to Facebook, Twitter, and shareyourshadow.tumbler.com.
Photo: Vigil on Hiroshima Day, New Haven Green. Art Perlo