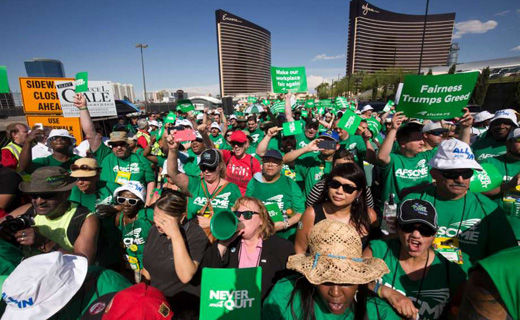 This article is part of a series on the Democratic National Convention.
PHILADELPHIA – Maria Elena Durazo, Democratic Party Vice Chair, drew thunderous applause as she told the Hispanic Caucus at the Democratic National Convention July 25 that GOP Presidential nominee, Donald Trump, is a dangerous racist. Latinos must work to turn out voters to defeat him November 8, she said, as the crowd of nearly 1,000 convention delegates and guests applauded in the Philadelphia Convention Center.
"I'm a union organizer for Unite-HERE," Durazo said. "We represent more employees of Donald Trump's hotels than anyone." It includes hundreds of Unite-HERE workers in Trump's Taj Mahal Casino in Atlantic City, NJ, now on strike to win relief from Trump's poverty wages.
Durazo quoted a Unite-Here Trump employee that Trumps minions enforce "less pay, more abuse, no respect. They bully us and they spy on us."
The anti-worker abuse flows naturally from Trump's vow to deport millions of undocumented immigrants, Durazo continued.
These threats "have consequences for America NOW!" she thundered. "How can we reconcile electing a racist to sit at Barack Obama's desk? How have we allowed Trump's language to become acceptable?….Let's call it by it's real name: racism."
She pointed out that the target of Trump's hatred are overwhelmingly people of color including Mexicans smeared by Trump as "killers," "rapists," and "drug pushers." Trump calls Muslims "terrorists" and would deny them entry to the U.S.
If Trump were to be elected, she said, "I would disobey his deportation order, his ban on Muslims, his war on women. But we are not going to have to do that because we are going to defeat Donald Trump. We are going to elect Hillary Clinton the next President of our beloved United States of America."
The session was marked by a solemn tribute to the 49 women and men who died in the assault on the Pulse night club in Orlando, Florida last June 12 when a crazed gunmen opened fire in the gay bar. Vivian Rodriguez, the first openly Lesbian Democratic Party leader in central Florida said the people of Orlando have united against the violence and hate. She pointed out that over 90 percent of the victims were Latinos. "We are still struggling with the pain., We are a community that must strive for acceptance and inclusion. Love is greater than hate."
She introduced Ashley Acevedo, a young student at the AMLA Latin School of Performing Arts in Philadelphia who sang "Amazing Grace" in her soaring soprano as photos flashed on a giant screen of those who died. Many in the crowd were wiping away tears.
Rep. Luis Gutierrez (D-Ill), a leader in the struggle for comprehensive immigration reform with a path to citizenship blasted Trump's attacks on immigrants. "He has the ugly, hateful fantasy that he is going to round up and deport 11 million immigrants," Gutierrez said. The nation and all Latino people, he said, must stop the mass deportations. "We embrace them. We defend them," he said. "We cannot allow this."
On a 4-4 tie vote, last June 23, the U.S. Supreme Court upheld a Texas Appeals Court order blocking President Obama's Executive Order aimed at slowing the deportations of five million undocumented immigrants. It underlined the urgency of electing Hillary Clinton President and ending Tea Party Republican control of the Senate so that a liberal or progressive can win confirmation to the U.S. Supreme Court to break this deadlock.
Gutierrez pointed out that Clinton "says she would expand DAPA (Deferred Action for Parents of Americans). We expect her to introduce and sign a comprehensive immigration reform bill. Let's repudiate Donald Trump and make sure the Republicans know they lost because they pissed us off!"
David Leopold, an immigration attorney who argued immigration law before the U.S. Supreme Court said he is Jewish, not Latino. His grandfather served in the German Air Force during World War I but less than a decade later was branded as "sub-human" by Hitler's Third Reich. "It could never happen here, my father told me." Yet last week Donald Trump was nominated by the Republicans.
"This is the most critical election in American history," Leopold said. "This is a very dangerous, dangerous racist candidate on the other side. We have five million families who long to come out from the shadows. The Supreme Court must rehear this case. We must vote in November. We've got to elect Hillary Clinton."
Lily Eskelsen Garcia, President of the 2 million member National Education Association (NEA), said she is a third generation granddaughter of immigrants from Utah where the notion of "diversity" is the Presbyterians in the community. She hailed the "Dream Act" blocked by the Republicans. "You do not punish children for decisions they did not make," she said. "You do not break up families," she said. "We are with Hillary for a reason," she said, citing the "fear, hatred, suspicion" of Donald Trump.
Photo: Union members rally outside Trump hotel in Vegas. | Steve Marcus/AP