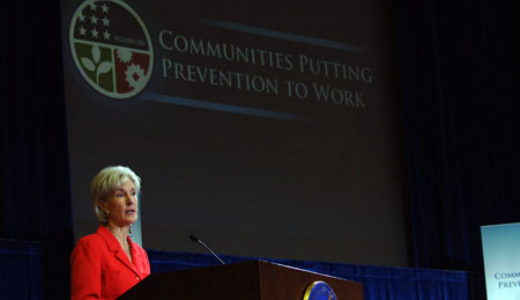 Starting next year, insurers will be required to fully cover, with no copays, contraception and other preventive health services for women, the Obama administration announced Aug 1.
Women's rights groups hailed the new requirement, saying that better and more equitable access to family planning services is an important part of the fight for women's equality. The new rules, they said, would lead to an overall improvement in women's health.
The new regulations were announced Aug. 1 by Department of Health and Human Services Secretary Kathleen Sebelius, and were issued under President Barack Obama's signature Affordable Care Act. The changes will apply to all new insurance plans.
According to a statement on the federal government's health care website, "Under the Affordable Care Act, women's preventive health care services – such as mammograms, screenings for cervical cancer, and other services – are already covered with no cost sharing for new health plans. The Affordable Care Act also made recommended preventive services free for people on Medicare. However, the law recognizes and HHS understands the need to take into account the unique health needs of women throughout their lifespan."
The new Guidelines for Women's Preventative Services include "well-woman visits, support for breastfeeding equipment, contraception, and domestic violence screening."
Planned Parenthood hailed the rules change as a victory for women's rights. "Today is a historic victory for women's health and women across the country," said Cecile Richards, president of Planned Parenthood Federation of America, on the organization's website. "The decision by HHS is monumental for millions of women who have struggled with the cost of birth control and other essential health-care services such as cervical cancer and HIV screening."
Secretary Sebelius, speaking on National Public Radio, said the rules were "very good news for the approximately 34 million women who are now looking at the possibility of having affordable, available contraception without copays and deductibles."
But some are chafing at the yearlong waiting period for the law to go into effect. "Women need preventive health services now, especially as they are economically squeezed by unemployment or underemployment," O'Neill said.
Health and Human Services made the change after the Institute of Medicine, the National Academy of Sciences' health department, issued a July report urging the government to adopt such a measure as, they say, it would be good for overall health and the economy.
Just under half of all pregnancies in the U.S. are unintended, and around 40 percent of those – about one-fifth of all U.S. pregnancies – are aborted, the institute said in issuing its recommendations. Providing free contraception would therefore lower the number of abortions.
The new rules allow for religious exemptions, but already religious groups, including the United States Council of Catholic Bishops, are complaining: "Those who sponsor, purchase and issue health plans should not be forced to violate their deeply held moral and religious convictions in order to take part in the health care system or provide for the needs of their families or their employees," Cardinal Daniel N. DiNardo, archbishop of the Archdiocese of Galveston-Houston, wrote to members of Congress. "To force such an unacceptable choice would be as much a threat to universal access to health care as it is to freedom of conscience."
The Church and its allies are pushing Congress to pass a law banning such mandates. But others note a seeming contradiction in its positions: It is vehemently anti-abortion, but it is opposed to a measure that would likely stop millions of abortions from ever taking place.
On the other hand, some women's rights advocates have criticized the exemption for religious institutions, saying women who work for such employers should not have less rights than other women.
"The U.S. Constitution guarantees freedom of religion and freedom from being forced to observe any particular religious dictate," O'Neill said.
The full list of services insurers will have to cover under the new federal rules includes: contraceptive methods and counseling, annual well-woman preventive visits, screening for cervical cancer/HPV, counseling for sexually transmitted infections, HIV tests, screening and help for women suffering domestic violence, screening for gestational diabetes and breastfeeding support.
Photo: Secretary Kathleen Sebelius. Stock photo via federal Department of Health and Human Services website.