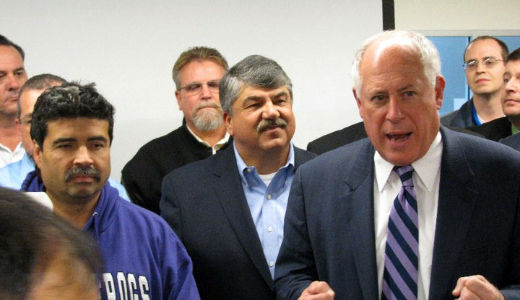 CHICAGO – In the face of a horrible economic crisis and torrent of secret outside money, a historic voter mobilization by labor and progressive forces blocked a complete takeover of Illinois state government by Republicans Nov. 2. As a result, Democratic Gov. Pat Quinn was narrowly reelected and both houses of the state legislature remained in Democratic hands.
Democrats also retained the Attorney General and Secretary of State posts and along with labor allies defended State Supreme Court chief justice Thomas Kilbride. The justice was under assault by corporate and right-wing forces because he voted to oppose limits on medical malpractice lawsuits.
Nov. 2 became the second most expensive retention election in state history.
The victory of Quinn and the Democratic state legislature are important going forward to deal with the mammoth state budget crisis, health care reform, redistricting and other issues.
In addition, two reform candidates, Toni Preckwinkle and Jesus Garcia, won their races for Cook County Commission. Preckwinkle was elected president of the county, which includes Chicago.
Democratic candidates and the electoral coalition that backed them were up against at least $25 million in secret outside money and scurrilous attack ads from American Crossroads, the Chamber of Commerce and other right-wing outfits. Illinois, especially Democratic U.S. Senate candidate Alexi Giannoulias, was seen as perhaps the top target by these groups, who are hoping to use the victories against President Obama.
Though the losses were serious, a shift of a small percentage of votes could have made a difference. Giannoulias lost to Republican Mark Kirk by about 80,000 votes – two percent of the total.
Three incumbent Democratic representatives (Reps. Bill Foster, Debbie Halvorson and Melissa Bean) were beaten in districts that have been traditionally Republican but won by Democrats in the last two election cycles.
In Bean's case, this was a race that didn't have to be lost. Apparently she and the Democratic Party were asleep at the switch until it was too late. In addition, Green Party candidate Bill Sheurer got 6,500 votes. Many of the Green voters may have pulled for Bean had they realized exactly how close the election was.
The most serious loss was Democrat Rep. Phil Hare, who lost in a district that covers the Illinois portion of the Quad Cities and the western part of the state. This had been a Democratic seat for 30 years with a strong labor presence.
Where there were victories, it was the unprecedented voter mobilization of the labor movement and African American and Latino communities, especially in Cook County, that were decisive in electing Quinn.
Some two percent of voters split their tickets to elect Quinn and defeat Giannoulias. In addition, Green Party governor candidate Rich Whitney got three percent of the vote.
Quinn was up against State Sen. Bill Brady, an arch reactionary from downstate Bloomington. His extremist views on slashing education and social programs, outlawing abortion and cutting the state minimum wage ended up alarming moderate voters, especially in counties around Chicago.
Kirk, on the other hand, was seen as a social moderate and was well known in the Chicago area because his district covers the northern suburbs. Giannoulias, while strong on the issues, had a major flaw – he comes from a banking family. This wasn't a good year to be a banker and running for office, especially one whose bank had made some questionable loans to some unsavory figures. Kirk and outside secret money relentlessly hammered him for "mob ties"- with good effect.
Republicans mounted their biggest GOTV effort in history. While Democrats also mounted a huge effort, the enthusiasm gap, as well as some disorganization, was evident on the ground.
Despite the odds, the Illinois AFL-CIO and Change to Win unions mounted an incredible effort. Unions phone banked their members and conducted labor walks in ten targeted zones across the state.
But the crown jewel was a state of the art automatic dialer system staffed by hundreds of union volunteers that made nearly a million calls to Cook County labor households in the week leading up to the election.
SEIU partnered with Preckwinkle to create a grassroots GOTV in Chicago's African American community. The Rainbow PUSH coalition partnered with the Chicago Teachers Union to do the same.
The Illinois Coalition for Immigrant and Refugee Rights targeted some 130,000 immigrant voters for its GOTV effort.
According to CNN exit polls, union households made up 26 percent of the electorate and voted 59 percent for Quinn and 57 percent for Giannoulias. African American voters voted 90 percent and Latinos voted 84 percent Democratic.
The GOTV generated a voter turnout in Cook County over 50 percent.
In state House races, four of eight Green candidates finished in double digits. Jeremy Karpen in the northwest side's 39th district received 35 percent.
In the end, the coalition of labor, African Americans, Latinos, women, GLTB, youth and immigrants wasn't enough. A lot more will need to be done in 2012 to reach voters, especially white working-class voters in the suburbs, downstate and rural areas if President Obama is to carry the state in 2012 and the losses are to be recouped.
Image: Gov. Pat Quinn, with AFL-CIO Pres. Rich Trumka thanking volunteers at a labor phone bank in Chicago Oct. 29. John Bachtell // PW