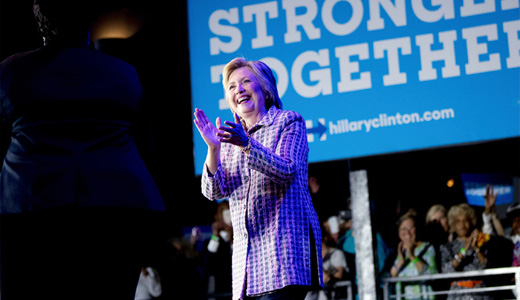 This article is part of a series on the Democratic National Convention.
PHILADELPHIA – Hillary Clinton last night became the first woman to win the presidential nomination of a major American political party. After completing the roll call of delegations here at the Democratic National Convention, delegates saw a brief video of a glass ceiling being shattered.
Observers pointed out that outside the United States for decades now dozens of nations have had women heads of state. This makes breaking this glass ceiling In America even more significant.
The significance was summed up even before the roll call by Minnesota's Senator, Amy Klobuchar.
"I'm here to make the case for a leader who, as you just saw, is focused on security: security for our country and our democracy. A leader who knows we are all more secure when women have the opportunity to lead with their heads high and their strides strong. That leader is Hillary Clinton," said Klobuchar. "She sees a world where girls are not captured and sold but are fearless and bold: where they lead, not follow. And where when someone tells a young woman, 'You fight like a girl.' Her answer is, 'Yes I do. And I'm proud to be that girl."
Women in America were barred from voting until 1920. Since then, making it possible for a woman to be nominated by a major political party has taken 96 hard years of organizing.
The first 44 presidents of the United States have been men. Since the nation's founding there have been 57 presidential elections with the voters never having the chance to vote for a woman nominated by a major political party.
The historic nomination takes on significance too because it comes at a time when women's rights are under attack by Republicans in state after state across this country with particular aim being taken at the right of women to control their own bodies.
Rising to announce their votes for the presidential nominee of their party, each delegation praised both Hillary Clinton and her opponent in the primaries, Vermont Sen. Bernie Sanders.
As hundreds of delegates waved signs that read "History" they could not help notice the difference from the Republican convention, where the Cruz and Trump delegates shot daggers at each other.
Although there was a brief walkout of some Sanders delegates, Sanders himself made the procedural motion that officially made Clinton the nominee. The historic moment came when he rose from his seat among the Vermont delegates to declare: "I move that Hillary Clinton be selected as the nominee of the Democratic Party for President of the United States."
Vince Insalaco, the chairman of the Democratic Party of Arkansas, said the choice of the first female presidential nominee was a historic moment.
"I'm so proud to be a Democrat tonight," Mr. Insalaco said, "and so proud that we can call this woman one of our own."
Photo: Andrew Harnik/AP