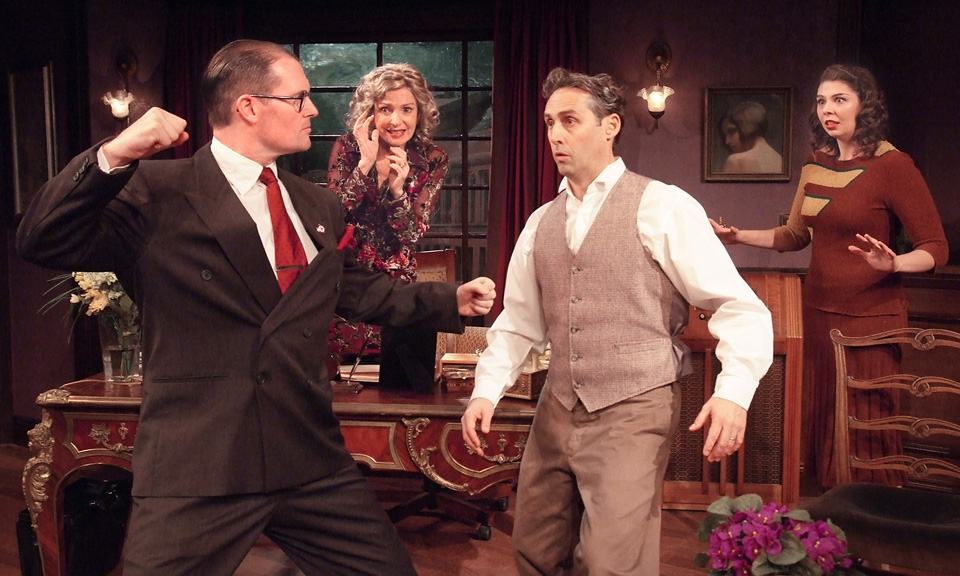 BEVERLY HILLS, Calif. — It's the fall of 1939 and World War II is about to erupt in Europe. At United Artists, studio head Mary Pickford, now retired from her acting career and trying to run a tight, profitable ship as a producer, gets an unexpected and unwelcome visitor: The German consul in Los Angeles, George Gyssling, who keeps a wary eye on Hollywood.
Just that morning gossip columnist Hedda Hopper has revealed that Charlie Chaplin is now making a film, The Great Dictator, savaging Adolf Hitler. The consul demands that production be shut down; otherwise the European market for all UA films will be closed. To film or not to film, that is the question.
John Morogiello's The Consul, The Tramp and America's Sweetheart is a brisk, clever 90-minute comedy, presented by Theatre 40 of Beverly Hills in its West Coast premiere, with four characters: Mary Pickford (Melanie Chartoff, whom television viewers will remember from Fridays), Charlie Chaplin (Brian Stanton), George Gyssling (Shawn Savage), and Miss Esther Hollombe (Laura Lee Walsh), Pickford's new assistant who takes assiduous notes on everything she sees and hears in the hope of making a career for herself in the biz. Jules Aaron directs with a keen appreciation for slapstick possibilities, ironic tension, moral ambiguity and gentle reflection.
The degree to which Hollywood studios acceded to the Nazis' demand to suppress negative portrayals of Germany in the 1930s is now the stuff of legend. Business is business, after all, and the profits from the European market were considerable. It was easy to turn a blind eye to the Third Reich while the dollars were rolling in. The fact that many of the leading studios were headed by Jewish entrepreneurs makes the conundrum ever more poignantly compromising. It depends how you want to translate the German word "Zusammenarbeit." Is it just "working together?" "Cooperation?" Or "collaboration?"
Playwright Morogiello, author of some 29 produced plays, is smart and aware, and writes crisply. Much is made of Pickford's status as the highest-ranking woman in Hollywood. Some of her lines, delivered by Chartoff with delicious aplomb, speak uncannily to the issue of women's success that we saw played out in the late, lamented Hillary Clinton campaign. And Gyssling's bullying tactics, with insinuations, threats and far-flung accusations about people's Jewishness (he's 100 percent wrong about Chaplin and only 25 percent right about Miss Hollombe), might bring to mind the demagogic oratory of the guy who came in second in the popular vote in the recent presidential election. Savage performs his role with well-oiled efficiency.
Stanton does a wonderful turn as Chaplin, even at key points during the play "previewing" some scenes from the film, including his credo for a new world, perhaps film history's greatest speech ever. Another shtik where Chaplin juggles a globe balloon is joyous perfection. His silent movie-style fisticuffs with the consul are played out with skillful split-second timing. The briefly enacted film rewind is amazing to watch. The play is clear about Chaplin's womanizing — actually his taste ran to very young women — and Miss Hollombe is very much the object of his attentions here.
Billed as a comedy, the play is much more: a perceptive and moving depiction of the struggle between profit and art, between business and idealism. These conflicts roil the Pickford character, and Chartoff spins the ambiguity as a lady of nuance who is neither hero nor villain, and resorts to her "nerve tonic" to get through life. Audiences less familiar with these historical figures and with the importance of the film Chaplin is making — his first talkie and the most successful film of his career— are given ample background information.
The Miss Hollombe role is complex insofar as she is an actor within the play and also steps outside of the action (moments signaled by audible whooshes to indicate time travel) to reflect on what she heard, what she fantasied, what alternative scenes might have taken place, and what became of the historical characters. Walsh is superb in her part, and even gets to play Franklin Delano Roosevelt in a brief cameo that capstones the drama.
Southern California audiences are fortunate indeed to have this great production available to them, and by the way on an elegant set by Jeff G. Rack that captures the period so intimately well. This is a bravura performance all around, and shouldn't be missed.
The Consul, The Tramp and America's Sweetheart is staged in the Reuven Cordova Theatre, 241 S. Moreno Dr., Beverly Hills 90212. The venue is located on the campus of Beverly Hills High School. There is ample free parking beneath the theatre. The play runs through Dec. 18, Thurs.-Sat. at 8 pm, and Sun. at 2 pm (dark Nov. 24 and 25). For reservations, call (310) 364-0535 or go to www.theatre40.org.