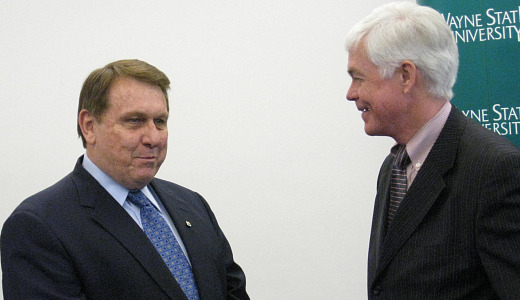 DETROIT – Teamsters union President James Hoffa received the first Wayne State University "Labor Leaders on Labor" award at a ceremony here this month. Hoffa is a Detroit native and graduate of the city's Cooley High School.
At the standing-room-only event, Hoffa gave a spirited account of the work of his union, the International Brotherhood of Teamsters, which has organized 80,000 people over the last two years, and the challenges labor faces in undoing the damage of decades of Republican rule.
"The American labor movement, overall, is going through tough times," Hoffa said. "I've been in Washington since 1999 and I can tell you that after being there for over 10 years I'm a bigger Democrat now than I've ever been. It is a very, very divided place. It really is a battle between the rich and the poor."
The labor movement gives people hope and a voice to stop the growing inequality, he said.
The rich get richer and poor poorer because the system is stacked in favor of Wall Street, Hoffa said. "Goldman Sachs, JPMorgan, and Morgan Stanley had record profits, made billions of dollars, but cities can't pay their bills and people are being laid off. These are the same companies that were bailed out by the government, amazing."
"What is wrong with this picture?" he asked. "Aren't our cities too big to fail?"
Saving and creating jobs is critical to turning the country around, he said. If you are a young person graduating from high school in Detroit, he asked the crowd, where do you look for work when the jobs are all gone?
Noting that the labor movement is fighting for health care for everybody, for unemployment insurance, for increasing the minimum wage, Hoffa said these are important for all Americans, not just trade unionists, and yet Republicans are trying to block them
Government needs to pay attention to working people, the people that count most, pay the taxes and are the great base of this economy, he declared.
Hoffa praised President Obama in this regard, contrasting his administration to his predecessors: "Under Bush Two, we were under attack day and night. It was all business, business, business, labor got nothing."
He said the Teamsters are proud they were the first major union to support Obama. "The election of Barack Obama was basically a watershed in America," he said. "Pundits might talk about the enthusiasm being gone but he's had a tremendous affect on us in the labor movement."
Referring to the tea-baggers who call Obama a socialist, Hoffa said the same was said of President Franklin Delano Roosevelt and others who supported labor reform in the 1930s, adding, "If he's a socialist, I'm a socialist."
Hoffa drew big applause when he lauded the newly passed health care reform package
If there is one criticism labor has, it is that the pace of change is too slow, he said. The labor movement is holding the president's feet to the fire because the adminstration has to produce results for America's workers, Hoffa said, and Obama "knows that."
Hoffa said this president faces challenges others did not because moderates in the Republican Party that Presidents Roosevelt and Johnson used to win Social Security and the Civil Rights Act no longer exist. To get health care passed the president realized he finally had to "take the gloves off," Hoffa said.
He said labor is excited about Obama's appointments to the National Labor Relations Board and executive orders that will help unions organize and contribute to turning the economy around.
We now have a secretary of labor that puts the word "labor" back in "Secretary of Labor," Hoffa said. The mine, food and bridge inspectors that Bush eliminated came back to haunt us, he said, and those jobs are now being filled. "We need people to police big business."
Photo: Hoffa, left, speaks with Wayne State University President Jay Noren, M.D., at the "Labor Leaders on Labor" award ceremony. (PW/John Rummel)