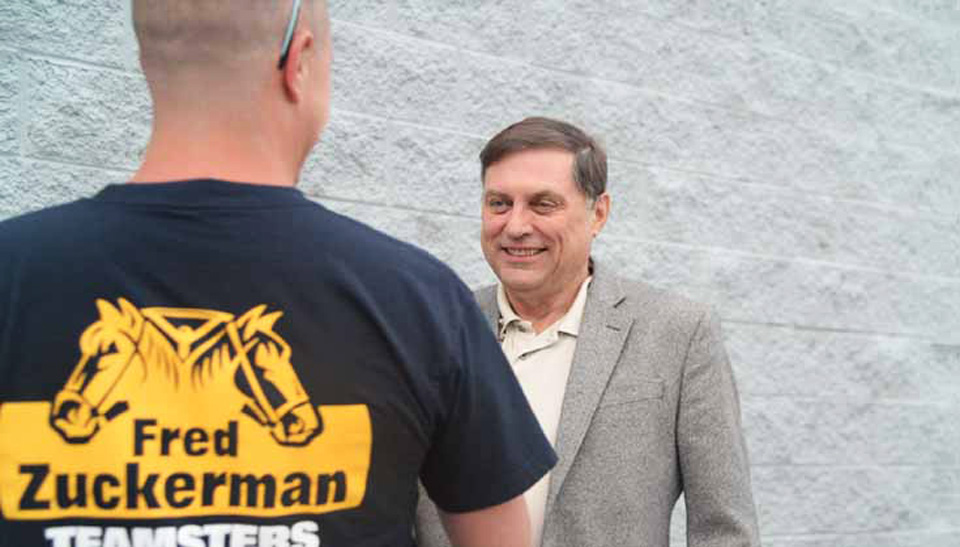 Incumbent International President of the International Brotherhood of Teamsters, James Hoffa Jr. is on track to narrowly defeat Teamsters United candidate for president Fred Zuckerman as a contentious campaign comes to an end. However, given Hoffa's electoral dominance for almost two decades, a source close to the reform-minded Teamsters United slate calls the election "a historic victory for the rank and file."
Zuckerman, the candidate of Teamsters United – successor to Teamsters for a Democratic Union—campaigned on an anti-corruption platform, while Hoffa's second-in-command Ken Hall remains embroiled in a corruption scandal that may result in his expulsion from the union.
Zuckerman also took aim at ending the sub-contracting of Teamster jobs, blasted what he called "giveback contracts,"  and highlighted his local's successful fight against concessions that UPS demanded for its big depot in Louisville, Kentucky.
The vote total for the combined regions of the United States showed Teamsters United slate candidate for president Fred Zuckerman winning by 795 votes. The Canadian votes, which came in last, boosted Hoffa to a lead of 5,861 votes.
Teamsters United candidates for regional vice president unseated Hoffa candidates in the midwestern region as well as in the southern region.
"Since 1998, no one has ever taken a region from Hoffa," said the source, "it will change the landscape inside the Teamsters… it shows that union democracy can have a meaningful impact and I hope our brothers and sisters in other unions see it too."
In total, 211,623 ballots were cast out of 1.3 million eligible members, an approximate 16 percent turnout. Even though 10 to 15 thousand ballots have been contested and will be recounted this weekend, Teamsters United isn't holding its breath.
The source close to Teamsters United said that, while principle officers loyal to Hoffa financially outgunned them, they brought the grassroots pressure.
"You have locals like 135 in Indianapolis whose principle officer on the Hoffa slate had his membership vote against him, 2-1. Every dollar the campaign got was from rank and file, very few officers. It took years of organizing… it was David vs. Goliath.
The Teamster old-guard has taken notice and, more importantly, the employers have taken notice."
When asked what it took to get this far, the source was uncertain. The campaign was largely de-centralized and bottom-up.
"It took the vote no campaign in 2013 and the failure of the people's pensions to get here. There's a strong sense among the rank-and-file that this is the start of a serious tidal shift."
Hoffa touted several achievements in his re-election bid, including historic highs in the union's strike fund and righting the Teamsters financially. He also reminded the members that he won the Obama Justice Department's agreement to lift the consent decree, with conditions.
The Teamsters' National Master Agreement with UPS is set to run out in 2018, and a large-scale campaign is expected.
Mark Gruenberg contributed reporting to this article.