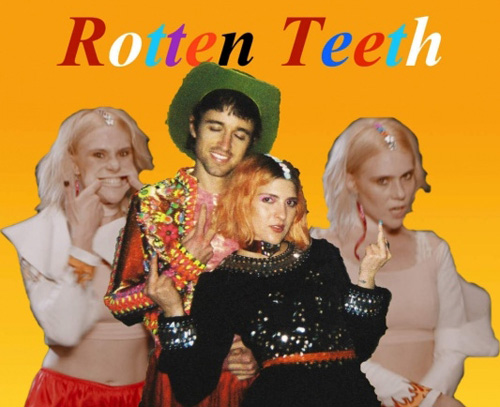 Los Angeles-based feminist electronica duo HOLYCHILD has launched a new salvo in its assault on consumer culture: the "America Oil Lamb" EP. Holychild's singer/songwriter Liz Nistico and co-writer/producer Louie Diller have teamed up with fellow travelers Kate Nash, RAC, Mereki, Tkay Maidza, MS MR, and Kitten to extend their critique of pop culture, mass consumption and its objectification of the female body, all under the banner of "Brat Pop."
According to the manifesto at the Holychild website, Brat Pop is defined as "the glittery blend of electronic beats and tell-it-like-it-is lyrics." Brat Pop uses the medium of pop music with its cheery digital syncopated beats combined with cheeky lyrics that decrypt the Culture Industry's not-so-subliminal messages about body image directed toward young women. Holychild castigates a society fueled by an animal- and processed food-based diet in which generations of girls have in turn been saddled with social paranoia and body dysmorphic disorder under the commodifying culture of capitalism.
The band describes the theme of the EP as an appeal to equality in gender, race, and economics. Each song takes on a symptom of the alienation of our contemporary culture: according to the duo's statement, "toxic relationships in our commercial world ('Rotten Teeth'), the shallowness of celebrity idolization ('Not Invited'), and corporate America drowning our emotions ('America Oil Lamb')."
In the Kate Nash-guested single, "Rotten Teeth," Nistico reflects on the lack of choices fostered in youth under a system commanded by the drive for profits: "I can never be the girl I want to be/no no I'm never free." Nash responds with the existential ultimatum of an eating disorder: "Do we eat or just starve ourselves tonight?"
Guest singer Kate Nash is a feminist activist/artist in her own right: She formed the Rock 'n Roll for Girls After School Music Club; has worked with young self-harming women at the Wish Centre in Harrow, UK; and was appointed Global Ambassador of the Because I am a Girl initiative by Plan USA, which seeks to empower girls in developing countries as agents for global change.
Holychild's assessment of pop culture is enhanced by their (self-directed) music videos. The video for "Rotten Teeth" envisions female youth's battle for freedom (and "freakdom") as squads of colorful, toy-like disposable razors swoop in to menace playfully joyous merkins (fashioned from everything whimsical, from Easter grass to clown hair). Non-commercialized "Outsider" women appear in the form of awe-inspiringly coiffed bearded ladies and "unibrows" proclaiming the hirsute glory of the unshaven/untamed.
The Holychild-directed video "Money All Around" for a song from their debut LP, last year's "The Shape of Brat Pop to Come," is even more explicit in its critique of capitalist culture. The video features "pop ups" that explain Holychild's anti-commercial theses while visually excoriating the imagery of pop culture's banal expectations.
Holychild's continuing project of using the medium of pop to decode the self-oppressing messages in the broader culture is certainly a welcome development.
HOLYCHILD
America Oil Lamb EP
Glassnote Entertainment Group, LLC