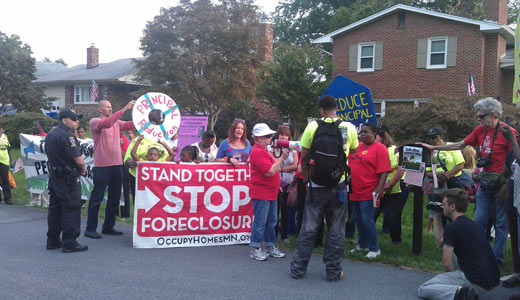 LOS ANGELES – You may have heard about families trying to fight foreclosure of their homes, or a group of occupiers holding a vigil at a home when sheriffs are expected to come and evict a family.
Some families lost their homes, others expected to lose theirs, but they chose to fight for the greater good.
You may ask, will these actions really get results?
Here in California, the answer is YES. On Jan. 1, the Homeowners Bill of Rights, a set of measures the state legislature passed last year, took effect.
The Homeowners Bill of Rights requires that banks provide a single point of contact to borrowers at risk of default: someone who is responsible for helping them avoid foreclosure. Now homeowners no longer have to explain their situation to several bank representatives before getting help, or risk losing their home while they are negotiating a loan modification.
The measure imposes a $7,500 civil penalty on banks that approve multiple, repeated loans in which documents are recorded that have not been verified for accuracy. This avoids potential homeowners being approved when the banks know very well they cannot afford to pay the mortgage.
Foreclosed homes are frequently abandoned, causing blight and bringing down the value of neighboring homes. Under the Homeowners Bill of Rights, the new owner of a foreclosed property must maintain it so it does not affect the appearance of the neighborhood.
The new owner cannot evict renters from a home that is sold in foreclosure, or refuse to honor their former landlord's lease; renters will have at least 90 days to find a new home.
The campaign for the new legislation, conducted under the umbrella of the ReFund California coalition, will prove to be a model around the country.
The Alliance of Californians for Community Empowerment (ACCE), through its Home Defenders League, has organized hundreds of struggling homeowners to raise their voices and tell their stories.
The Courage Campaign has generated thousands of calls and launched a website to expose which legislators received money from the banking lobby.
The California Reinvestment Coalition has provided data and legal expertise, and on-the-ground evidence from counseling agencies about dual tracking.
PICO (People Improving Communities through Organizing) led numerous faith delegations across the state, held a mass turnout event with Governor Jerry Brown, and turned in hundreds of prayer cards.
The state Labor Federation, Center for Responsible Lending, SEIU, National Council of La Raza, California Public Interest Research Group (Cal-PIRG) and Consumers Union, along with dozens of other organizations, contributed heavily to the effort.
Together, they worked closely with Attorney General Kamala Harris and the legislative leadership in Sacramento, while simultaneously keeping the heat on in the Capitol and at home with key legislators.
"Passing these key elements of Homeowner Bill of Rights represents a significant step forward for struggling homeowners," said Attorney General Harris. "These common-sense reforms will require banks to treat California homeowners more fairly and bring more transparency and accountability to their practices in our state. Responsible homeowners will have a better shot to keep their homes."
If the banks don't comply, homeowners have the right to seek injunctive relief in court.
Homeowners are encouraged to call the Home Defenders League to get help by calling 1-877-633-9251 or visiting the league's website.
There is more to be gained for homeowners in their struggle to keep their homes, but the door has been opened.
Photo via Home Defenders League Facebook page.