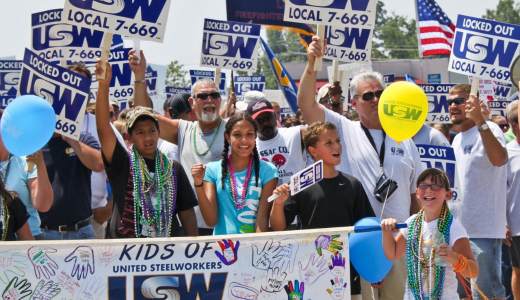 METROPOLIS, Ill – Steelworkers from USW Local 7-669 will be voting this week on a tentative contract with Honeywell. Despite the union's best efforts, including a willingness to work under their old contract while continuing to negotiate, Honeywell locked them out over 13 months ago. In premeditated fashion, the company had scabs ready to take over operations when they walked the union members out of the plant. It was a clear effort to break the union.
The plant here in Metropolis processes uranium used to make fuel rods for nuclear power plants. The 230 workers here use some of the deadliest chemicals known. The cancer rate for these workers is 10 times higher than the average population. More than 40 steelworkers from the Metropolis plant have died of cancer and others are fighting the deadly disease. Yet one of the big demands Honeywell made before the lockout was cuts in health care for employees and retirees.
In the video below, Darrel Lillie, president of local 7-669 talks about the last 13 months and the issues involved. He highlights the role of global solidarity and community support in the fight for a fair contract. Details are not available pending ratification of the membership, but it is clear that these steelworkers have stopped a major effort to take advantage of a bad economy to bust their union.
Honeywell Lockout Win for Workers from Scott Marshall on Vimeo.
Photo: Scott Marshall/PW