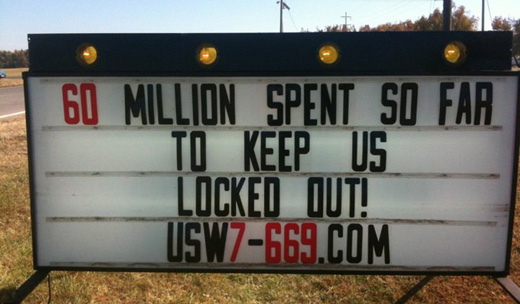 United Steelworkers local 7-669 and the Steelworkers international Union issued a well researched report this week outlining the health and safety hazards posed by the use of scab replacement workers to operate Honeywell's Metropolis Illinois plant. The report, entitled," Communities at Risk," documents substantial threats to tens of thousands of residents in Illinois and Kentucky. The plant is located in southern Illinois near the Kentucky border.
The Honeywell plant processes uranium to make nuclear fuel. The process requires the use of some of the most toxic materials known to humankind. It requires a highly skilled and safety conscious workforce. Steelworker members of local 7-669 have been locked out by Honeywell since June 28, 2010.
During the six-month lockout there have been two major scares at the plant. On September 5, 2010 the accidental recombination of hydrogen and fluorine produced an explosion that shook the plant and scared nearby residents. Fortunately no one was hurt.
Then on December 22, 2010 a release of hydrofluoric acid triggered emergency sirens and activated the facilities emergency mitigation towers. The towers spray water in an attempt to knock down the escaping gas.
Honeywell later acknowledged that the dangerous gas leaked for nearly 2 hours before it was stopped. Again, fortunately, no one was hurt. Honeywell uses over a million pounds of hydrofluoric acid in the various processes in its Illinois plant.
According to their figures the release of just 16 percent of this amount of hydrofluoric acid could impact as many as 128,000 people in the surrounding 25 mile radius.
Both accidents are scary reminders of the dangers of using untrained, or poorly trained and inexperienced replacement workers.
At a press conference to release the report, Illinois State Rep. Brandon Phelps joined with USW 7-669 President Darrell Lillie in calling on federal regulatory agencies to order a safe shutdown of the plant until a new labor agreement is negotiated and the skilled union workers can return to their jobs. They urged immediate action by the Nuclear Regulatory Commission, the Environmental Protection Agency, and the Occupational Safety and Health Administration.
"In light of the community safety report, it is irresponsible for Honeywell to keep operating," said Rep. Phelps. "The warning signs were made clear in the report. It's not a question of if, but when a disaster will occur."
The Steelworkers were locked out six months ago, when negotiations on a new contract reached a deadlock. The local union proposed to keep working without a contract until negotiations could be settled, but Honeywell locked them out and brought in scabs instead. The union represents about 230 workers in the plant.
Negotiations deadlocked on the issues of healthcare and pensions, another indication of Honeywell's callous approach to health issues. This in the face of the fact, that some 42 workers from the plant have died of cancer and another 27 are struggling with the disease.
At the press conference local union president Willie said, "inside the plant, our union members are guardians of safety. At the present time, the inexperienced temps are in the Honeywell metropolis plant and under the thumb of management without the needed training and without a commitment to community safety." While pledging to continue efforts to bargain in good faith, Willie vowed, "We will not bargain away worker safety, or safety of the community."
Photo: Support for Honeywell Workers-Metropolis, IL Facebook page