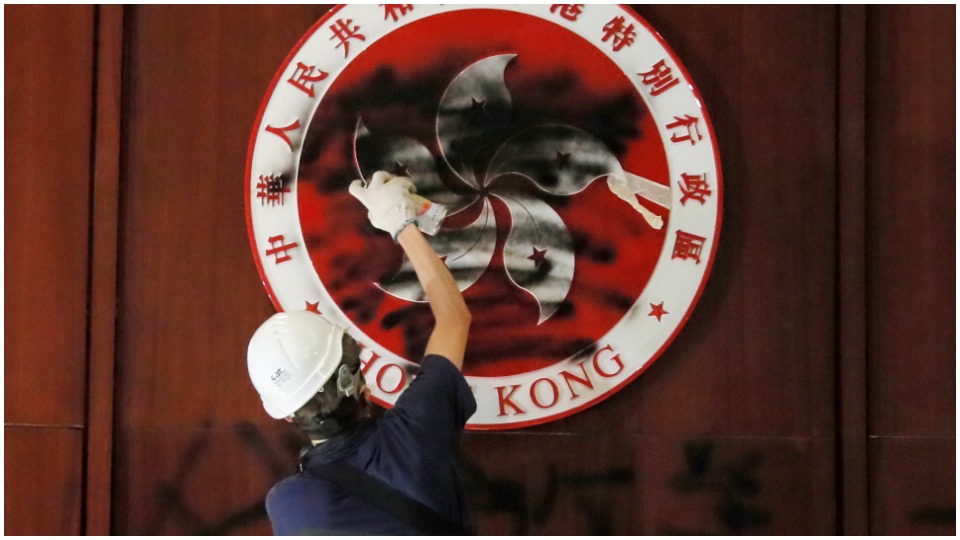 Some on the left, who are instinctively skeptical of mainstream corporate media narratives of crises in the Middle East or Latin America, nonetheless consider these same media sources as essentially trustworthy when it comes to their coverage of China.
The strategy of Western imperialist powers to portray China as a regional bully, serial oppressor of religious minorities, hyper-police state, rapacious exploiter of Africa, despoiler of the environment, and so on is a great example of political projection, where your own vices are passed off on to others. This is the daily message of Western media.
Few on the left would question the direct role of imperialism in the Venezuelan crisis, for example. The Trump administration and Nancy Pelosi's Democratic Party united in recognizing the opposition stooge Juan Guaidó as the country's "interim president." The British government and the EU Commission likewise marched in step with Washington.
They all pushed the lie that the legitimate President Nicolás Maduro was blocking humanitarian aid, claims quickly repeated (although in some cases eventually retracted) by the New York Times, Washington Post, Guardian, CNN, BBC and other megaphones for intervention.
In this specific case, it didn't take too much for most of the left to see through this smokescreen.
The hands of Trump's neocon cabinet hawks, such as National Security Adviser John Bolton and Secretary of State Mike Pompeo, alongside Florida's extreme-right Republican Sen. Marco Rubio were highly visible promoting the attempted coup.
But when those same "regime change" operatives are at work on the Asian continent, they seem to become invisible.
China's long-term allegations of foreign interference in Hong Kong, for instance, are dismissed along the lines of "well, they would say that wouldn't they?"
Right-wing localist activists who marched to the U.S. consulate with signs pleading: "President Trump: Please Liberate Hong Kong" and rallied under the flags of British colonialism inside Hong Kong's Legislative Council can perhaps be dismissed as a politically naive minority.
But what of the veteran mainstream opposition, which seeks U.S. and British intervention in Hong Kong?
Earlier this year, in mid-March, before most people in Hong Kong, never mind the West, were aware of the details of the Extradition Bill, the U.S. National Security Council (NSC) issued an invitation to Hong Kong opposition politicians to visit Washington.
Headed by Anson Chan, the most senior civil servant in the last British colonial administration, meetings were fast-tracked with Trump's Vice President Mike Pence and the NSC itself.
"The vice president is clearly concerned about rights and freedoms in Hong Kong, including religious rights," Chan told the media.
The main topic of conversation was stopping the extension of the Fugitive Offenders Ordinance (Extradition Bill).
Hong Kong's Civic Party leader Dennis Kwok, who was part of Chan's delegation, said after the NSC meeting that the U.S. government was "paying high attention to what's happening in Hong Kong, and extradition is certainly at the top of their priority when it comes to Hong Kong."
They were particularly interested in how the Bill "would directly affect the interests of the American businesses and citizens who are either in Hong Kong or going through Hong Kong."
Chan also referred directly to the United States-Hong Kong Policy Act of 1992, which states that the U.S. regards Hong Kong as "an independent customs territory and economic entity separate from the rest of China."
This status gives Hong Kong considerable advantages in the ease of trade with the U.S.—its loss would seriously harm the Hong Kong economy.
Given Hong Kong's separate monetary authority and currency, taxation rules, banking systems, and property laws, this is simply a reflection of economic reality.
However, if Hong Kong were to lose that status in U.S. law, it could be subject to punitive tariffs, economic sanctions, and a whole raft of restrictions on Hong Kong-US trade.
These were the first hints that the Hong Kong opposition and the Trump administration would tie the Extradition Bill to the ongoing US-China trade war.
In mid-May, these threats took a more direct form. Just weeks before the first major public mobilization against the fugitives law, a second high-profile delegation, this time headed by Hong Kong Democratic Party founder Martin Lee, also found a warm welcome in the U.S. capital.
On this occasion, the delegation met Secretary of State Mike "Regime Change" Pompeo, then with Nancy Pelosi, Speaker of the House of Representatives and the most powerful Democrat on Capitol Hill.
The highpoint of Lee's visit was an invitation to give testimony to the bipartisan Congressional-Executive Commission on China, chaired by Sen. Marco Rubio.
The timing of the visit was not exactly coincidental. At that point, Rubio was already drafting a piece of legislation called the Hong Kong Human Rights and Democracy Act.
Among other clauses, this Act would:
– Require the President to issue a strategy to protect U.S. citizens and businesses from the risks posed by a revised Fugitive Offenders Ordinance, including by determining whether to revise the U.S.-Hong Kong extradition agreement and the State Department's travel advisory for Hong Kong.
– Require the Secretary of Commerce to issue an annual report assessing whether the government of Hong Kong is adequately enforcing both U.S. export regulations regarding sensitive dual-use items and U.S. and UN sanctions, particularly regarding Iran and North Korea.
In short, Rubio's Act demands that Hong Kong allow extradition to the U.S. but not to other parts of China. Further it subjects the Hong Kong government to U.S. scrutiny in enforcing extra-territorial sanctions of the United States against two other sovereign states.
If Hong Kong does not meet Rubio's conditions, the Act provides for direct action against Hong Kong government officials and the revocation of Hong Kong's 1992 status as a separate economic entity from mainland China.
While it's fairly usual for politicians to lobby foreign governments to achieve more favorable trade deals, this was far from the agenda of Lee's delegation, which openly backed Rubio's draft legislation.
Nathan Law, one of the founders of the radical group Demosisto, testified: "It is my hope that the Hong Kong Human Rights and Democracy Act can garner more support. The Bill will send an unmistakable signal to China and the world that this country remains committed to the universal values we all share."
Lee's own testimony was brilliantly judged at a key moment of a U.S.-China trade war: "Beijing could extradite Americans in Hong Kong on trumped-up charges as a way to extract company trade secrets, software and other intellectual property," Lee claimed.
Very revealingly, he seemed to admit that the blood-chilling dystopia he was forecasting for Hong Kong was only a secondary consideration.
"The U.S. has a special interest in blocking this law—and indeed may be Beijing's special target of the law. The U.S. has no extradition law with China, but it does with Hong Kong.
"This means Americans either resident in Hong Kong or visiting Hong Kong could end up jailed in China."
Lee was also deeply concerned for the freedom of the U.S. military: "U.S. Navy personnel could be at risk during routine port calls in Hong Kong's deep harbor."
Right on cue, on June 13, just a day after the first mass protest in Hong Kong, Rubio formally announced the launch of the Hong Kong Human Rights and Democracy Act with bipartisan support: "As over one million Hong Kongers take to the streets protesting amendments to the territory's extradition law, the U.S. must send a strong message that we stand with those peacefully advocating for freedom and the rule of law and against Beijing's growing interference in Hong Kong affairs."
Sometimes in international politics, timing is everything. The Extradition Bill emerged in the middle of a U.S. trade war with China.
The Hong Kong opposition saw the potential usefulness of their campaign to U.S. corporate and even military interests and sought U.S. support at the highest levels.
Some might see this as serendipity, one of those all too rare moments in life marked by simple happy coincidence. To cynical souls, though, it looks very much like synchronized political collusion.
This is an excerpted version of an article that originally appeared in Morning Star.