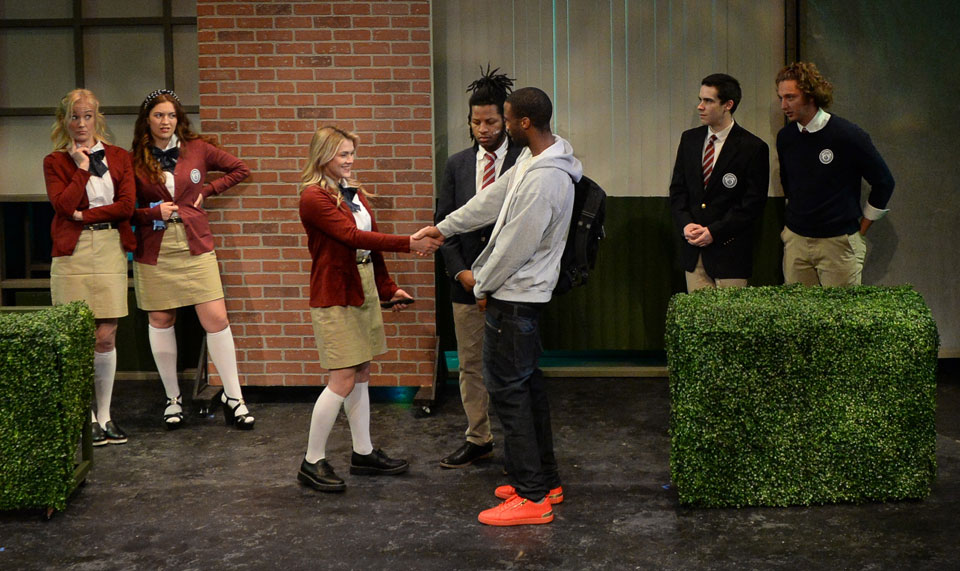 LOS ANGELES — Is it possible to address hot-button, ever-timely issues such as racial identity, privilege, prejudice, pop culture, and even racially motivated murder with dark-comedy irreverence? The long answer can be found in a voluminous body of work found in your local bookstore under the rubric Critical Race Theory. The short answer is Yes, if you're a playwright as gifted with insight and compassion as Tearrance Arvelle Chisholm. Otherwise, this is terrain that must be treaded with caution. Chisholm is able to state certain facts and realities in a bold, provocative manner that writers of a paler shade would not be permitted.
The Echo Theater Company presents the Los Angeles premiere of Hooded, or Being Black for Dummies, directed by Ahmed Best. The Echo is pursuing a series of mordant comedies on the theme of coming of age in America. Earlier chapters included The Wolves, about a high school girls' soccer team, Poor Clare, about a verbally modern 13th-century teenager, Clare of Assisi, who is getting woke to the injustice of the world. Hooded premiered in 2017 in a Mosaic Theatre production at the Atlas Performing Arts Center in Washington D.C., winning the Helen Hayes Award. It will receive its New York City premiere this summer at 59E59—a word (three actually) to the wise in NYC, "Don't miss it!"
If you're Trayvon Martin, or any of the hundreds of African-American youth who have been gunned down by cops or vigilantes, coming of age in America can be fatal. With tongue firmly planted in cheek, the playwright opens with a forbidding Black cop, officer Borzoi (Robert Hart) instructing the audience to laugh when the LAUGH light goes on, and that "if you laugh when the light is off that makes you a racist." He further instructs the audience to pull out their cell phones and other electronic devices and turn them ON, and if a call comes through, to feel free to carry on their conversation because, indicating the stage on which the 90-minute action is about to take place, "None of this is important." How many people (not just Americans, of course) prefer any distraction at all over confronting their society's, and their own, endemic racism! (Curiously enough, I didn't hear a single cell phone ring during the show, and I'm sure glad it wasn't mine! I kept wondering if the actors had some devastating pre-planned response to it if and when it happened.)
We meet two 14-year-old Black boys, Marquis (Jalen K. Stewart) and Tru (Brent Grimes), in the holding pen after Borzoi has taken them in—Marquis for trespassing in a cemetery at night (even as the two white school buddies with him ran away unscathed), and Tru for "being Black." These two young men come from completely different worlds. Marquis is a book-smart prep-schooler outfitted in his dated uniform living in the affluent suburb of Achievement Heights, Maryland, while Tru is a street-savvy kid from the inner depths of Baltimore.
Tru decides that Marquis has lost his "blackness" in all but his skin color. He assumes the role of professor, but Marquis, who was adopted by a blond, white mother, proves a resistant pupil. He knows and cares little to nothing about Black culture and is totally consumed by his academy's white European curriculum. At present, he is obsessed with Nietzsche and the dialectic between Apollonian and Dionysian consciousness. The only homage he plays to the Black experience, other than his hairstyle (which may be more the choice of the actor than the director), is that he participates in the game of striking poses, mostly "Trayvonning," meaning lying down in the position in which Trayvon Martin was found after he was murdered, an über-ironic gesture of simultaneous mocking, representation and memory that no white boy could possibly get away with.
Tru's historical role model is the philosopher and role model, rapper 2Pac (Tupac Amaru Shakur, 1971-1996), who grew up in Baltimore and was active with the Young Communist League affiliated with the CPUSA in the 1980s. For Marquis's edification, Tru composes an in-your-face how-to manual entitled "Being Black for Dummies," with rules and standards about voice, language, dress, stance, attitude, manhood, sexual and social behavior. They butt heads, argue, wrestle, and ultimately conclude that Nietzsche and 2pac were basically saying the same thing!
"Hooded uses comedy to bring us into a world where we take a deep, challenging look into race and how we deal with the tragedies of prejudice and stereotype," says director Ahmed Best. "It builds a world where we can question our perception and beliefs about one another and discover the sameness in our differences." This approach, to me, sounds overly felicitous, and too congratulatory toward the audience: Most of the soul-searching that needs to take place in our vastly unequal world needs to come from the side of the oppressor, not the oppressed.
Asked about his attraction to satire, playwright Chisholm says, "My philosophy is 'life is funny…until it's not.' And I employ this philosophy in my writing. I tend to approach most topics with humor. I think comedy can be a powerful tool in theater and change."
Marquis's world is more fully developed. We meet his mother Debra (Tasha Ames), his white schoolmates Hunter (Vincent Loud) and Fielder (Ezekiel Goodman), and a klatch of three white academy girls (Meadow—Clare Margaret Donovan; Prairie—also played by Tasha Ames; and Clementine, his just budding love interest—Betsy Stewart), as well as Headmaster Burns (also played by Vincent Doud). On Tru's side, he invites Marquis into his Baltimore hood, and even into his mom's home, but she is out working, leaving behind only her perfume scent and a noticeably clean house, which Marquis had not expected.
Something else that Marquis never expected is that when he tossed Tru's manual aside, a most unlikely character discovers it and takes it very much to heart. (Can't say any more about that here.)
Every performance in the play is truly a standout. As Marquis, Stewart is hilariously clueless to the signifiers of Blackness in America, yet sooner or later America will show it is not clueless to Marquis's Blackness, however culturally uninformed he might be. (Can't say any more about that either.) As Tru, Grimes has got it all down to perfection, yet inevitably the question has to be asked, Isn't there more than one way to be Black in America? And of course, there is—Borzoi the cop is Black as well!—as ultimately there's no one way to be anything. The rest of the cast are all very good too.
The scenic design is by Song Yi Park, who manages with few props to evoke a large number of settings. Lighting is by Matt Richter, sound design by Alysha Grace Bermudez, costume design by Elena Flores. The casting director is Tal Fox and graphic design is by Christopher Komuro. The production stage manager is Danielle Jaramillo.
Chisholm has written a number of other plays, including P.Y.G., Br'er Cotton, Anacostia Street Lions, Black Lady Authority, and Black Dick. I'll be looking out for them. He's also written for a number of TV series and is currently developing his own show, the sci-fi dramedy Demascus, with AMC and Gran Via Productions.
Echo Theater Company's Hooded plays through April 18, Fri., Sat., and Mon. at 8 pm, and  Sun. at 4 pm, at the Atwater Village Theatre, 3269 Casitas Ave., Los Angeles 90039. Parking is free in the Atwater Crossing (AXT) lot one block south of the theater. Monday performances are Pay-What-You-Want. Proof of full vaccination (including booster shot if eligible) or a negative PCR test within 72 hours and valid ID are required for admission. Theatergoers must remain fully masked throughout the performances. For tickets and other information call 310-307-3753 or go to www.EchoTheaterCompany.com.