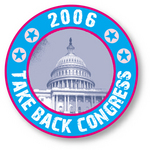 One of the most exciting and pivotal election campaigns in Pennsylvania is in the 6th Congressional District, northwest of Philadelphia, where Lois Murphy (D) is challenging incumbent Jim Gerlach (R) for the second time.
In 2004 Gerlach beat Murphy by only 2 percentage points.
Six weeks ago Murphy was ahead in the polls. But since Labor Day, Gerlach has sent six mailings to all registered voters in the district, attacking Murphy's reputation, distorting her views and labeling her "an extreme liberal." An early October poll showed Gerlach ahead of Murphy 43-38 percent, with 19 percent undecided.
Gerlach has an 80 percent anti-worker voting record, according to the AFL-CIO.
Gerlach's literature condemns Murphy because she champions a woman's right to chose whether or not to be pregnant. Gerlach's ads claim Murphy wants to raise taxes, while she says she wants tax cuts only for those who need them — people with incomes under $200,000 a year.
Murphy says Gerlach can't defend his Republican record of creating a huge deficit, refusing to raise the minimum wage, gutting regulations to protect the environment, cutting student loans and telling seniors that Medicare Part D would be good for them. Says Murphy, "I'm running for Congress because the 6th District needs better representation. Congress must resist the culture of corruption and cronyism it has created."
Murphy's platform focuses on creating jobs with incentives especially for small businesses, and eliminating incentives for corporations to take job overseas (such as CAFTA and NAFTA).
She says many jobs would be created if Congress protected the environment, improved and maintained our infrastructure and supported new energy policies.
Murphy supports public education and wants to reduce class size and make college accessible for those who want to attend.
She says,"The Republicans talk big about education, but 2 million students are being denied key services in math and reading and 84,000 are in Pennsylvania."
Murphy, 42, an attorney who represents nonprofits, small businesses and families, previously served as legal counsel for NARAL Pro-Choice America. A working mother, she is married to a labor lawyer who represents working people. Murphy is a trustee of the Women's Law Project and a member of the Pennsylvania Commission for Women. She is endorsed by labor, environmental and women's organizations.
The 6th District was redistricted to be a Republican district by the Republican-majority Legislature in 2002, but in 2004 Kerry won the district.