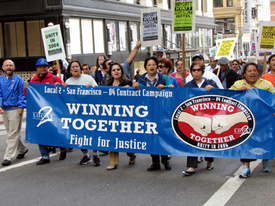 SAN FRANCISCO — Hotel workers on both sides of San Francisco Bay took to the streets last week in their struggles for fair union contracts.
Over 1,400 members and supporters of Unite Here Local 2 marched through the posh area around Union Square here July 27, bearing signs urging a continuing boycott of 13 Class A hotels that have refused to sign a contract since 2004.
The union says key issues are affordable health care, workload protections, wages meeting the cost of living, retirement with dignity and the right to organize.
Hotel cook Ernest Bonner and food server Usha Bedessi, both members of Local 2's bargaining committee, said workload is a big concern. "We need more staff, but the hotels want to run things on a shoestring," Bonner said.
Noting that some of his finely honed culinary skills are no longer valued as hotels simplify food preparation, Bonner said, "What I consider an art is being trampled on. Maybe the customers don't realize it, but things are going down."
But, he emphasized, "We workers, and the quality of our work, are what makes a hotel successful."
Calling an employer proposal of lower wages for new hires "totally unfair," Bedessi added, "We need our union contract to protect our jobs, our health care, a better retirement, and to have a reasonable workload and rights on the job."
San Francisco Labor Council head Tim Paulson said Local 2 is leading a struggle for all workers in the city to have dignity on the job and the right to organize. "When this many people show up," he added, "there's hope for the working people of San Francisco."
As marchers wound through the streets, they halted before several boycotted hotels, with an exceptionally long and spirited pause in front of the Grand Hyatt.
Local 2 President Mike Casey told the crowd at a final rally that employers' proposals for two-tier health coverage and refusal to discuss card-check neutrality are designed to split younger workers from older workers, and union workers from nonunion workers.
"We will not be distracted from our demands for health care, pensions, a safe workload, health and safety, and the right to organize," he vowed.
Across the bay, dozens of workers from Unite Here Local 2850 paid an early morning wake-up visit July 28 to the Doubletree Hotel on the Berkeley Marina. The union is protesting the new owners' demand to put about 100 workers, including many with years of service, on probation for 90 days, and make them again file the I-9 Employment Eligibility Verification forms required by Immigrations and Customs Enforcement.
Though Berkeley's just-passed worker retention ordinance is "a big victory," Local 2850 organizer Sonia Bustamante said, the buyer's continued insistence on probation and new I-9s "is really threatening their jobs."
The ordinance requires large employers on the Marina to keep workers for 90 days after buying a facility.
Negotiations, on hold for now, are slated to resume in October when the new owners take over.
"We want a fair contract, immigrant rights, job security and a fair workload," said longtime housekeeping worker Carmelita Cotten as she took a break from chants that reverberated around the sprawling hotel. Like her San Francisco counterparts, Cotten called the present workload situation "terrible."
"We are expected to clean 16 rooms a day," she said. "Each bed uses three sheets, a comforter, a blanket and seven pillows, and the mattresses are very thick."
She said the vacuum the workers use is "very heavy," and hurts workers' hands, arms and shoulders, while many workers have had to take medical leave and apply for workers' compensation because of back injuries.
"Right now," Cotten said, "management is ignoring us."
But if the workers' resounding wake-up calls are any indication, that won't last for long.