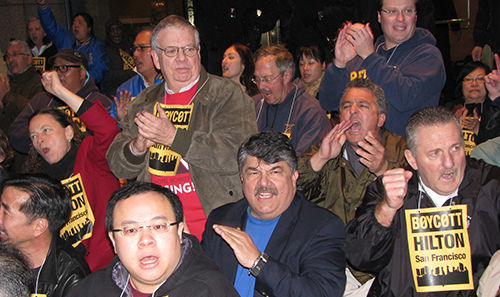 SAN FRANCISCO – As dusk fell over the city, more than 140 hotel workers and their supporters wearing placards, "Boycott Hilton!" sat in the entry plaza to the Hilton San Francisco Union Square, peacefully but noisily blocking the entrance doors, as hundreds of protesters marched in the street, their chants reverberating off the surrounding buildings. They had arrived to proclaim a customer boycott of the hotel, after rallying on the main thoroughfare, Market St., and staging a commute-hour march that wound through the downtown streets.
That was the scene Jan. 5, as over 1,400 protesters – hotel workers from Unite Here! Local 2, members of dozens of other unions from around the Bay Area, community and faith-based supporters – rallied and marched to mark the latest stage in their struggle to win a new citywide contract with giant hotel corporations. Hotel workers in many cities are campaigning this year to win new contracts with decent wages, health care and organizing rights.
Among those arrested: AFL-CIO President Richard Trumka, Unite Here! President John Wilhelm, International Longshore and Warehouse Union International President Bob McEllrath, heads of area labor councils and many rank-and-file unionists. All were cited for misdemeanor trespassing and later released.
Addressing the rally, Trumka put the action in a national context. The San Francisco workers' struggle is "a colossal showdown" with an industry doing quite well despite the recession, by workers whose pay and benefits have repeatedly been attacked to fatten corporate profits. But "what's happening here in San Francisco is about more than even that," he told the crowd. "It's about the struggle of all working women and men in our country, especially low and middle wage earners, to hold onto our rightful share of the American dream" – decent wages, health insurance, pensions, a safe workplace, time off to be with family and a chance to pursue a better life for themselves and their children.
"A good job is a good job because working people, people like you and me, fight to make it one," Trumka said. "It doesn't matter if the job's in a coal mine, a hotel, a classroom or a carwash. That's why the struggle of hotel workers in San Francisco and across the country is so very important to all of us."
Trumka was joined on the platform by Wilhelm, who said in cities throughout the U.S. and Canada, "hotel workers just like you are telling the same corporations you work for: No, you are not going to take back what we fought for all these years. And, workers in your company that don't yet have a union have a right to have a union." Hotel workers in Chicago, Los Angeles and Providence, R.I. are now without contracts, while contracts in Toronto, Minneapolis, Monterey, Vancouver, Honolulu and Washington D.C. will expire in coming months.
Local 2 has been negotiating and conducting street actions since August, in pursuit of modest increases to sustain health care and retirement benefits for a one-year period. Though such a contract would mean just a 1.5 percent increase in labor costs during that time, none of the major hotel corporations that dominate the market have expressed interest in settling. Meanwhile, the union says, the Hilton's parent corporation, The Blackstone Group, said recently it has $12.6 billion in available capital, and paid its CEO $1.39 billion in 2008, while Starwood Hotels reported $180 million in profits for the first nine months of 2009, and Hyatt Hotels netted nearly $1 billion in a November public share offering.
The hotel workers earlier called for boycotts of the Grand Hyatt, Palace, Westin St. Francis and W hotels. Local 2 represents some 12,000 hospitality industry workers in San Francisco and San Mateo counties, including some 9,000 who work in San Francisco hotels.
Across the country, hotel workers in Providence, R.I., were also marching Jan. 5. Unite Here! Local 217 joined with other unions, community groups and city council members to protest dragging negotiations with the Westin Providence – the state's biggest hotel – for a contract to replace the one that expired Oct. 31. The union says the hotel seeks a 20 percent salary cut, a big hike in health care premiums and the ability to have contractors and managers perform bargaining unit work. The protesters then marched to the Renaissance Providence Hotel to demand the right of the workers there to organize.