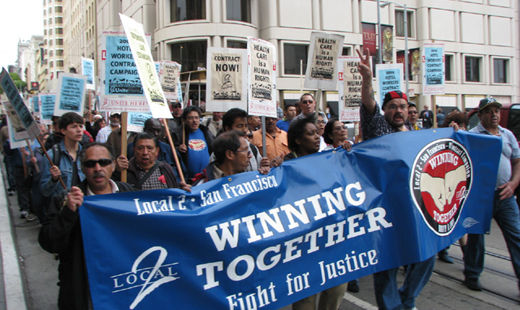 The companies that control the nation's major hotels may force the union that represents their workers into a nationwide strike, says John Wilhelm, president of UNITE HERE.
He made that prediction this week as he talked about hotel chains across the country. Wilhelm says these corporate giants are stalling in negotiations as they demand givebacks from their workers, who are "overworked and underpaid despite continuing high profits."
The major hotel chains and the union are in negotiations at convention hotels, among them ones where contracts have already expired, in Anaheim, San Francisco, Chicago, Boston and other cities.
Some cities have seen major civil disobedience actions by hotel workers and their supporters. AFL-CIO President Richard Trumka was arrested recently at a sit-in and demonstration in San Francisco.
Despite these actions, Wilhelm says the hotels remain intransigent. "We still have contracts we can't settle," he said, and answered "no" when asked whether the action in San Francisco had produced any movement in the bargaining there.
"The Chicago contract's already expired and the big Los Angeles contract will expire this year," Wilhelm said. "They won't move. They've figured out how to lay off enough staff to remain profitable even in this economic crisis. Meanwhile, they are attacking our health benefits."
The process of strike authorization by the union's workers is well underway.
The membership of Chicago's UNITE HERE Local 1 voted by an 89-11 percent margin, Oct. 28, to authorize a strike at five convention hotels. The vote came after contracts covering 6,000 workers at 30 hotels had expired Aug. 31.
While health care is a major issue for the Chicago workers they are also angry because the hotels laid off hundreds of housekeepers and are forcing the remaining workers to work overtime.
"Starwood and Hyatt sought to use the economy as an excuse to cut benefits," says an official statement released by the union in Chicago. "Under their current proposal as many as half of all workers at current staffing levels would lose existing health care coverage. If adopted, the proposals threaten to set a standard that would affect health care for thousands of workers and their families."
Chicago is already the scene of a historic strike by hotel workers. A Local 1 strike at another convention hotel, the Congress, is now in its sixth year. That strike was forced by management when it cut both wages and health care benefits.
It is the Hyatt hotel chain, however, that has come to represent for the labor movement everything it is up against.
On Jan. 7, a day after his arrest in San Francisco, Trumka led the picket line and addressed a rally at the Hyatt Century City in Los Angeles. Hyatt's contract in Los Angeles with the union, which covered two hotels with 800 workers, had expired last November.
"The Hyatt has not behaved responsibly," Trumka said. "First, the company fired 98 experienced housekeepers in Boston only to replace them with $8-an-hour staffing agency employees. Next, a study in the American Journal of Industrial Medicine found housekeepers working at the Hyatt have a higher injury rate than housekeepers at other top hotels. It's time for the Hyatt to clean up its act."
The fired Hyatt housekeepers in Boston have won massive support from all over the North American continent. Demonstrations and civil disobedience actions have taken place not only in Boston but at Hyatt hotels in Los Angeles, Chicago, Indianapolis, Philadelphia, San Antonio, San Diego, Santa Clara, Calif., Toronto and Vancouver, British Columbia.
"Hyatt is making many millions for the hotel owners but that isn't stopping them from trying to make it impossible for me to get decent health care for my children and myself," said Carolyn Wilson, who has worked for four years as a housekeeper at the Hyatt in Chicago. "How can they sleep at night? How can they do this? What they did to those women in Boston is unforgivable and if they think that the workers are going to take this, they have another thing coming."
"We will end up with a good contract," said Amanda Sanchez, a restaurant worker at the same hotel. "They want to make billions and they want to move forward by expecting us to move backward. It's not going to happen."
Photo: San Francisco hotel workers demonstration Sept. 24, 2009, by Marilyn Bechtel/PW