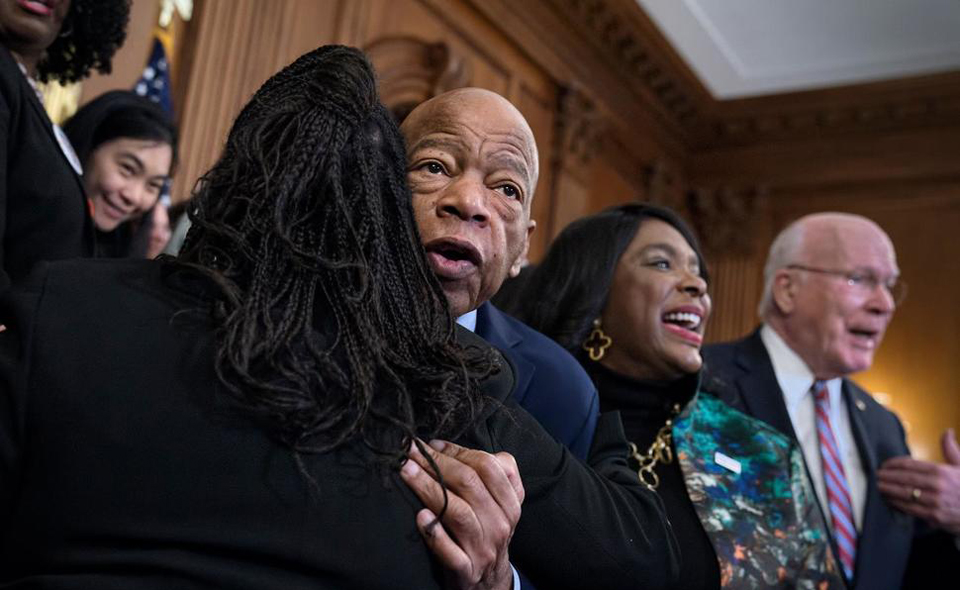 WASHINGTON – House Speaker Nancy Pelosi wants to restore the full strength of the 54-year-old Voting Rights Act. So do Democratic Reps. Terri Sewell of Birmingham, Ala., who authored the bill that strengthened the law, and Marcia Fudge of Cleveland, who helped shepherd the measure through the U.S. House. And so do, strongly, U.S. unions and civil rights groups.
President Donald, however, is another matter. His staff is urging him to leave voting rights – or lack of them – in the hands of the states.
Put all this together, and the Democratic-run House passed HR4, the Voting Rights Advancement Act, by a 228-186 vote on Dec. 6. One Republican, Brian Fitzpatrick of Pennsylvania, joined all 227 voting Democrats in favoring it. The rest of the GOP, plus Michigan Independent Justin Amash, voted "no."
AFL-CIO Legislative Director Bill Samuel called HR4 "a flexible nationwide approach to protecting voters from discriminatory practices, and an important step toward restoration of the protections undermined by the Supreme Court's 2013 decision" that gutted the law's key enforcement section.
In a 5-4 partisan U.S. Supreme Court ruling six years ago, the Shelby County vs Holder case, the GOP-named majority justices threw out the key section of the 1965 Voting Rights Act. That section sanctioned state and local governments with a documented history of banning minorities from voting. They had to get Justice Department "preclearance" for any voting changes they wanted to enact.
The section said if those governments, mostly but not exclusively in the South, wanted to close polling places, draw district lines to disenfranchise African-Americans, Hispanic-Americans, Native Americans and others, ban early voting, change voting hours or require people to jump through hoops to register to vote, among other voting curbs, they had to get a federal OK, preclearance, to do so.
When the court tossed preclearance out, Chief Justice John Roberts said the list of affected states and local governments was badly out of date. He also said discrimination isn't as pervasive as it was in 1965 – a statement ten GOP-run states, led by North Carolina and Texas, disproved within days.
Roberts also suggested Congress could fix the problem, by rewriting the preclearance section to  update the list. So that's what the Voting Rights Advancement Act did. It said state and local governments in a particular year that had committed at least 15 voting rights violations over the preceding 25 years would need preclearance for any future voting changes they plan. And that mandate covers the whole country.
"Congress is finally answering the Supreme Court's call to action," said Sewell, whose Alabama district includes the civil rights era historic sites of Montgomery, Birmingham and Selma. HR4 "creates a new coverage formula to determine which states will be subject to the VRA's preclearance requirement based on current, recent evidence of voter discrimination."
HR4 "also establishes practice-based preclearance authority and increases transparency by requiring reasonable notice for voter changes," she added.
"This new voter formula is narrowly tailored to cover the states and jurisdictions where there has been a resurgence of significant and pervasive discriminatory voting practices," Sewell said, without naming the offenders. "It does not include those areas where such preclearance would be considered to be an unjustifiable burden."
"These changes will restore the full strength of the Voting Rights Act by stopping discrimination before it takes place."
Besides the AFL-CIO, the National Education Association, the Teachers (AFT), AFSCME, the Service Employees and the Auto Workers strongly backed HR4 in separate letters to lawmakers. Other unions signed on to joint letters drafted by the Leadership Conference on Civil Rights and other groups.
The new preclearance coverage formula responds "to the discriminatory practices that proliferated since the Supreme Court's decision," the AFL-CIO's Samuel said. "As Roberts said: 'Voting discrimination still exists. No one doubts that.' Discriminatory policies have not only resurfaced in areas formerly covered by the Voting Rights Act's preclearance requirement, but also have proliferated nationwide."
After listing some state and local voter suppression moves, Samuel said HR4 "would address these disenfranchisement strategies, as well as others certain to develop."
The legislation "helps protect citizens' ability to register to vote and provides real enforcement so marginalized communities will have proper access to the ballot box," said UAW Legislative Director Josh Nassar. Empowering people to vote and ensuring equal access to do so "is a core value of our democracy."
"Voting is a responsibility of citizenship, a privilege for which many people have fought and died," added Marc Egan, NEA's Government Relations Director. He said HR4 would "expand registration, safeguard our elections, and restore voting rights for people with past criminal convictions — important steps to ensure that all have a voice." People of color are a highly disproportionate share of both those in prison and those who have served their terms.
Service Employees President Mary Kay Henry reiterated many of the same points, and added her union would use the Voting Rights Act votes in rating lawmakers for endorsements.
"Unjust actions by states and localities to our electoral system must be addressed with urgency to ensure the voices of working people — black, white and brown — are heard at the ballot box," she stated. She called HR4 "essential" to restore critical civil rights protections for voters while providing clear and consistent voting laws for every state to ensure all eligible citizens can participate in our democracy."
"It is an understatement to say the Supreme Court's decision ignored the real-life and ongoing efforts to suppress voting rights across our nation," AFT President Randi Weingarten wrote to lawmakers. "The renewed disenfranchisement tactics of old include, but are not limited to, restrictive voter ID laws, outcome-driven redistricting, limited voting hours and opportunities, and misinformation about polling places and times."
"And let's be clear, these tactics are all engineered to disproportionately affect the voting rights of African-American, Latinx, immigrant and low-income voters, as well as students and seniors," she said.
"It is imperative Congress take new action to ensure" a stronger Voting Rights Act, she added. Weingarten, an high school civics teacher from New York City, added: "We do not want future generations of students to read in their history lessons that the Supreme Court in 2013 turned the clock back on decades of progress in voting rights and that that was the final word."
Trump's White House confederates totally disagreed. They recommended he veto HR4, should the Senate pass it. Pelosi, in closing the House debate, strongly supported HR4, but also admitted it's necessary because Senate Majority Leader Mitch McConnell, R-Kent., buried the House's prior comprehensive elections-campaign contributions-Voting Rights Act reform legislation, HR1.
Without using the racial code words "state's rights," Trump's OMB said HR4 would override states to give the federal government too much power over elections. OMB called the measure "overreach" and "unjustified."
Fudge, an African-American like Sewell, had the pointed retort during House debate.
"Sadly, the United States has a long, dark history of denying or restricting the right of people to vote who look like me," Fudge said. "If you believe Black and Brown people, Asian citizens, Native Americans, language minorities, students, the poor, rural and urban citizens are part of 'We, the people,' you must support HR4."