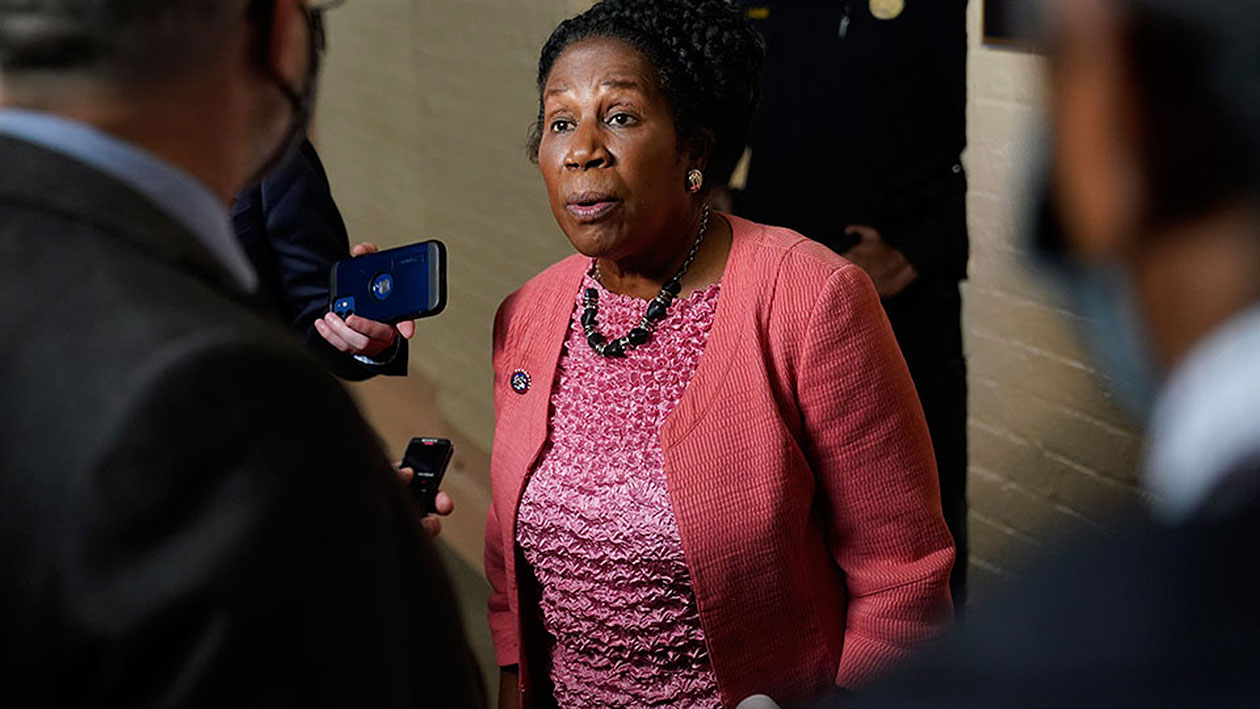 WASHINGTON—The Democratic-run House rushed on Nov. 5 to vote on both sections of Democratic President Joe Biden's Build Back Better agenda, a "hard infrastructure" measure and expansion of the social safety net.
The speeded-up schedule occurred despite hate and vitriol from the GOP, and no agreement to back the BBB from holdout Senate Democrats Joe Manchin of West Virginia and Krysten Sinema of Arizona. Instead, for weeks they have demanded, and got concessions on everything from cost to priorities, from Biden and even from progressive stalwarts.
But the "moderates" still won't commit to voting for the BBB bill. The result is the whole wrangling, and negotiating, could continue over the weekend and into next week. That also gives supporters, including organized labor, more time to lobby lawmakers to pass both bills.
"The Build Back Better Act will create millions of family-sustaining jobs," Chicago Federation of Labor President Rob Reiter, one of many union leaders pushing its passage, said today.
The measure "will grow the economy by investing in families and caregiving, clean energy infrastructure, health care, affordable housing, workforce development and more. This plan will be an essential catalyst to creating equitable growth…as we rebuild from the (coronavirus) pandemic. It is also essential that this plan relies on the wealthy and big corporations paying a share of the cost.
Manchin still "concerned"
Sen. Manchin says he's still concerned about the big social spending bill's price tag, an average of $175 billion yearly over the next decade, even though the non-partisan Congressional Budget Office reported the BBB's tax provisions, in what is officially a "reconciliation" tax-and-budget bill, pay its entire cost.
And Sinema, silent until now, tweeted she reached a compromise on prescription drug pricing. The "compromise," news reports said, lets Medicare bargain down high drug costs on a limited group of drugs for 13 years and all of them after that.
Biden's BBB package also includes an extension of the child tax credit, universal preschool, four weeks of paid family and medical leave, and tax credits to push industry into eliminating the carbon emissions that fuel global warming, by switching to clean energy sources.
Meanwhile, House Republicans not only opposed all those plans, but catering to their corporate campaign financiers and their white nationalist base, showed their true colors by opposing even expansion of child care, and pieces of immigration reform, both in the larger social programs "reconciliation" bill.
The bill's $65 billion for child care over a decade would expand and improve child care facilities and mandate and fund $15 hourly wages for caregivers, an overwhelming majority of whom are women of color. Naturally, the screaming Republicans didn't acknowledge that. It would also subsidize families so they don't have to pay more than 7% of their annual income for caregiving.
The tenor of the GOP's hate appeared quickly in the early-morning House debate on Nov. 5.
"We are paying for the government to care for 3- and 4-year-olds," Rep. Glenn Grothman, R-Wis., caterwauled. "Traditionally, in America, the raising of the children is the responsibility of the parents. I know there are people, Marxists, who believe raising children is the responsibility of the state."
Then he charged the Democratic-pushed Build Back Better agenda includes "a big push towards encouraging illegal immigration," plus "free college for people here illegally." Rothman's canards brought an immediate retort from Rep. Sheila Jackson Lee, D-Texas.
"I see a sense of great future for America," Lee declared. "I wonder how many of the 3- and 4-year-olds in the future will wind up in the office of a presidency of the United States. Because we in America and we as Democrats gave them a head start, an early head start.
"And if any of my colleagues have ever visited childcare, pre-k, and seen the brightness of our children, they know that what Democrats are doing today creates not a black day but a brightness. Today is going to be a bright day…as Democrats govern and lead and make a difference in this nation and this world."
The BBB measure also includes higher fines on labor law-breakers, a broader reach of offenses defined as illegal—such as captive audience meetings–and expansion of those responsible for such law-breaking to include corporate CEOs, board members, and other aiders and abettors of violations of workers' rights.
Taken from the PRO Act
All are taken from the Protect The Right To Organize (PRO) Act, labor's #1 legislative priority, which the House passed on a virtual party-line vote earlier this year.
The Republicans labeled the PRO Act "the union bosses bill," and screamed about holding the CEOs, board members and other honchos "personally liable" financially for paying the higher fines for labor law-breaking. And, swinging at a favorite GOP piñata, they charged the measure includes $2.6 billion for "unelected bureaucrats" at the National Labor Relations Board, the Labor Department, OSHA, and the Equal Employment Opportunities Commission to "bully and harass" businesses.
The GOP lied about child care, too, inflating its cost to $400 billion over 10 years. Then Republicans charged the BBB bill would deny money to "faith-based" child care providers, conveniently overlooking those providers discriminate against both kids and staffers on the basis of religion. And the Republicans called the $15/hour pay for caregivers "onerous."
But the debate and the votes on the measures, which began at 8 am, are not the entire keys to whether lawmakers send Biden's agenda to his desk. Those are still in the hands of Manchin and Sinema, both heavily influenced if not completely beholden to corporate special interests.
Their votes are key in the evenly split Senate, as the other 46 Democrats and both independents support the BBB bill, while all 50 Republicans are obeying GOP leader Mitch McConnell's diktat to oppose it. But a 50-50 tie would let Vice President Kamala Harris cast the deciding vote for it.
Manchin said on the Senate floor on Nov. 3 he still wants to get to a "yes," but the deficit impact keeps him from a commitment. Sinema's still silent on how she could vote.
And even Sen. Bernie Sanders, Ind-Vt., the Budget Committee chair who drafted the original Senate BBB bill–which averaged $350 billion yearly over 10 years–gave ground on a key tax provision. Lawmakers, under pressure from Sinema, earlier dropped repealing the GOP-Trump $2 trillion 2017 tax giveaway to corporations and the 1%.
On Nov. 3, in yet another compromise by progressives, Sanders announced in a joint press conference with Sen. Bob Menendez, D-N.J., that the federal tax deduction for state and local taxes, capped at $10,000 by the Trump-GOP bonanza for big shots, would rise to $80,000. Sanders said the lower limit hurt many working families in high-cost states—such as New Jersey.
"While the $10,000 tax cap is much too low, eliminating it entirely would result in a massive tax break for the wealthiest families in this country," Sanders said. Menendez had demanded complete elimination of the cap.
By contrast, Sinema and Manchin have yielded on virtually nothing at all.
Biden weighed in for both bills, calling individual lawmakers late Thursday night to lobby them, once he returned from the climate summit in Glasgow, Scotland. He made a particular point of stressing the U.S. must use the BBB bill to resume global leadership in the fight against climate change, a battle abandoned and reversed by Biden's Republican predecessor, Donald Trump.
The BBB bill would back those Biden climate commitments. It includes $550 billion spread over ten years to combat climate change, principally in tax credits for switching to clean energy and away from oil, coal, and natural gas, fossil fuels whose carbon emissions cause climate change.