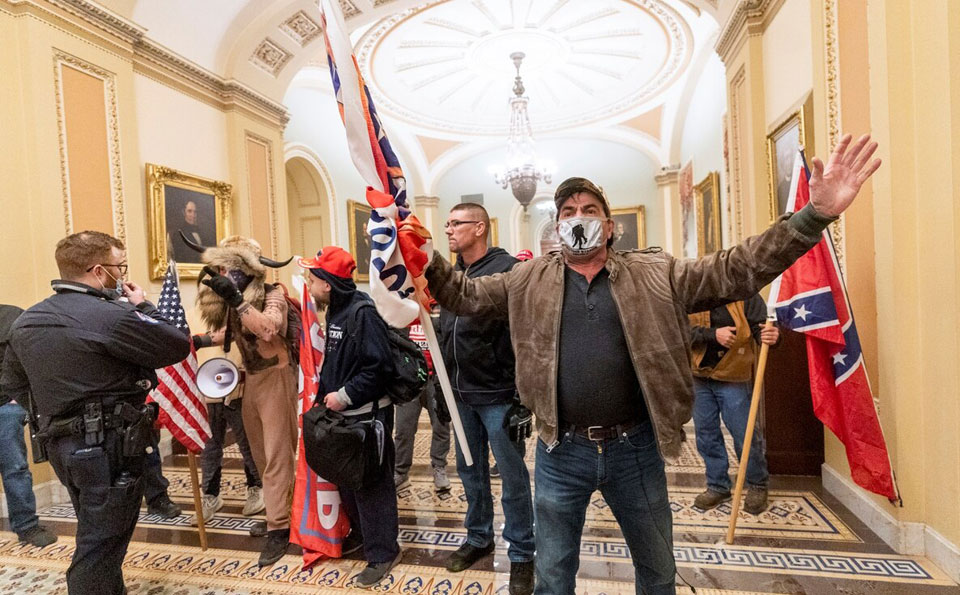 WASHINGTON—Blow by blow, indeed almost minute by minute, the U.S. House managers' brief detailing why lawmakers impeached former GOP President Donald Trump laid out the case showing how he incited the invasion and insurrection of the U.S. Capitol on Jan. 6.
"A president is subject to impeachment, conviction and disqualification from future federal officeholding if he commits 'high crimes and misdemeanors,'" the 80-page detailed impeachment brief, basically an indictment, says. Trump's "incitement of insurrection meets that standard. His conduct endangered the foundation of our government."
"If provoking an insurrectionary riot against a joint session of Congress after losing an election is not an impeachable offense, it is hard to imagine what would be," the brief adds. The founders who wrote the Constitution, including its impeachment clause, in 1787, would agree, too.
"Trump's effort to extend his grip on power was a profound violation of his oath of office" to "preserve, protect and defend" the U.S. Constitution, the brief states, in arguing for his conviction.
But the impeachment brief and accompanying evidence, including videos of the insurrection posted by its perpetrators, are unlikely to produce a conviction in the trial, scheduled to start Feb. 9.
For that, 17 of the Senate's 50 Republicans must join all 48 Democrats and both Democratic-leaning independents to convict Trump of inciting the insurrection. Conviction would bar Trump from running for president in 2024, which he threatens to do.
But in a test vote the week of Feb. 1, only five Senate Republicans broke from the party line and voted that Trump could be tried even though he's now a private citizen. The other 45 held to the position that once he's not president, he can't be impeached and convicted.
Senate Democrats, both independents and the five GOPers won their point that Trump can be impeached even though he's not in the White House any more. They cited the framers and past precedents.
The House managers, led by Rep. Jamie Raskin, D-Md., a constitutional law professor, also formally wrote to Trump on Feb. 4, asking him to testify at the trial. An hour and a half after he got their e-mailed letter, Trump, through an aide, refused. He called it "a grandstand play."
Trump and his lawyers deny all the charges and the evidence, too. His reply brief is due the day before the trial starts. Trump "never disputed the facts that gave rise to his impeachment," the U.S. House's brief says. "He merely stated publicly that what he did was appropriate."
Meantime, the impeachment brief details the evidence against Trump, and it makes chilling reading: A sitting U.S. president ordered his angry zealots to overturn the results of an U.S. election and perpetuate him in the Oval Office through invasion and insurrection.
"It was evident that President Trump would resort to any means necessary to reverse the results of the election," the brief laconically says, after detailing how Trump tried and failed to reverse the loss through political pressure on states and court suits with no evidence before resorting to urging his legions to march. Even before the election, it noted, he charged it would be "rigged," priming a revolt.
The brief revolves around the insurrection and invasion after the rally Trump addressed the morning of Jan. 6, just before his disciples, at his direction, stormed the Capitol.
A vast plot
"Trump had spent months using his bully pulpit to insist that the joint session of Congress'" to count the votes "was the final act of a vast plot to destroy America," the impeachment brief explains.
"As a result…the crowd was armed, angry and dangerous." For 50 minutes, Trump incited chants of "Stop the steal!" He declared "We fight! We fight like hell!" and more.
Then he challenged them, "You'll never take your country back with weakness!" before ordering them to march on the Capitol. He promised to lead them, but ducked out to watch the insurrection on TV.
The invaders overran the unprepared and unwarned Capitol Police, looted files, vandalized the building with bullet holes in doors, smashed windows, smeared excrement and torn paintings. They threatened lawmakers, staff and reporters who literally hid and then ran for their lives. They fatally injured defending U.S. Capitol Police officer Brian Sicknick by clobbering him with a fire extinguisher.
And the unrepentant invaders, as shown on social media both before and during their invasion, did it all at Trump's order, the House-passed impeachment brief says.
The brief is not confined to the  invasion. It stretches back to Trump's months of messages, tweets and incitements to white nationalists, neo-Nazis, the Proud Boys and other violent groups to descend on D.C. and invade to stop the electoral vote count. That would deprive winning Democrat Joe Biden of the presidency. After more than eight hours of invasion and delay, the count finished at 4 am. Biden won.
The impeachment brief also lists arms and munitions garnered from the invaders. In just one Trump supporter's pickup truck, police discovered "materials for making napalm-like explosives, a rifle, a shotgun, three pistols, five types of ammunition, a crossbow, machetes, a stun gun and smoke devices."
Police also found two pipe bombs planted near the offices of the Democratic and Republican parties, which are officially within the "Capitol precinct" the police patrol.
Later, the brief describes invaders with guns in the Capito. And insurrectionists used "pepper spray, projectiles…sledgehammers, baseball bats, hockey sticks, crutches, flagpoles, police shields and fire extinguishers" to attack and overrun the police.
Some "insurrectionists carried zip ties, in hopes of taking hostages," the brief says. Others yelled death threats against House Speaker Nancy Pelosi, D-Calif., and GOP Vice President Mike Pence, after he  refused Trump's demand to reject electoral votes Trump falsely claimed were fraudulent.
"Once we heard Pence had turned on us and they had, like, stolen the election, the crowd went crazy, one rioter said," the impeachment brief adds. "Rioters chanted 'Hang Mike Pence.'" Another testified that "Crazy Nancy would probably have been torn into little pieces, but she was nowhere to be seen."
Lawmakers cowered under chairs, donning gas masks, before being hustled to safety. Some took shelter in colleagues' offices and closets, with furniture jammed against doors. One armed his chief of staff with a fire iron to guard his door and protect his wife and son-in-law "with her life" against invaders roaming the Capitol complex. She agreed.
Rushed to secure spots
Once rushed to secure locations, Pelosi and other lawmakers called Trump by cell phone to plead he stop the insurrection, the brief says. He refused to take the calls.
Progressive Rep. Alexandria Ocasio-Cortez, D-N.Y., later compared the right-wing invaders' threat to her life to when she was sexually abused in her youth. Her assailant had told Ocasio-Cortez to forget about it and move on. That's what current Trump-defending Republicans, a majority, say now. None have even said "I'm sorry" for the invasion, the threat and the fear, Ocasio-Cortez notes.
But the brief says Congress and the nation, can't just "move on." It warns that letting Trump off the hook opens the door to armed insurrections by far-rightists nationwide, since they're already knitted together around Jan. 6, and to a future president to try what Trump did—and succeed.
It also says the insurrectionists view Jan. 6 as "a victory," a point a former Trump Homeland Security anti-terrorist official repeated to a House panel on Feb. 4. She added they'll feed off of it for "10 to 20 years."
"If the Senate does not try President Trump (and convict him), it risks declaring to all future presidents that there will be no consequences, no accountability, indeed no congressional response at all if they violate their oath" of office, the brief states.
"The House acted with urgency," passing its impeachment resolution a week after the insurrection because Trump's "rhetoric and conduct before, during and after" the invasion  "made it clear he was a menace to national security and our democratic system."
That threat, including the physical threats to Pence and Pelosi, are important too. The Constitution mandates the Vice President—in this case, Pence—succeeds a president who dies, is impeached and convicted, or leaves office before the end of the term. If there's no VP, the House Speaker steps up.
Thus the threats were directly aimed at destroying the order atop the government. And Trump incited them all: "Far-right groups had rallied members to attend based on 'a green light from the president.'"
Trump also didn't call the insurrection off, though only he had the clout to do so, it notes. Aides told the Washington Post Trump was "borderline enthusiastic" and "delighted" by it. He eventually and half-heartedly told the invaders to stop, while lavishly praising them.
They didn't and U.S. Capitol and D.C. police needed hours to roust them out. Some 130, and counting, have since been arrested, out of the thousands who invaded.
Aides tried to talk sense into Trump, but failed. "They are going to kill people," his chief of staff, former right-wing Rep. Mark Meadows, R-N.C., warned. They did.
Sicknick and four invaders died. One was shot while trying to break into the U.S. House chamber. Three had unspecified "medical accidents." Two other police officers, despondent over their failure to stop the invasion, later committed suicide. Some 141 police were hospitalized. One lost an eye. Another had a heart attack. The medical status of the others has not been disclosed.