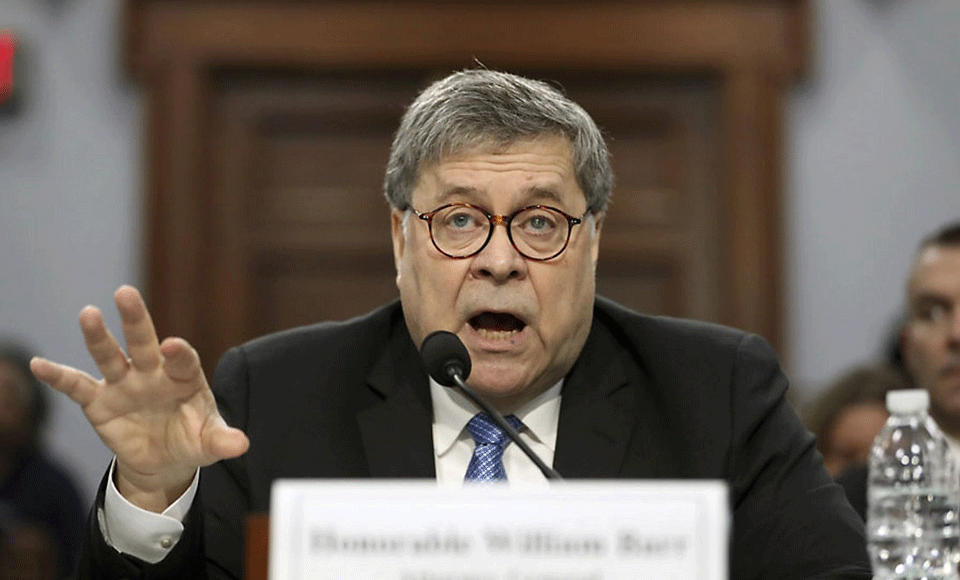 WASHINGTON—Trump regime Attorney General William Barr faced tough grilling July 28 from congressional Democrats who hate the GOP president's schemes to send troops to the nation's cities.
And Barr also must contend with an eyewitness to Trump's first deployment, in Washington's Lafayette Square. Army National Guard Major William DeMarco flatly testified Barr ordered U.S. Park Police and Secret Service agents to tear gas, pepper-spray and use other violence against peaceful protesters there.
Barr's testimony to the House Judiciary Committee comes even as he obeys more Trump commands to send troops to Portland, Ore., and Seattle. He's also sent troops into Kansas City, and plans to send them to Chicago, Albuquerque, N.M., and elsewhere, using the excuse that protesters against ingrained U.S. racism are rioters.
But investigations, including the latest one in Richmond, Va., show the "rioters" are actually right-wing extremists, egged on by Trump's rhetoric and infiltrating otherwise peaceful demonstrations which have occurred daily for more than two months nationwide.
While Barr tried to justify his orders to deploy the troops at the House Judiciary Committee hearing, DeMarco, the National Guard's liaison to D.C. police agencies, painted a far different picture of what he saw on the scene at the first confrontation, in Lafayette Square.
The Park Police and the Secret Service, armed with "tear gas and paint-ball-like guns to shoot pepper spray," plus shields, charged the protesters, injuring many and tear-gassing them all, plus himself and other Guard members, DeMarco told the House Resources Committee. After the forces cleared the square, Trump strutted across it less than an hour later to pose brandishing a Bible for a photo-op in front of St. John's Episcopal Church. DeMarco called his appearance "a complete surprise."
"The events I witnessed at Lafayette Square on the evening of June 1 were deeply disturbing to me, and to fellow National Guardsmen" stationed at the square, DeMarco said. "Having served in a combat zone (Iraq), and understanding how to assess threat environments, at no time did I feel threatened by the protesters or assess them to be violent.
"In addition, considering the principles of proportionality of force and the fundamental strategy of graduated responses specific to civil disturbance operations, it was my observation the use of force against demonstrators in the clearing operation was an unnecessary escalation.
"From my observation, those demonstrators–our fellow American citizens–were engaged in the peaceful expression of their First Amendment rights. Yet they were subjected to an unprovoked escalation and excessive use of force," he concluded.
Trump's troops angered congressional Democrats, including members of both committees, and Judiciary panel Dems jumped on Barr. The troops also upset mayors whose cities were subjected to the Trump-ordered onslaught, including Seattle's Jenny Durkan, D.C.'s Muriel Bowser, Chicago's Lori Lightfoot and Portland Mayor Ted Wheeler.
Trump's troops tear-gassed Wheeler, who had arrived for a listening session with the protesters, July 23. "Somebody's going to die," Wheeler warned then. One Portland protester has been hospitalized with serious head injuries inflicted by unidentified Trump troops.
Mass movements are also protesting Barr's actions and Trump's troops. Unions are starting to join them. The first was National Nurses United. Service Employees Local 503, which represents 72,000 Oregon workers, joined in with two tweets on July 22.
If we are silent as people's rights are infringed, we make it easier for anti-union types to justify taking away our rights. We won't be silent. #PortlandProtest #FedsOutOfPortland #Union #1 #Portland," the first said.  "Every union member should fear what's happening in Portland right now," the second  added.
Back in D.C., the Democrats were hopping mad at Barr. Several lawmakers have introduced legislation to ban such use of troops. The ire is bipartisan: The very first Homeland Security Secretary, former Gov. Tom Ridge, R-Pa., denounced the deployments in a PBS NewsHour interview.
"We see the full force of the federal government brought to bear against citizens demonstrating for the advancement of their own civil rights. There is no precedent for the Department of Justice actively seeking out conflict with American citizens, under such flimsy pretext, or for such petty purposes," Judiciary Committee Chairman Jerrold Nadler, D-N.Y., told Barr at the start of that hearing.
Some 150 years after the end of the Civil War, Nadler said, "We are again at a pivotal moment in our nation's history, Mr. Barr.
"We are confronted with a global pandemic that has killed 150,000 Americans and infected more than 16 million worldwide. We are coming to grips with a civil rights struggle long swept under the rug, if not outright ignored by our government.
"We are, as a nation, witnessing the federal government turn violently on its own people.
"And although responsibility for the government's failure to protect the health, safety, and constitutional rights of the American people belongs squarely to President Trump, he could not have done this alone. He needed help. And after he finished utterly humiliating his first attorney general, he found you…You have aided and abetted the worst failings of this president."
Topping Barr's wrongs, Nadler said, is that "under your leadership, the department has endangered Americans and violated their constitutional rights by flooding federal law enforcement into the streets of American cities, against the wishes of the state and local leaders of those cities, to forcefully and unconstitutionally suppress dissent."
Nadler's enumeration of Barr's offenses also included Justice Department hostility to the Black Lives Matter protests against racism, its abandonment of racism victims, its "failure to enforce voting rights laws," its "disinformation, in coordination with the White House, about voter fraud," and Barr's lies about Special Counsel Robert Mueller's report on Russian manipulation—in Trump's favor—of the 2016 presidential election.
Barr also "personally interfered with ongoing criminal investigations to protect the president and his allies from the consequences of their actions." Barr's even "perniciously encouraged" states to reopen in the face of the coronavirus pandemic, which has now killed more than 150,000 people and sickened almost five million.
"The message these actions send is clear: In this Justice Department, the president's enemies will be punished and his friends will be protected, no matter the cost… This administration has twisted the Department of Justice into a shadow of its former self, capable of serving most Americans only after it has served those in power.
"This committee has a responsibility to protect Americans from that kind of corruption, Mr. Barr," Nadler declared.