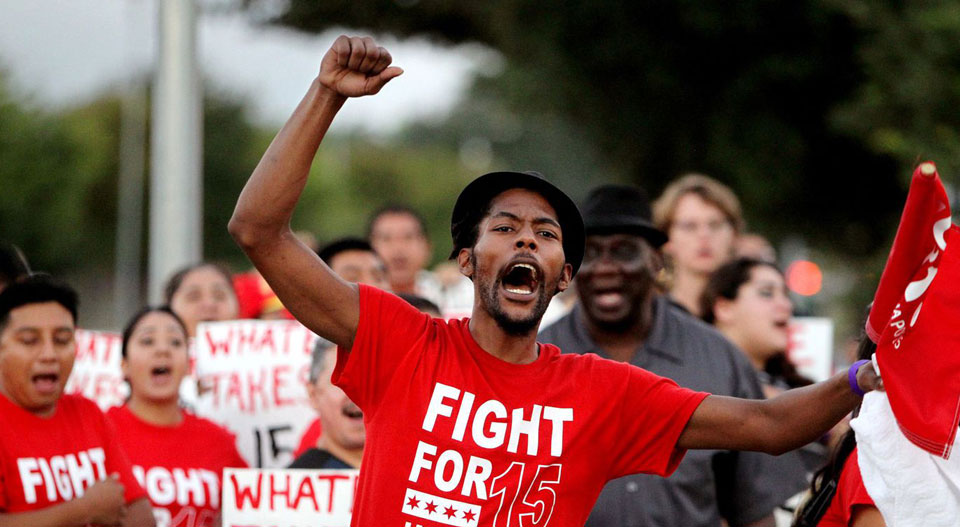 WASHINGTON—Over the usual screams from anti-worker right-wing Republicans, the Democratic-run House Education and Labor Committee approved legislation to raise the federal minimum wage in steps to $15 an hour by 2024. It's now $7.25.
The 28-20 party-line vote marks a win for low-wage workers and their allies, including the "Fight for $15 and a union" movement, organized labor, House Democratic leaders and their large first-year group of lawmakers — and even occasional supportive businesses.
Besides crafting the first federal minimum wage hike in a decade, the measure, HR582, also ties future increases to inflation, thus ensuring the minimum does not fall far behind the median worker's wage as it has since a peak in 1968.
And, according to a committee tweet, the new legislation eliminates the "tipped wage" which employers force on workers such as servers and bellhops. That wage, $2.13 an hour, hasn't increased since 1993. Employers are supposed to make up the difference between that figure, plus tips, and the regular minimum. But they frequently steal the difference instead.
How far HR582 will get beyond the Democratic-run House is unclear. The Senate Labor Committee has yet to hold minimum wage hike hearings, and business and its Republican congressional puppets hate it. The GOP Trump administration's attitude is unknown.
"It's official: The Raise the Wage Act passed committee!" Rep. Pramila Jayapal, D-Wash., co-chair of the Congressional Progressive Caucus cheered in a tweet. "Shout out to the incredible fast food workers who have helped speak out, organize and show up for this movement all across the country. Go ahead and raise the roof: We're one step closer to raising the wage!"
"We're excited to continue to the fight with you and Democrats in the House and Senate to make $15 a reality nationwide!" Fight for 15 tweeted back.
"No one working full time should be living in poverty, but that's what's happening all around us. Our bill makes sure Americans get a fair day's pay for a hard day's work," said committee member Donald Norcross, D-N.J., former president of the South Jersey Building and Construction Trades Council.
"I've worked for minimum wage, and I was once a young single dad raising my son and having to balance work, family life, and a checkbook. Back then it was hard. Today, for far too many Americans, it's nearly impossible," he added.
His state just raised its minimum wage to $15 hourly by 2024, added Norcross, a former state legislator.
The Republican attitude was summed up by Rep. Virginia Foxx, R-N.C., who once questioned whether unions should even exist. She called the minimum wage hike "a socialist campaign talking point" and "an intentionally dishonest political stunt." She also parroted the business line that it would cost jobs, even though economic studies of states with higher minimum wages show that's a lie.