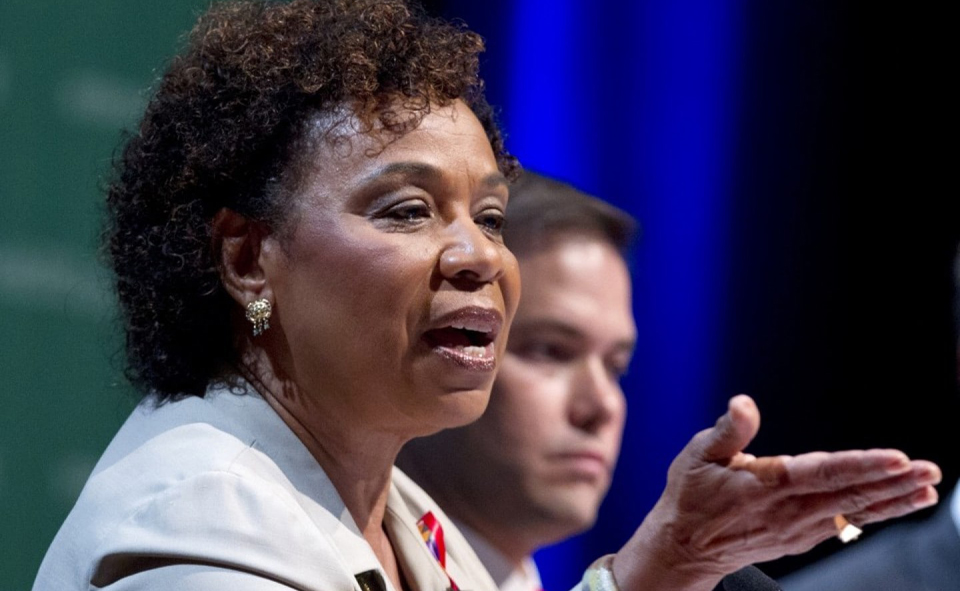 WASHINGTON—With bipartisan votes – more than a dozen Republicans joined all but a few ruling House Democrats — the House voted twice to again stop GOP President Donald Trump's march to war on Iran.
First, lawmakers passed a measure dumping the 2002 Authorization to Use Military Force, which GOP President George W. Bush sought and got to overthrow then-Iraqi President Saddam Hussein, based on "evidence" of weapons of mass destruction. The weapons were non-existent. Rep. Barbara Lee, D-Calif., has pushed repeal for decades.
"We are here today to rein in this president and any president, rein in their abuse of executive power, and to make clear Congress has the sole constitutional duty to declare war and authorize the use of force. This should not be a partisan issue," Lee said.
"Leaving this authorization on the books is both dangerous and irresponsible. Doing so would allow any administration to use it for military action Congress never intended to authorize. It will continue to allow these wars without end," she told her colleagues during the Jan. 30 hour-long debate.
Bush, Democratic President Barack Obama, and Trump all used that 2002 justification to expand and entangle U.S. troops – sons, daughters, fathers, mothers, and wives of workers – in Iraq. Recently, documents unveiled by whistleblowers show top officials of those administrations knew the war was unwinnable, and couldn't come up with good reasons why troops are still there.
Second, lawmakers approved a measure by Rep. Ro Khanna, D-Calif., banning Trump's military from using any money to attack Iran. Trump justifies his threats against Iran, and his military's assassination of a top Iranian general, by the 2002 AUMF.
Khanna told his colleagues that "before we get into another Middle East war, before we waste trillions of dollars again, we need to come to Congress to authorize that."
Khanna noted his December try to ban Trump from going to war on Iran – a try Trump vetoed – drew 27 GOP votes in addition to all but a few Democrats. " I believe actually voting for this is vindicating what President Trump ran on in 2016, which was a promise to the American people to get out of these endless wars in the Middle East," he told colleagues during the debate.
Progressive and anti-war groups, including the CPUSA, have also pushed for AUMF repeal and against war on Iran. By contrast, Trump was expected to brag about increased military spending – a record $718 billion in the current fiscal year — in his State of the Union address on Feb. 4.
"The world is on the precipice of a new crisis in the Middle East and a war against Iran. A war, possibly a nuclear war, would be disastrous to the region and world," John Bachtell, about to retire as party chair, told the CP convention in Chicago last July.
"Extremists in the Trump administration, U.S. imperialism, the military-industrial complex, oil corporations, and extreme right-wing regimes across the region are driving this danger. U.S. withdrawal from the Iran nuclear deal, the imposition of sanctions and the villainization of Iran, are provoking Iran to resume its nuclear program, providing the pretext for an attack."
Both the AUMF repeal and the ban on U.S. spending for war on Iraq were inserted into an unrelated bill, S550, authorizing a congressional gold medal honoring merchant mariners who served – and more than 9,000 who died – while convoying troops and arms to Europe and Asia during World War II. The gold medal language, a longtime cause of the AFL-CIO Maritime Trades Department, was completely bounced from the bill during the hour-long House work session.
"I just think that we don't think there should be a blank check for war," House Foreign Affairs Committee Chairman Eliot Engel, D-N.Y., told his colleagues.
The votes mark the third time in three months the House approved legislation to stop Trump's march to war with the Islamic Republic. Senators stripped the first war ban out of the annual defense bill in December. Trump vetoed the second war ban, in early January. The third one, S550, now goes to the Senate, where Majority Leader Mitch McConnell, R-Ky., acting on Trump's orders, will try to bury it.
And if he can't, Trump's advisers want him to veto it, again. That didn't stop the Democratic majority from declaring Congress – not the president, any president – has the power to declare war, and they want to take it back. Lee pointed out nearly three-fourths of lawmakers weren't in Congress when that 2002 AUMF passed.
"What we knew then is the 2003 invasion of Iraq was based on lies told by our own executive branch," she added. "Let me remind you now that, in 2002, I stood here and urged us not to rush into war. I offered an amendment to the AUMF…that would have prevented the war by requiring" United Nations nuclear "inspectors to show verifiable information with regard to the alleged weapons of mass destruction before we took military action. That amendment received 72 votes."
"Had it passed, it would have exposed the false intelligence the war was based on. There were no weapons of mass destruction in Iraq. That is what the 2002 authorization…was about."
"So I stand here once again urging Congress to do its job, this time by repealing the long-outdated and unnecessary 2002 AUMF. Lee also noted the U.S. invasion of Iraq, OK'd by that 2002 authorization, officially ended nine years later.
But almost all House Republicans marched in lockstep with Trump, defending both the 2002 AUMF and spending money against Iran.
Rep. Michael McCaul, R-Texas, top GOPer Armed Services Committee, claimed Trump did not want to make war on Iran, without offering proof from Trump. "When forced by Iran's dangerous escalations, the president has targeted limited military action to defend Americans overseas," McCaul contended.