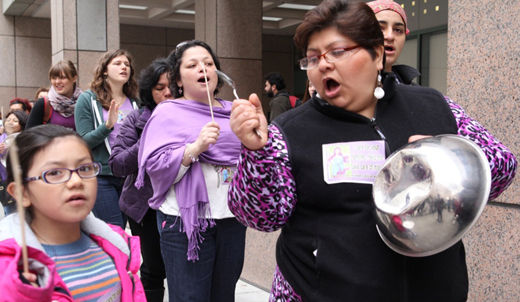 LOS ANGELES – Hundreds banged pots and pans here yesterday to launch a campaign for a Household Workers Bill of Rights.
On the eve of International Women's Day, domestic workers, along with community leaders from all over California, converged in downtown Los Angeles to call for passage of the landmark Domestic Worker Bill AB 241. The bill extends basic labor protections to workers who care for families and homes in California.
The march featured the "Golden Casseroles," whose message to lawmakers in the capital at Sacramento was a simple one:"We take care of your family, help us take care of ours."
Video by Rossana Cambron, People's World. (story continues after video)
The demonstrators carried not only pots and pans but a wide array of other cleaning and cooking utensils they use on the job. They said that what they want are basic and humane conditions for all workers caring for households in California.
AB 241 is the second measure of its kind in the country covering basics labor protections such as overtime pay, meal and rest breaks for domestic work providers, family companions, caregivers and house cleaners.
Photo: Members of the "Golden Casseroles" banged on pots and told California lawmakers, "We take care of your family, help us take care of ours." labor.ucla.edu