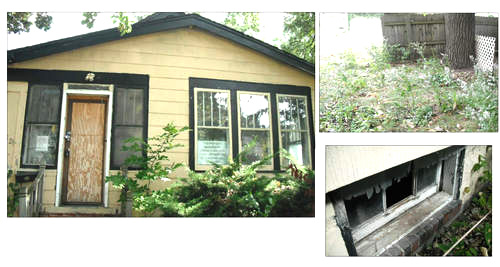 CHICAGO – The National Fair Housing Alliance filed civil rights complaints Feb. 25 with the federal government against Deutsche Bank in Chicago, Memphis and Washington D.C., for failure to maintain foreclosed homes in predominantly African American and Latino neighborhoods. During its online news conference, the group charged that these properties, called REOs (real estate owned properties), are owned by Deutsche Bank and it is their responsibility to maintain. The complaint was filed with the U.S. Department of Housing and Urban Development.
The housing group has pending federal housing discrimination complaints against U.S. Bank in 40 cities and Bank of America in almost 50 cities. The group is investigating Deutsche Bank in other cities as well.
These investigations were prompted by a settlement in Los Angeles; Deutsche Bank was failing to maintain foreclosed properties in non-white neighborhoods while bank- owned homes in white communities were kept to standard.
NFHA and three member organizations (South Suburban Housing Center, Open Communities, and HOPE Fair Housing Center) conducted the investigations, which examined properties for deficiencies in three categories: curb appeal, structure and signage, and occupancy. Many of the properties in communities of color had no "for sale" signs or signage that was not easily visible.
In Memphis, REOs in communities of color were six times more likely to have overgrown lawns than those in white neighborhoods. In none of the three cities did properties in white neighborhoods have a higher number of deficiencies than those in communities of color. In Chicago, more than half of the investigated homes in communities of color had substantial trash on the property.
Photos show that the neighborhoods around these ignored properties are well maintained, with these foreclosed homes creating eyesores in otherwise nice neighborhoods. Many properties in communities of color are being sold well below market value, affecting the prices of homes around them. They are also being sold for cash-only, with no financing options, attracting only investors instead of new homeowners, the group charged.
Groups said Deutsche Bank is blighting communities of color by ignoring their responsibilities as trustees to maintain their properties. These homes become health and safety hazards for the entire community, attracting pests and rodents, and also crime.
The full complaint, along with the $10 million settlement between the city of Los Angeles and Deutsche Bank, can be found at nationalfairhousing.org.
Photos: These photos show a Latino neighborhood in Elgin, Ill., and were submitted as part of a civil rights lawsuit against Deutsche Bank, alleging it poorly maintains its foreclosed homes in minority neighborhoods. (nationalfairhousing.org)