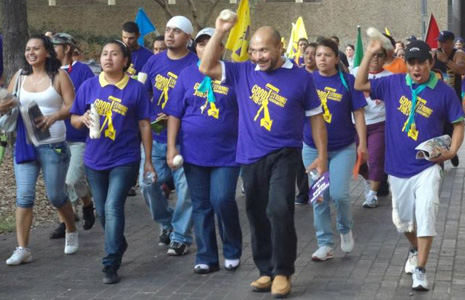 HOUSTON – Striking janitors held a large rally here yesterday at St. John's Methodist Church with 600 to 700 striking union members represented by Service Employees International Union Local 1 attending. Strike banners hung from the sanctuary walls while large photos of workers were displayed. The crowd rose to their feet, time after time, with clenched fists after each speech.
Ada Edwards, a St. John's member and former Houston city councilor, spoke along with the church's pastor. She ikened the strike to a war and urged the workers to be a winner. When you win, we all win, she said.
The strike, which started here, has now spread to eight other cities. The workers are demanding higher wages from cleaning contractors, which are hired to clean buildings that house some of the largest corporations in the world, including JP Morgan Chase, KBR and Exxon Mobil.
The cleaning companies have been forced to go back to the bargaining table this week. There are 3,200 union members. They are paid $8.35 an hour and average 30 hours a week. They are striking for $10 an hour.
The average janitor makes less than $9,000 a year. The U.S. government defines the poverty level at $22,314 for a family of four, and $11,139 for an individual. In contrast, Houston has more millionaires than any other city in the nation, along with 10,000 homeless and 870,000 families that go hungry every day.
In a blatant attempt to intimidate the workers, contractors have threatened to call immigration, speakers said. Employers have harassed union members at home, they said.
But the strike is growing both in numbers and support. The unions strike fund of $10,000 grew by another $3,200 donated by the NAACP at their national convention held here.
St. John's too answered the union's call for help. The church has 9,000 members, including 3,000 who are – or were – homeless. The church serves 7,000 hot meals each month and distributes more than 9 tons of fresh food weekly.
Photo: Last week, striking Houston janitors marched through the busy Theater District, then gathered in Tranquility Park to share words of encouragement with one another. SEIU 1 Facebook.