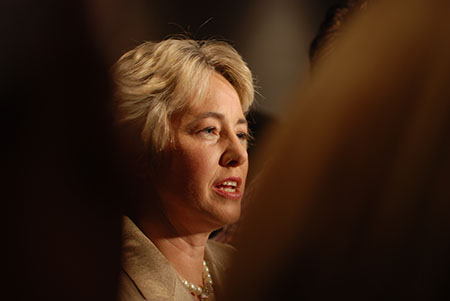 HOUSTON – Who would have thunk it? Houston, the fourth largest U.S. city elected its first openly gay mayor on December 12. The election of Annise Parker to the office of Houston mayor is a major accomplishment for progressive forces in Houston and around the country.
Houston is often thought of as a reactionary, ultra conservative city and is the declared home of former President George Herbert Walker Bush. Although the right wing is very loud here, what most people don't know (including Houstonians) is that Houston is an amazing culturally and ethnically diverse city: whites are actually the minority.. Houston is over a third African American, about a third Latino.
Houston also has a strong union movement which is very progressive and is active in electoral politics. The city's three Congress people Al Green, Gene Green and Sheila Jackson Lee are at the forefront of the progressive struggle in the House of Representatives.
In the general election held on November 3, 2009, Parker faced a wide field of candidates ranging from the far right to the far left. Three center left candidates affiliated with the Democratic Party including Parker, Gene Locke and Peter Brown garnered over 78% of the vote in the general election. All three had the endorsement of the Harris County AFL-CIO. There was only one Republican candidate, Roy Morales, and he got about 20% of the vote in that contest.
It was interesting to read the Houston Chronicle analysis of the race which almost declared Morales the winner. Mayoral elections in Houston are officially non-partisan, but nearly everyone knows the candidates' party affiliations.
The December 12 run-off was between Parker and a former civil rights activist and attorney, Gene Locke. Both candidates had the endorsement of the Harris County AFL-CIO Central Labor Council. The Harris County AFL-CIO has an active labor-to-neighbor program that contacts union members and their families, urges them to vote and provides educational material on the candidates.
The run-off was a bitterly fought contest and some commentators noted that Locke allied himself in the end with big business interests who used anti-gay tactics. Parker got a helpful hand from the Stonewall Democrats, a national LGBT group, who called voters in a massive get-out-the-vote effort.
Obviously, Parker's tactics paid off while Locke's tactics missed the mark.
Photo: http://www.flickr.com/photos/davidortez/ / CC BY 2.0