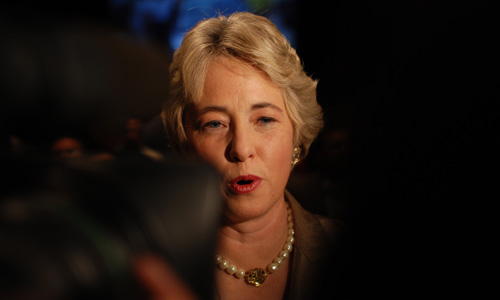 HOUSTON – A city the mainstream media painted as ultra-conservative celebrated the inauguration of a new, progressive openly gay mayor, Annise Parker. This represents a major advance as Houston is the largest metropolitan area to elect a gay mayor.
Joel Osteen, who is the pastor of Houston's well known Lakewood church, gave thanks for Parker's inauguration and stated "We honor her today and other elected officials." Lakewood church and Osteen are nationally known. Rev. Osteen's books are frequently on the best seller list and can be found on newsstands around the country.
A handful of right-wing protesters spewed anti-gay slurs in a shameful display outside the ceremonies.
The ceremony was graced by music provided by an Inaugural Orchestra made up of members of the Houston Grand Opera Orchestra and the Houston Symphony Orchestra, as well as singers from four local choirs.
Parker gave an inspiring 23 minute speech which acknowledged her upbringing in Spring Branch, a working-class neighborhood, where her mother and father worked multiple jobs to support their family.
Her speech also referenced her campaign experience where she "kept meeting folks who reminded me of my own mother and father. Fathers worried about finding work, or struggling while working two jobs. Mothers worried about crime, about their children finishing school. Families worried about taxes. Homeowners who just want to protect the neighborhood they love."
She went on to say, "The city of Houston is on your side. I firmly believe that our city's future will be shaped by our citizens – not our politicians. I welcome your suggestions."
Parker declared that she wants to address important community issues such as the city's aging infrastructure, pension shortfalls and redistricting.
She spoke directly to the LGBT community and said, "I understand how much this day means. I feel your excitement and your joy, your apprehension and your longing for acceptance. I will gladly carry you forward. But today is simply one step toward a tomorrow of greater justice…"