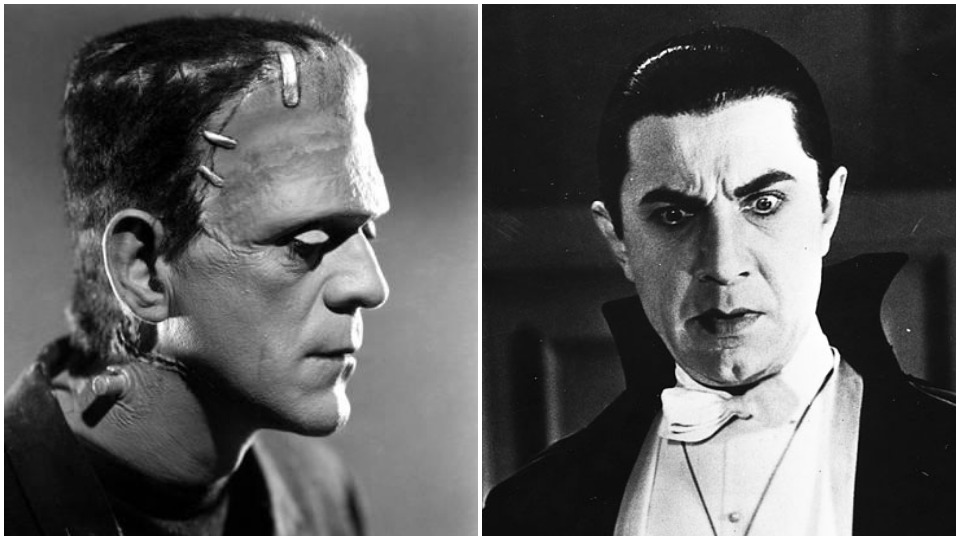 As we celebrate Halloween, did you know that "long hours and dangerous conditions" on the Frankenstein sets led legendary actor Boris Karloff to get behind the movement to unionize screen actors?
And Karloff wasn't the only one who saw the worth of having a union in the workplace. Dracula star Bela Lugosi was also pro-union, and the two both actively organized actors and actresses on the sets and convincingly made the case for them to go union. Here's how they did it.
Several years ago, in fact, a couple of weeks after Halloween, I ran across this small blurb somewhere on the Internet concerning the late and legendary actor Boris Karloff, who starred in Universal Pictures' immortal horror films: Frankenstein in 1931, Bride of Frankenstein in 1935, and Son of Frankenstein in 1939, among many others.
The long hours and dangerous conditions on the Frankenstein sets led Karloff to get behind the new movement to unionize screen actors. It was not uncommon to see Karloff in full monster makeup, handing out applications to join the Screen Actors Guild (SAG).
Sure, I'd watched and loved Karloff playing all those scary roles growing up as a kid. He made Halloween that much more special for me and for so many others. But in all my years working with the labor movement, I did not know Boris Karloff was a union organizer!
So I filed it away to use for a story I planned to write for WNYLaborToday.com for Halloween 2015. As October 31st got closer, I did a little digging and found that Charles Starrett, who was known in the motion picture industry as a founder of SAG and to moviegoers as the Durango Kid in scores of low-budget Westerns back in the 1930s and 40s, had died in March 1986.
In his obituary in the Los Angeles Times, it stated that Starrett, along with 17 other actors, met secretly in Boris Karloff's garage one day in 1933 and helped shape the charter of the Screen Actors Guild.
It was said to be an era when actors, writers, and directors were trying to wrest some of the creative control over their pictures from a small group of studio bosses who'd vowed to fire or blacklist union organizers. It also said Starrett carried Card Number 10 with SAG-American Federation of Television and Radio Artists (AFTRA).
Met in Boris Karloff's garage to start forming the union? This horror movie hero of mine—also known by many television viewers who grew up in the 1960s as the narrator in the animated television special Dr. Seuss's How the Grinch Stole Christmas!—was not only a great actor, he was a union guy!
So, I sent an e-mail to the now-merged SAG-AFTRA, the Los Angeles-headquartered union that represents more than 160,000 Film and Television Principal and Background Performers, Journalists, and Radio Personalities worldwide.
At the time, SAG-AFTRA chief communications and marketing officer Pamela Greenwalt replied and put me in touch with Valerie Yaros, who served as the union's historian/archivist consultant.
Yaros and I spoke over the phone, and she was kind enough to send me a follow-up e-mail with an array of background information on Karloff, the role he played in the union he was part of forming, and his extraordinary efforts to educate and convince his fellow actors that going union was the only way to go.
But as I read through the materials, I learned the late and legendary actor Bela Lugosi, who in fact made Dracula famous on the silver screen, was, like Karloff, also a founding member of SAG.
Karloff was Member Number 9. He joined the Guild July 19, 1933, and is warmly remembered as one of the most beloved board members in Guild history. Those who knew him called him "Dear Boris." He served as board member and officer from 1933 through 1949, completing his tenure by serving as a board alternate in 1951.
A native Englishman, he arrived in Los Angeles in 1919 after spending nearly a decade traveling in Canadian and American theatrical companies. More than ten years later, he garnered his first rave reviews, for his performance in the 1931 film The Criminal Code. By year's end, he hit stardom, playing the creature in Universal Studios' Frankenstein.
One unforgettably grueling shoot day on Frankenstein, over Sept. 28-29, 1931, he put in over 25 hours of work at one stretch—an outrage he never forgot.
In response, he notified the Academy of Motion Picture Arts and Sciences, the only organization at the time that could arbitrate grievances between actors and producers. Both parties had to be Academy members to use this service.
In May 1933, at the annual dance of the Hollywood Cricket Club, actor Kenneth Thomson invited Karloff to attend one of the small, regular meetings of determined, dissatisfied actors, at his home. From these meetings, the Screen Actors Guild was born on June 30, 1933.
Lugosi was Member Number 28. He was accepted into the Guild on July 31, 1933—just a month after its founding—and served on its advisory board from 1934-1936. During this formative period of the Guild, he attended 14 board meetings and offered suggestions to leaders.
A native of Hungary, Lugosi had a long and distinguished stage career with the National Theatre of Hungary. In 1918, after the end of World War I, he founded the Free Organization of Theatre Actors. In Budapest, on March 31, 1919, Lugosi led a mass demonstration of actors to call for the government to reorganize the Hungarian film industry and limit profits of distributors who were growing rich while actors and other workers suffered.
The success of the protest allowed Lugosi to add film workers to his organization of stage actors, uniting them in Hungary's National Trade Union of Actors.
Forced to flee his native land, due to changes in the political regime, Lugosi eventually arrived in the United States in the early 1920s. In 1927, he won the title role in the Broadway production of Dracula, which made him a star and, in 1931, starred in the now-classic Universal Studios' film version.
Over the course of time, Lugosi and Karloff appeared in several classic horror films together, including The Black Cat (1934), The Raven (1935), The Invisible Ray (1936), Son of Frankenstein (1939), and The Body Snatcher (1945).
Yaros sent the following column, written by Karloff, printed in the October-November 1960 edition of Screen Actor. It was headlined: Oaks from Acorns: Just What Was an Actor Who Didn't Play Cricket Doing at a Cricket Club Dance?:
"So far as I am concerned, it all started at a Hollywood Cricket Club dance at the Hollywood Roosevelt Hotel in May 1933," he wrote. After a description of the fundraiser, Karloff added: "As the evening advanced, and I was circumnavigating the floor in my customary slow and stately manner, Ken (Thomson) dropped anchor alongside me and muttered in my ear the magic words: 'Would you be interested in an autonomous organization for Film Actors with an affiliation with Actors' Equity?'
"Hastily scrambling off my unfortunate partner's foot, I practically yelled: 'How… when… where?' At which he hissed, 'Next Thursday, 8 pm, my house… don't park too close to the house,' and practically vanished in a puff of smoke… his pocketbook intact, I trust.
"Well, I went, I listened, and I was conquered."
Ralph Morgan was presiding at the meeting, Karloff wrote. It started with half a dozen people, but became weekly "with one or two new recruits coming in… a rather thin trickle, but still a trickle."
"The general idea was to set the skeleton of an organization for film actors with a constitution and the machinery for making it work, but in the meantime sit back and hold the fort and wait for the producers to make the inevitable booboo that would enable us to interest the stars, without whose support we knew the Guild could not hope to function successfully."
Spirits occasionally flagged "but never our firm belief that the producers would do the job for us by putting the cat among the pigeons and getting everybody into an uproar. Well, sure as fate, they did just that."
The "cat"? Karloff wrote producers used the excuse of the New Deal's National Recovery Administration and its code of fair competition for motion pictures to try to limit actors' pay. By then, SAG had 50-60 members, and led by Groucho Marx and Charlie Butterworth, raised a ruckus.
"That did it." Guild leaders "sent telegrams to every important star in the business and they all convened at Frank Morgan's house the following Sunday and the Guild was off to the races at last. What followed, of course, is history, and there is no need to rehash all of it."
The column went on to describe the formative days—including coming to the brink of an industry-wide strike in 1937—and successes.
If one may be permitted to paraphrase Wordsworth, they were the Happy Warriors that every man in arms should wish to be.
So on this Halloween, take a moment to remember both Boris Karloff and Bela Lugosi—and not necessarily for the great and immortal horror roles they played that literally gave life to Frankenstein and Dracula—but for the roles they played making their workplace better and making sure their fellow actors and actresses had a voice on the job.
This is an abbreviated version of an article that originally appeared in Western New York Labor Today.