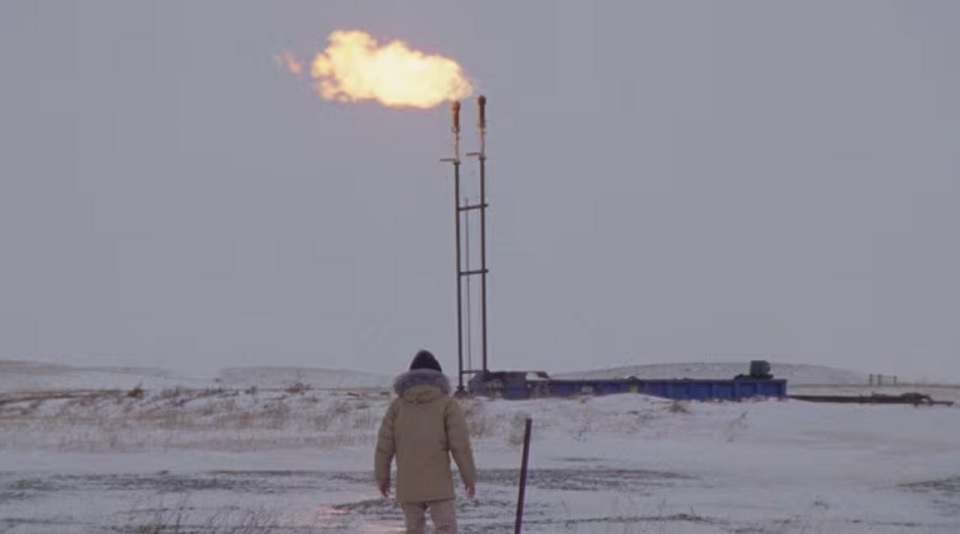 One must approach any discussion of bomb-making movies like the recent How to Blow Up a Pipeline very carefully! The entire thing could easily blow up in your face. There are two essential parts that always must be covered: Is it a good movie, and is bomb-making a worthwhile activity?
Let's get the easy part over first. Daniel Goldhaber's How to Blow Up a Pipeline, based on the controversial book by Andreas Malm, is an excellent film, a suspenseful thriller raising important issues. Writer-director Goldhaber tells his 104-minute story economically: He saves cinematic flourishes for character development and unfolding the plot. His protagonists carry his message while ingratiating themselves to the viewer.
Realistic portrayals show how stark social conditions radicalize the young, the poor, and the powerless. The slow reveal of characters' motivations takes place in scattered flashbacks, quick deft sketches, as they group and pursue the task at hand. Xochitl (Ariela Barer, also the film's co-writer and producer) watches her mother die from pollution poisoning. She is thwarted in her campaign to get her college to divest from corporate polluters. Xochitl's friend Theo (Sasha Lane) is diagnosed with cancer brought on by environmental pollution. Theo's girlfriend Alisha (Jayme Lawson) is more emotionally than politically moved to join them in direct action.
Shawn (Marcus Scribner) worked with Xochitl on the divestment campaign. He joins her, bringing in Dwayne (Jake Weary), who lost his family farm through the pipeline company's eminent domain land seizure. Michael (Forrest Goodluck) is a Native American whose reservation is invaded by oil developers. Angered by the poverty of the reservation and the attitudes of the white interlopers, he teaches himself about explosives. The final two characters, Rowan (Kristine Froseth) and Logan (Lukas Gage), environmental activists from previous demonstrations, are pivotal in safeguarding against any possible loss of life due to explosion.
As they pursue their action, the group overcomes technical difficulties of dealing with explosives and personality dynamics. Their plans and execution, though not seamless, are impressive. One of the most daunting tasks is maintaining group cohesion. And, of course, a few surprises dot the landscape.
Still, questions remain: Are such tactics worthwhile? Is this the best use of scarce resources and a small and fragmented Left? Will direct actions lead to corporations ceasing their despoliation of the environment or politicians from giving them license to do it?
Dramatic spectacular actions may encourage others and temporarily change the pace or tack of corporate power. The degree to which they do is certainly welcome. But at the end of the day, such drama does not ensure structural changes which improve lives and save the planet. To the extent possible, people should be encouraged to work on movements for social change. The everyday hard work of building such movements is not as cinematic. Still, their long term effects would seem to offer more promise.
Personal anger-driven actions make for good entertainment, break down isolation, and may even help recruit people for the long haul of social change. Perhaps when more direct action proponents get out of jail, should they survive, they can consider joining an organization that has worked for meaningful change for over a hundred years.
The trailer can be viewed here. A 10-minute feature on the making of the film can be viewed here.
We hope you appreciated this article. At 

People's World

, we believe news and information should be free and accessible to all, but we need your help. Our journalism is free of corporate influence and paywalls because we are totally reader-supported. Only you, our readers and supporters, make this possible. If you enjoy reading 

People's World

 and the stories we bring you, please 

support our work by donating or becoming a monthly sustainer today

. Thank you!