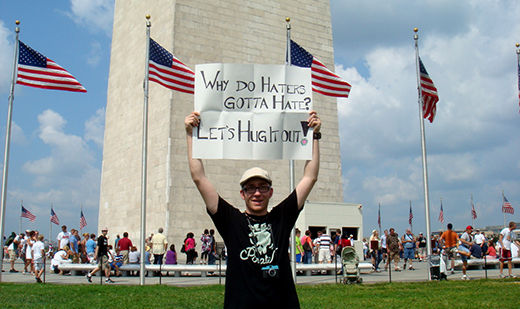 A growing part of the 2010 mid-term election campaigning by labor and other progressive groups involves warning voters what life would actually be like if the Tea Party took over the Congress.
Even Democratic Party campaign leaders are talking these days about what they say are the dangers posed by right-wing extremists.
Earlier this week a Democratic organizer working in a state with a contested Senate race was quoted in The Hill: "These are not your run-of-the-mill Republicans we're talking about here. When you actually start telling voters what these candidates are about, it scares the hell out of them. In the past several weeks, when Democratic activists cite the ramifications of a Tea Party Congress, they say, more volunteers have signed up to knock on doors to preserve a Democratic-led House and Senate."
Along similar lines, also earlier this week, the AFL-CIO issued a warning about Tea Party-backed Sharon Angle, the Republican candidate for U.S. Senate in Nevada, who is trying to unseat Democratic Majority Leader Harry Reid.
The labor federation warned that "if she unseats Sen. Harry Reid, she says she is not going to be wasting her time worrying about putting Americans back to work. After all, she'll have to get started on eliminating Social Security and Medicare."
The AFL-CIO issued its statement Sept. 8, a day after Angle was quoted saying, "As your senator, I'm not in the business of creating jobs. People ask me, what are you going to do to develop jobs in your state? Well, that's not my job as a U.S. senator."
"So, if elected, just what is her job?," the federation asked rhetorically.
A new ad from the Reid campaign, airing throughout Nevada, says that "among other items on her to-do list are protecting tax breaks for companies that ship jobs overseas, opposing Wall Street reform (In fact, she says it doesn't need any reform), and other extreme ideas that will make things worse."
The AFL-CIO statement also took on Angle's recent attacks on progressives now serving in the Congress: "If she does win, maybe she won't have time to free Wall Street from government oppression or throw a protective shield around job-exporting companies because she'll be awfully darn busy protecting the nation from all the 'domestic enemies' she says are now serving in the Congress. Maybe she can use Joe McCarthy's old office."
Hans Johnson, in a recent Huffington Post article, joined scores of progressive commentators who are now describing what election of rightwing extremists could actually mean:
"Fluency in fringe ideology and appeals to intolerance now substitute for leadership among conservatives. That means rehashed fights about posting of the Ten Commandments, citizenship and voting standards, enforcement of sodomy laws, access to contraception, and the legality of clean-water and emissions standards, the minimum wage, and Social Security. It means a diminished state of our democracy and our standing in the world."
Progressives say the Tea Party has to be taken seriously and challenged on the issues and note that failure to do this contributed to Tea Party victories in Republican primaries in both Nevada and Alaska. In Alaska Joe Miller, a right-wing extremist backed by Sarah Palin, was able to unseat Republican Senator Lisa Murkowski.
Political observers note that the Tea Party victories have come, in part, because the group has successfully targeted states with small populations, making it easier to win elections. A third example of this targeting of small population states is Delaware, where a Tea Party candidate is running for the Republican nomination for U.S. Senate.
If even 40,000 people vote in Delaware's GOP primary Sept. 14, the turnout will exceed all previous records for that state.
It means that with just 2 percent of the population of Delaware behind them, the Tea Party candidate, Christine O'Donnell, who is challenging the regular Republican, Mike Castle, could pull off a victory.
The Tea Party hopes to translate this support from tiny minorities in three or four under-populated states into four U.S. Senate seats – the same number of senators now representing 40 million people who live in the two big states of New York and California.
Photo: http://www.flickr.com/photos/ctoverdrive/4947848853/sizes/l/