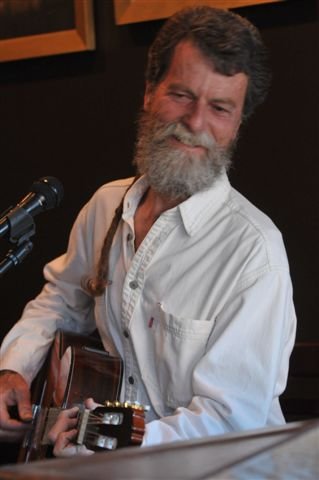 SEQUIM, Wash. – Songwriter Howly Slim will be performing at several venues during the Lavender Festival, a celebration expected to draw 35,000 or more people to this valley July 15-17. (See schedule at end of story)
Excellent jazz, bluegrass fiddlers, and pop music – along with delicious gourmet food and wine – are a fixture for the crowds who come here to tour the lavender farms. The Sequim-Dungeness region now rivals France's La Provence in the production of the aromatic herb, a "purple haze" that perfumes the entire valley every summer.
Slim performs at local restaurants, singing his bluesy folk songs such as "A Woman Like You", "Seahorse" and "The Ballad of Raphael Hernandez."
Most of the hundreds of songs he has written over the past half-century are gentle ballads on subjects like "trains, tramps, tree planters, big cities, small towns, work, waitresses, good love, bad love, love gone wrong, heartaches, injustice…" as he writes in his bio.
One song stands out for its hard-edged anger against a former un-elected president titled simply, "Chickenhawk." Hear a few of his songs by clicking on www.folkalley.com/openmic .
At Los Palomas, a Mexican restaurant, the other night, he sang his "Along This Highway" about a happier world "where no kid ever went hungry" and the question, "do you think you could own this land? We're all just passing through, like footprints in the sand."
We put $10 in the jar.
"I took in $67 that night, the most I've made in months," he told me later with a chuckle. The owner of the restaurant pays him $20 a night and a meal. All the rest is those precious tips in the jar, mostly dollar bills.
So losing one of his established gigs hurts a lot. Recently, Kokopelli, a Port Angeles restaurant, cancelled his show. "They told me they couldn't put up with the hassle from ASCAP and BMI,'" he said. "They didn't want to get sued."
He was referring to the American Society of Composers, Authors, and Publishers (ASCAP) and Broadcast Music Inc. (BMI), two outfits that police venues where songs are performed to insure that royalties are paid to the songwriters.
Sometimes a good cause goes awry. BMI demanded that Los Palomas pay a $200 monthly fee to cover royalties for songs Slim might perform.
"There's no way they are going to pay that much when they only pay me $40 a month for singing only my own stuff," Slim said.
He said he been forced to give up singing crowd-pleasing Mexican-themed songs like "El Paso" and "South of the Border" for fear of running afoul of ASCAP and BMI.
He also sings at farmers' markets in Port Angeles, Port Townsend, Chimacum and Sequim earning about $100 each performance.
"The Sequim Farmers' market got sued. That's pretty low, suing a farmers market for having live music. So the market decided to pay the fee. Now the market isn't paying the musicians because they had to pay ASCAP. All we get is the money raised by passing the hat."
A friend helped Slim prepare a list of 50 songs not subject to royalty fees and will send the list with a cover letter to BMI proclaiming, "Howly Slim will only be singing original songs selected off this list so if the harassment continues, he will take legal action."
"It really eats at me," Slim added, "Here I am struggling along performing only my own stuff and they are going after the restaurant owners."
He posted his frustrations on the Internet and he received a reply from Chico Schwall of Eugene, Oregon, also a popular songwriter and singer in the Pacific Northwest.
ASCAP was started to "benefit songwriters, like yourself, based on the notion that if someone uses your music in public (presumably for their own benefit) that you as the composer get paid," Schwall wrote.
That something has gone "terribly wrong over the years is indisputable," Schwall added. "Totally disproportionate and inconsistent fees for places that offer music. Strong-arm collection tactics used by untrained agents working on commission who make more money by collecting bigger fees. Inadequate distribution systems that collect money from church basement operations and pay it to Michael Jackson's estate…These abuses are well known."
He invited Slim to the Folk Alliance Region West (FAR-West) conference Oct. 20-23 in Eugene, Oregon where a workshop will address this very problem.
"I am offended and outraged as you by the injustices," Schwall concluded. "I don't need to crank up my anger or resentment. I need to figure out how to take collective action and FAR-West might be one place to start."
Slim said he hopes to be able to attend that conference. In the meantime, his fans are looking forward to hearing him sing whether it be his own songs or that of somebody else.
Howly Slim performs regularly at Los Palomas, Sequim, Wash., and can be seen at the following venues and times during the Lavender Festival:
Olympic Lavender Farm 2:30-5:30 pm, July 15
Garden Bistro, 12-2 pm, July 16
Cedarbrook Lavender Farm 3-6 pm, July 16
Carrie Blake Park, 11:15 am, Sunday, July 17
Photo: Howly Slim (CC)