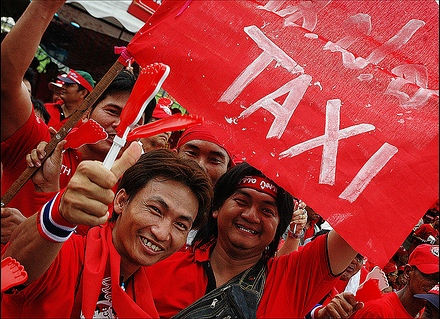 LONDON (Morning Star) — Thailand's PM and his military backers have rejected an ultimatum to dissolve parliament as over 100,000 protesters in Bangkok vowed to continue their push to oust the right-wing government.
Speaking from the capital's heavily defended 11th Infantry Regiment headquarters, where he had been staying for the past few days, Prime Minister Abhisit Vejjajiva said that he would not give in to the protesters' demand to dissolve parliament by midday.
After the deadline passed, red-shirted United Front for Democracy against Dictatorship demonstrators who had surrounded the military HQ began a march back to their main encampment.
In the first reported violence of the protests, two soldiers were wounded when four grenades exploded inside the army headquarters.
The UFDD had called on protesters not to resort to violence and said it suspected it was the work of agents provocateurs.
The front has been flexible in its tactics and deadlines, but it is adamant that Mr Vejjajiva's Democrat Party must dissolve parliament and call new elections.
The UFDD maintains that Mr Vejjajiva took office illegitimately with the connivance of the military and other parts of the traditional ruling class who were alarmed by former PM Thaksin Shinawatra's popularity, particularly among working people in the countryside.
Mr Thaksin, who became prime minister in 2001 and whose Thai Rak Thai (Thais love Thais) party won two sweeping election victories, was ousted by a 2006 military coup.
He spoke to the rally by video link on Sunday night, urging the crowd to continue their struggle peacefully, and emphasising that he considered the so-called "ammart," or elite, the enemy.
Mr Thaksin is a billionaire businessman, dogged by corruption allegations, who fled Thailand in 2008 before being convicted for a conflict of interest violation and sentenced to two years in jail.
"The people who cause the problems in the country these days are the ruling elites," said Mr Thaksin.
"To solve problems related to democracy, equality and justice – the ruling elites won't be able to do that because they don't have the conscience. The people will have to do it."
He claimed that, if returned to power, he would redistribute wealth and boost economic development in rural areas.
The Red Shirts' last major protest in Bangkok last April deteriorated into rioting that left two people dead, more than 120 people injured and buses burned on major thoroughfares before the army quashed the unrest.
Thailand has been in political turmoil since early 2006, when the People's Alliance for Democracy – which wants to limit popular elections – kicked off anti-Thaksin demonstrations.
Photo: Members of the United Front For Democracy Against Dictatorship demonstrate in Bangkok, April 8, 2009. http://www.flickr.com/photos/11401580@N03/ / CC BY-NC 2.0