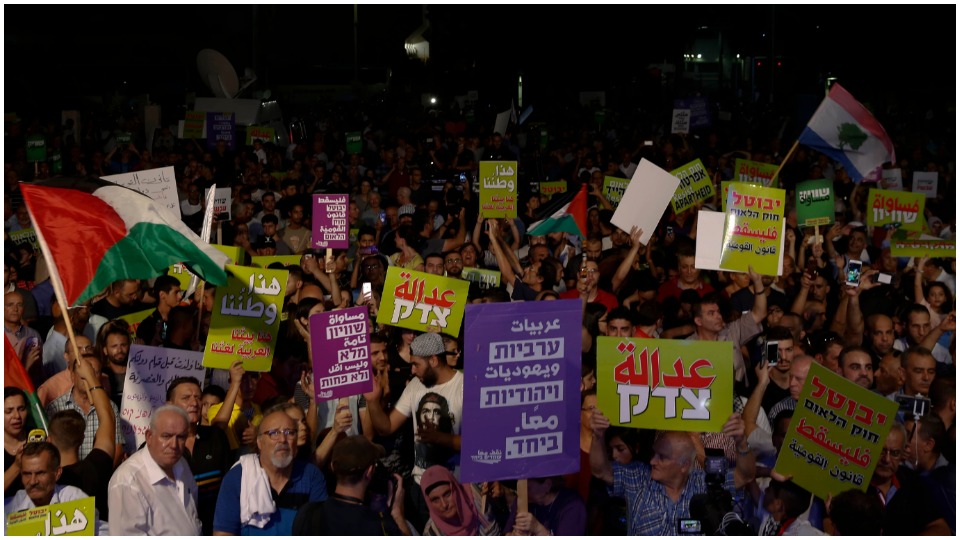 More than 100,000 Arabs and Jews demonstrated in a show of unity against the recently passed "racist" nation-state law in Tel Aviv on Saturday, the second large protest in eight days.
Protesters waved Israeli and Palestinian flags demanding the resignation of Israeli premier Benjamin Netanyahu as the crowds called for the "fascist laws" to be scrapped saying: "We are all brothers. Jews and Arabs refuse to be divided."
Saturday's demonstration was organized by the Higher Arab Monitoring Committee and was backed by a broad range of organizations, including the Hadash-Communist Party of Israel, the Coalition Against Racism in Israel, and Koah La'Ovdim Worker's Union.
More than 300 buses brought people from cities including Haifa and Nazareth with organizers saying "buses of Arabs are coming in droves," mocking Netanyahu's infamous race-baiting during the 2015 Israeli general election.
Anger is growing over the passing of the controversial nation state law in the Knesset last month which declared that only Jews have the right to self-determination in the State of Israel.
Critics have warned of the consolidation of Israel as an "apartheid state" through the legislation under which Hebrew is designated the country's sole official language, with Arabic downgraded to a "special status."
Israeli Arab Joint List group of parties spokesman Ayman Odeh warned at the time of "the death of our democracy" and said the law was one of "Jewish supremacy," meaning Palestinians would always be second-class citizens.
Members of the minority Druze community joined the protest on Saturday, along with Israeli Arabs who make up around 17.5 percent of the Israeli population.
Communist Party of Israel spokesman Mohammad Barakeh told the rally: "Friends, you know that not all the Arabs here think the same. Neither do all the Jews. But all the Arabs and all the Jews came here in droves to protest.
"There will not be another Nakba. We are staying here. We shall overcome."
Hadash former parliamentarian and Communist Party of Israel executive committee member Issam Makhoul said: "This is one of the most important demonstrations, one that demands an alternative to the current way of thinking in Israel—that which is dangerous to both nations, which tries to delegitimize the Arab sector.
"We are part of this country's landscape. Our citizenship stems from our sense of belonging to our homeland, and we will not allow anyone to harm our status, not our national status, and not our civil status."
Morning Star