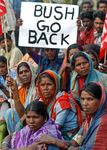 WASHINGTON — Pundits opined that India is the one place in the world George W. Bush would be "warmly welcomed." And he was, by huge throngs of Indian protesters demonstrating against his policies of war and U.S. domination, rejecting Bush's claim that his spreading democracy and ending terrorism.
Demonstrators, including hundreds of thousands at marches and rallies in the nation's capital, New Delhi, made it hot for Bush. Hindu lawmaker Raj Babbar told an enormous crowd there, "Whether Hindu or Muslim, the people of India have gathered here to show our anger. We have only one message: Killer Bush, go home!" Bush was not invited to speak before the Indian Parliament because he would be heckled by Indian lawmakers.
Indian news reported a "riot of color" in New Delhi, interspersed with posters, buntings and cartoons, some atop buses and trucks, protesting not only Bush but the Congress Party-led government's support for him.
"Men, women with babies on waist, students, academics, political workers, the ordinary man on the street were all rubbing shoulders with thousands of toiling workers from different states," one report read. Many people from remote villages had come with headgear, drums, deer horns and pipes, while some wore colorful folk dresses. Other huge protests filled the streets of Mumbai, Hyderabad, Kolkata, Bangalore and Chennai, with a vast cross-section of workers, farmers, women, youth, students, professionals and intellectuals. Participants included Muslims, Hindus, Christians and Sikhs.
A senior left party leader, A.B. Bardhan, general secretary of the Communist Party of India, described Bush as "the ugly face of the most aggressive imperialism in the world." Communist Party of India (Marxist) General Secretary Prakash Karat demanded that Bush be jailed and tried for war crimes. Karat warned the prime minister, Manmohan Singh, that if the nation's independent foreign policy is abandoned the government will be isolated from the people. Debunking the claims of unanimity on foreign policy issues, Karat said it is only the Bharatiya Janata Party, a right-wing nationalist party, which is siding with the Congress Party.
The left parties charged that the U.S.-Indo nuclear pact dilutes India's independent foreign policy and clashes with the interests of other Third World countries and the Non-Aligned Movement. Many see this as part of a geopolitical move against China, Pakistan and Iran, fueling the nuclear arms race and the destabilization of western Asia. Last month India voted with the U.S. to send Iran to the UN Security Council for probable action for alleged violation of IAEA norms.
Much of the anger, in the U.S. as well as in India, was directed at the dangerous new nuclear cooperation agreement. "This agreement is setting us up for a more harrowing nuclear situation than we have seen since the 1980s," said Scott Lynch, media spokesperson for Peace Action. "It could unleash another regional nuclear arms race. It is going to further weaken the Nuclear Non-Proliferation Treaty (NPT), allow more nuclear weapons in absolute numbers and more countries seeking to obtain nuclear weapons."
India has refused to sign the NPT, charging it is discriminatory, yet it supports nuclear disarmament. The U.S. has refused to abide by the NPT by focusing almost exclusively on "nonproliferation" and ignoring the disarmament mandates of the treaty.
"This deal cannot go through. It's illegal," Lynch said. "Bush is going to have to go to Congress and get them to change the law." The peace movement, he said, will mobilize to pressure Congress to block it.
Peace Action Executive Director Kevin Martin and other U.S. peace leaders convened a news conference in front of the Gandhi statue and across the street from the Indian Embassy in Washington on the day before Bush's departure. They denounced Bush's "hypocrisy" in laying a wreath at the Gandhi memorial in India during his visit there. "Bush's presidency is steeped in war and violence," they said in a joint statement. "Bush's policies and record continue to be antithetical to the teachings of Gandhi. It is hard to think of a public relations stunt crasser than that of Bush paying false homage to Gandhi, a man who gave his life to the pursuit of nonviolent change."
India's left parties, which include the CPI and CPI(M), put the new agreement in the context of other compromising agreements that open up sectors of India's economy, including defense, to U.S. capital and corporations, like the agricultural agreements that have brought in Monsanto to decide the Indian research agenda. They also called on the Indian government to renew its commitment to disarmament.
En español: