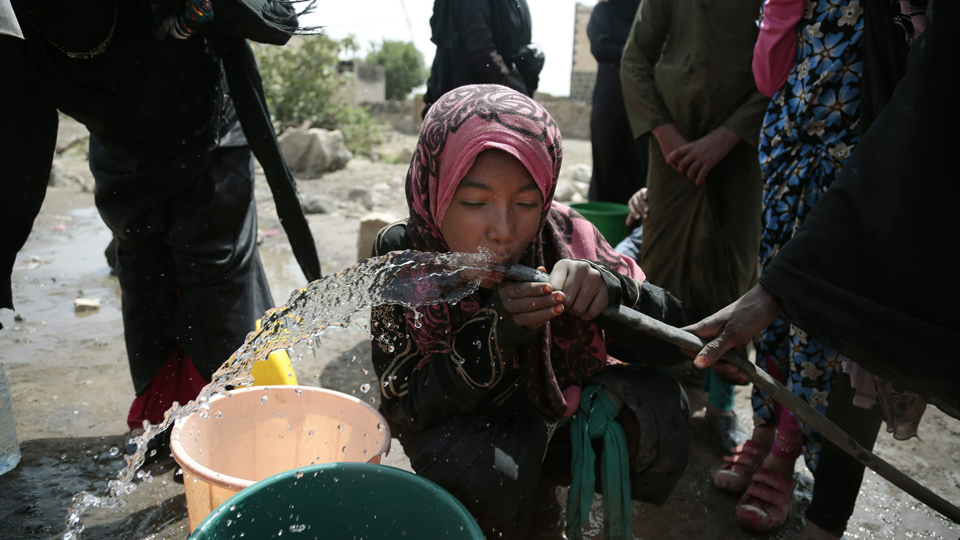 GENEVA—On August 14, the World Health Organization (WHO) announced the total number of suspected cholera cases in Yemen this year hit the half-million mark, and nearly 2,000 people have died since the outbreak began to spread rapidly at the end of April.
According to the WHO, Yemen's cholera epidemic, currently the largest in the world, has spread rapidly due to deteriorating hygiene and sanitation conditions and disruptions to the water supply across the country. Millions of people are cut off from clean water, and waste collection has ceased in major cities.
Recent articles in The Guardian and Independent indicate that the humanitarian crisis in Yemen today is a direct outcome of the Saudi-led coalition's strategy of targeting civilians and infrastructure in rebel-controlled areas.
A collapsing health system is struggling to cope, with more than half of all health facilities closed due to damage, destruction, or lack of funds. Shortages in medicines and supplies are persistent and widespread, and 30,000 critical health workers have not been paid salaries in nearly a year.
"Yemen's health workers are operating in impossible conditions. Thousands of people are sick, but there are not enough hospitals, not enough medicines, not enough clean water. These doctors and nurses are the backbone of the health response—without them we can do nothing in Yemen. They must be paid their wages so that they can continue to save lives," said Dr. Tedros Adhanom Ghebreyesus, WHO Director-General.
WHO and partners are working around the clock to set up cholera treatment clinics, rehabilitate health facilities, deliver medical supplies, and support the national health response effort.
More than 99 percent of people sick with suspected cholera who can access health services are surviving. But nearly 15 million people are unable to get basic healthcare.
"To save lives in Yemen today we must support the health system, especially the health workers. And we urge the Yemeni authorities—and all those in the region and elsewhere who can play a role—to find a political solution to this conflict that has already caused so much suffering. The people of Yemen cannot bear it much longer. They need peace to rebuild their lives and their country," said Dr. Tedros.
History of Yemen
Yemeni unification took place on May 22, 1990, when the area of the People's Democratic Republic of Yemen (also known as South Yemen) was united with the Yemen Arab Republic (also known as North Yemen), forming the Republic of Yemen (known as simply Yemen).
The two Yemens were not formed by a civil war or occupation. North Yemen became a state after the collapse of the Ottoman Empire in November 1918. It was long run by an Islamic theocracy, which was overthrown in 1962 when the Yemen Arab Republic was formed.
Aden, in South Yemen, was administered as part of British India, and in 1937 became a British colony in its own right. The larger part of South Yemen was a British protectorate, effectively under colonial control. A South Yemeni insurgency led by two nationalist parties caused the UK to first unify South Yemen and in 1967 to withdraw from its former colony.
South Yemen developed as a Marxist, mostly secular society ruled first by the National Liberation Front, which later morphed into the ruling Yemen Socialist Party. The only avowedly Marxist nation in the Middle East, South Yemen received significant foreign aid and other assistance from the USSR.
Years of conflict ensued, with the U.S., Britain, and Saudi Arabia all engaged in the Cold War policy of trying to stamp out socialism in South Yemen, as elsewhere. In the North, Saudi Arabia, among others, tried unsuccessfully to bring back the monarchy.
In the 1980s, Marwan Bishara, senior political analyst at al-Jazeera, noted, "tens of thousands" of young Yemenis were recruited to fight the Soviet Union in Afghanistan in the CIA's covert war there. When they returned home many joined local extremist religious groups.
The new Yemeni government proceeded to carry out the International Monetary Fund's "structural adjustment" prescriptions.
One of the poorest countries in the Arab world
Yemen today is one of the poorest countries in the Arab world, with about 40 percent of its 24 million people unemployed. Its economy is heavily dependent on declining oil resources.
A country a little bigger than California, only 3 percent of its land can support agriculture. The current water shortage is at crisis levels. In addition, the cultivable land is being depleted due to overgrazing, soil erosion, and desertification.
At the same time, Yemen occupies a highly strategic location at the tip of the Arabian Peninsula, where the Red Sea, Arabian Sea, and Indian Ocean meet in the Gulf of Aden. This is one of the world's most active shipping lanes, in particular for transport of oil. Yemen is directly opposite Somalia, Djibouti, and the Horn of Africa. Through the Bab el Mandeb Strait, which joins the Red Sea and the Gulf of Aden, about 3 million barrels of crude oil are shipped daily.
The Yemen crisis is being represented as a clash between Iran and the Arab countries, and part of ongoing tension between Sunni and Shiite Islam. The Arab League accuses Iran of overthrowing the Yemeni government of Abdu Rabbu Mansour Hadi, using the Shiite Houthis as its proxies. But the civil war in Yemen is a long-running conflict over access to political power and resources, not religion, or any attempt by Iran to spread its influence into a strategic section of the Arabian Peninsula.
U.S. involvement in Yemen
U.S. involvement in Yemen is long-standing, dating back to 1979 and the Carter administration. According to UPI, the CIA funneled money to Jordan's King Hussein to foment a north-south Yemen civil war, and U.S. Special Forces have been on the ground directing drone strikes for over a decade.
While the U.S. has talked about a political solution, that is not what was coming out of the Arab League. The current military campaign, said Arab League General Secretary Nabil el-Araby, "will continue until all the Houthi militia retreats and disarms and a strong unified Yemen returns." The bombings have already killed hundreds of civilians and generated tens of thousands of refugees.
Instead of endorsing what is certain to be a disaster, critics say Washington should join the call by European Union foreign policy chief Federica Mogherini for a ceasefire and negotiations. "I'm convinced that military action is not a solution," she said, calling on "all regional actors" to "act responsibly and constructively…for a return to negotiations."
The Houthis claim they are not interested in running Yemen. Senior Houthi leader Saleh Ali al-Sammad said that his organization "does not want anything more than partnership, not control." Houthi ally and ex-president Saleh also said, "Let's go to dialogue and ballot boxes," not bombing.
Yemen needs an influx of aid, not bombs, drones, and Hellfire missiles.
Barbara Russum contributed to this article.